How Much Does A Tesla Charge Cost?
Aug 13,2022 | Chloe Lacour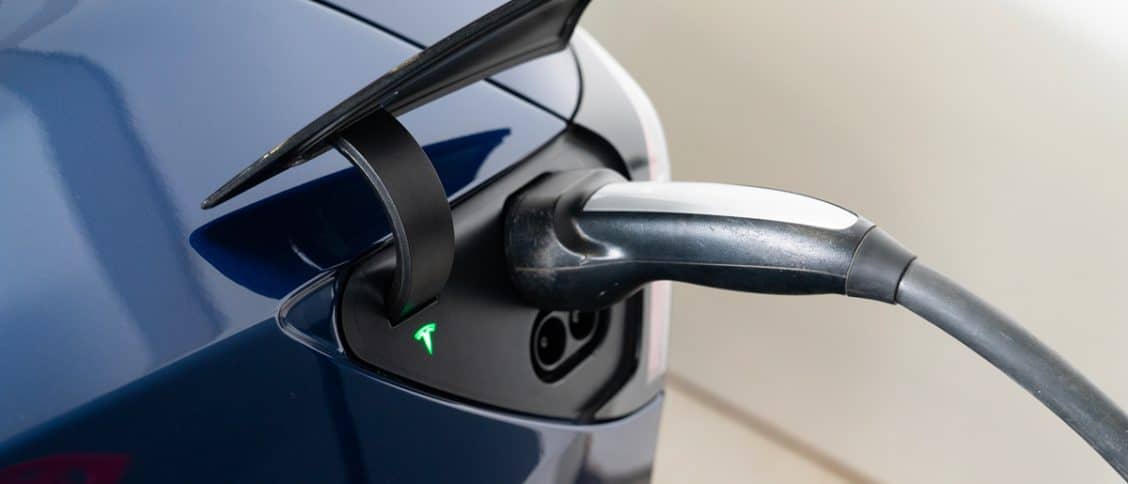 Are you going to become or are you already the owner of an electric car and more precisely of one of Elon Musk's Models? Like you, more and more motorists are taking the plunge and turning to Tesla, seduced by the performance, technologies, and Supercharger network offered by the American manufacturer. Precisely, it is this last point that particularly interests us… Do you know how much a Tesla recharge costs? Whether at home, on a Supercharger, or on a terminal of another network, the price of recharging your battery will not necessarily be the same. We take stock in this article.
Contents
1. At home
2. On a Tesla Supercharger
3. On another charging station?
4. How to pay for your Tesla recharge?
5. The essentials to remember
At home
Home charging is the solution preferred by the majority of electric car owners, as it is theoretically sufficient to plug into a power outlet to recover energy.
You can also bring a Green'Up socket, specially designed for recharging electric vehicles in complete safety.
Otherwise, there is the most expensive option, that of having a charging station installed, which allows you to fill up on autonomy in just a few hours.
In any case, you recharge your Tesla with the rate charged by your electricity supplier. Take as an example the EDF blue tariff, whose price per kWh on April 1, 2022, is:
0,1740 € TTC ;
€0.1841 including tax during peak hours;
€0.1470 incl. VAT in off-peak hours.
These rates, as well as the average consumption of your Tesla, are essential to determine the price of a home charge. For example, for the Model 3 electric sedan, the average consumption in a mixed trip is established at 14.9 kWh/100 km. For charging during peak hours, you will thus pay around €2.74/100 km, i.e. less than €10 for an optimal level of charge.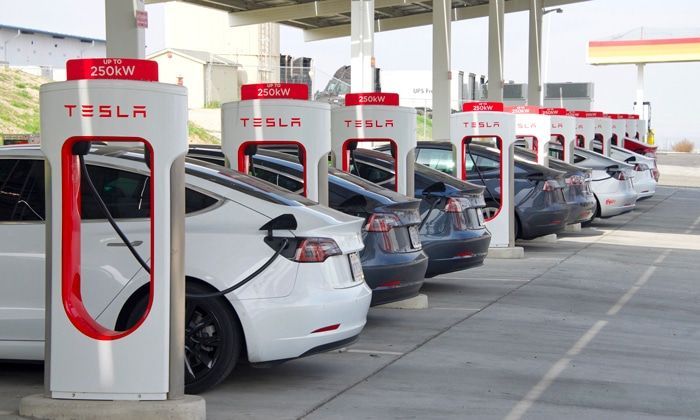 On a Tesla Supercharger
You may know it, but Tesla is not a car manufacturer like the others and we have proof of this once again with the brand's own Supercharger network. If in the beginning, these charging stations were only reserved for owners of a Model, they are gradually becoming accessible to the rest of the electric car fleet.
In France, there are already more than 100 Supercharger stations, i.e. more than 1,000 Tesla terminals available. These are particularly suitable for fast charging and allow you to fill up with energy in no time.
Be aware that Tesla charges charging per kWh and that depending on the stations, the price may fluctuate. But if a few months ago, the price per kWh on a Tesla Supercharger was €0.40, the rate has recently increased, in the face of soaring energy prices, and now reaches €0.46/ kWh.
Like the Tesla Model 3, which has undergone a sharp increase in its prices, many believe that the price of Superchargers will continue to climb.
So how much does it cost to charge Tesla on a Supercharger?
Considering an average consumption on the motorway of 18 to 20 kWh/100 km and a price per kWh of €0.46, the cost of charging on a Supercharger will be between €8.28 and €9.2/100 km. This then remains correct in relation to the price of petrol and diesel, which have been reaching peaks for several months.
To find out the exact price of a Supercharger station, use the Tesla app or find the information on your Model's large touch screen.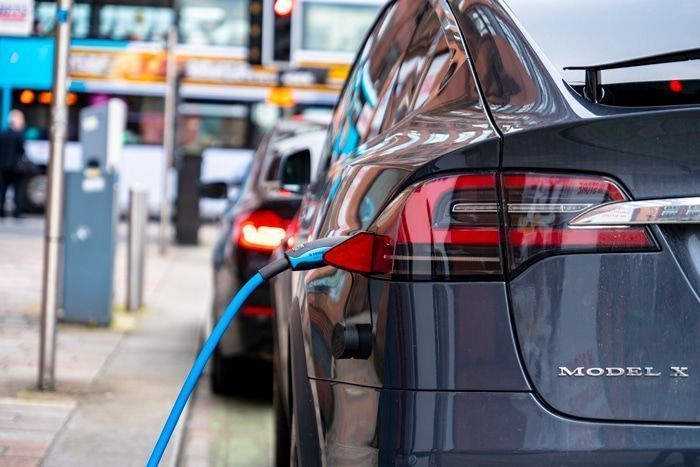 On another charging station?
Are you in town or on the highway and there are no Superchargers around? You can absolutely borrow a terminal from another network, provided, of course, that it has a Type 2 or Combo CCS connector for fast direct-current charging.
There are several charging networks in France, from Ionity to Total, Fastned, or Freshmile. Similarly, everyone does not have the same billing method since some will count by kWh, while others will bill by the minute or by the hour or apply flat rates.
As you will have understood, it is then difficult to provide you with average prices on public terminals, because each operator has its own pricing policy, which will also change according to the type of terminal used, the period, or the subscription taken out. But as you can imagine, it will cost you more than filling up your autonomy at home.
For example, for the Ionity network, count €0.79/minute if you connect to a fast terminal capable of delivering up to 350 kW. For less powerful terminals, up to 50 kW, the rate is €0.39/minute.
Good plan: to find out the price of the charging stations near you, we advise you to bring the Chargemap application, an essential tool for any electric car owner.
How to pay for your Tesla recharge?
To pay for the charging of your Tesla vehicle, will obviously depend on the operator you use.
Thus, if you prefer the Supercharger network, payment is made from your Tesla account and you must then register a payment method there.
On the majority of other terminals, the badge is the main method of payment. You must then have the one specific to the network or have an interoperable badge, like the one offered by Chargemap, Izivia, or PlugSurfing.
The main thing to remember
Several solutions are available to you to recharge your Tesla. If home charging is the simplest and cheapest, Supercharger stations and other operators can help you out during a long journey. The price will obviously not be the same as at home, but you will know it quickly thanks to your favorite mobile application and the information available from the touch screen of your Model.
Related Articles
Tesla Semi: Tesla's Electric Truck
Comment
Back to BLOG.