Why Are Used Car Prices Skyrocketing? The Example Of Tesla
Jul 10,2022 | Chloe Lacour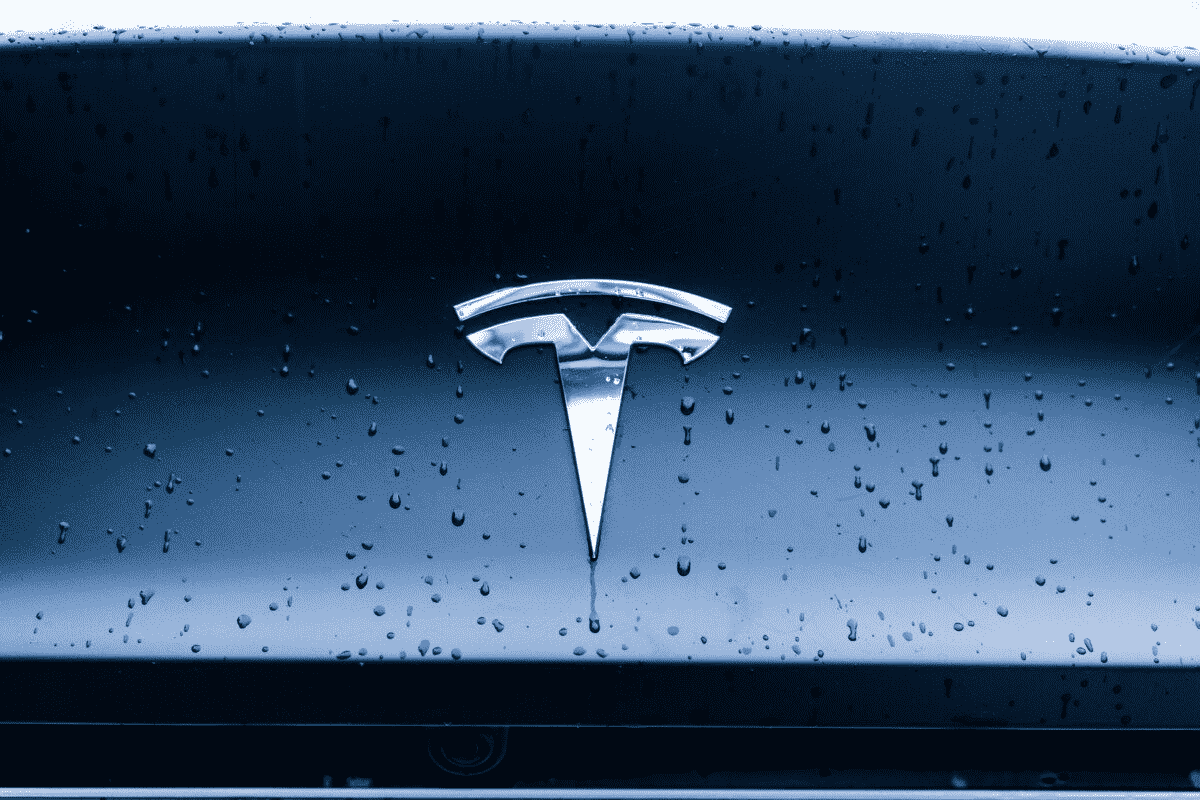 If you're looking for a Tesla, you've probably noticed fairly long delivery times, and a significant price increase in recent weeks. So why not move towards a second-hand model you will tell us? Quite simply because they too are taken by storm and have seen their prices explode.
In 2021, Tesla once again had a record year almost everywhere in the world. Tesla practically doubled its number of registrations in 2021 compared to 2020, with 936,172 vehicles sold. In Europe, the same story, Tesla sold 167,549 cars and came first in the ranking of electric cars, ahead of Volkswagen (166,357 units sold) and Renault (97,129 units).
France is no exception to the rule since it was a Tesla that managed to dislodge the Renault Zoe from first place among electric cars sold in France. Model 3 found 24,911 takers, compared to 23,573 for its runner-up, the Zoe. Far behind, is the Peugeot e-208 which completes the podium with 17,858 units.
NEW PRICES THAT HAVE CONTINUED TO INCREASE
It must be said that the Tesla Model 3 was particularly advantageous financially speaking last year in France. The basic models, whose autonomy is already more than enough for most motorists, traded around 36,800 euros once the bonus has been deducted. And today, if the bonus has not changed thanks to the extension of the aid, the prices of the Model 3 have exploded, thus bringing it out of the threshold for triggering the maximum bonus of 6,000 euros.
At the time of writing, in France, the Tesla Model 3 is trading at 53,490 euros, a sum that has stabilized after several consecutive increases. Thus, the basic Model 3 is no longer subject to the maximum bonus, but to an intermediate bonus of 2000 euros, its base price is therefore now 51,490 euros. So if you do the math, in the space of less than a year, the Model 3 has seen its prices increase by 14,690 euros!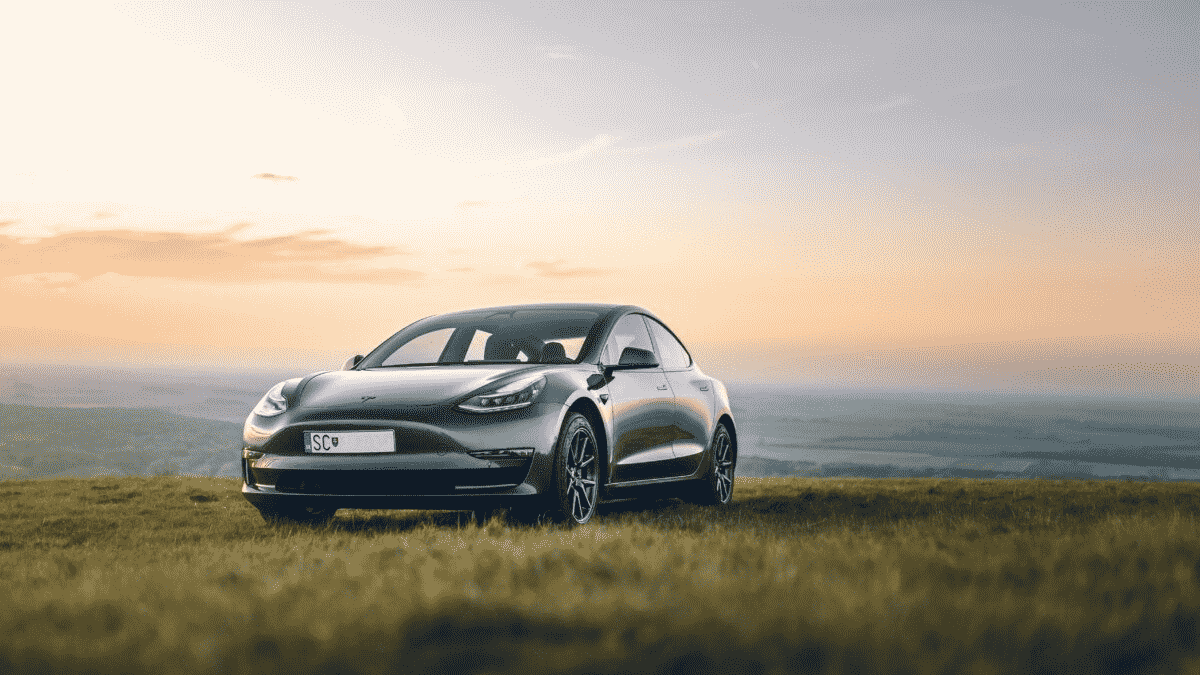 In the space of a few months, in France, the purchase price of a Tesla Model 3 has almost increased by 15,000 euros!
WHY SUCH A RISE IN PRICES FOR NEW BUT ALSO USED?
To make matters worse, Tesla is, like many other manufacturers, affected by component shortages due to the various current geopolitical conflicts. Thus, at the time of writing, a basic Tesla Model 3 is available in France between January and March 2023, i.e. more than 6 months. The same goes for the Long Autonomy version. Only the Performance variant can be delivered earlier since Tesla announces delivery at the end of 2022.
And the Model 3 is not the only one spared, since the Model Y, which is now produced in Berlin, Germany, is not available before the end of the year, at best. The Gigafactory is still in a sort of "break-in" before reaching its maximum production capacity.
Regarding the Model S and Model X, Tesla seems to be in the most total vagueness, since it is no longer possible to order these two models in Europe, but simply to pre-order them. The brand's website indicates that "prices and options will be finalized as the first deliveries approach. You will be prompted to finalize your order once final pricing and options are communicated. In the meantime, your order is considered a pre-order that can be canceled and refunded in full.
DEMAND IS INCREASING, AND PRICES SOAR
Therefore, since the beginning of the year, we have witnessed a rather new phenomenon. Well, not quite for Tesla, since used models were often taken by storm, but the prices of the models logically remained below those of new. Some second-hand models are now practically priced, or even more expensive than new, and this phenomenon has been further accentuated in recent weeks.
We could succinctly summarize this situation by the famous ready-made phrase "the law of supply and demand", and it is indeed the case in itself, even if it is a little more complicated than the case of the Californian firm which, since its arrival on the automotive market, does nothing like the others.
With extended lead times and new prices that have increased significantly, some customers are therefore turning to the second-hand market. Except that it's obviously overrun, and sellers are taking advantage of the exponential demand to drive prices up. Just take a look at the specialized ad sites to realize this. Even on the official Tesla website, in the used tab, some models are displayed at almost the same price as new, but with 20,000 or even 30,000 km more for some.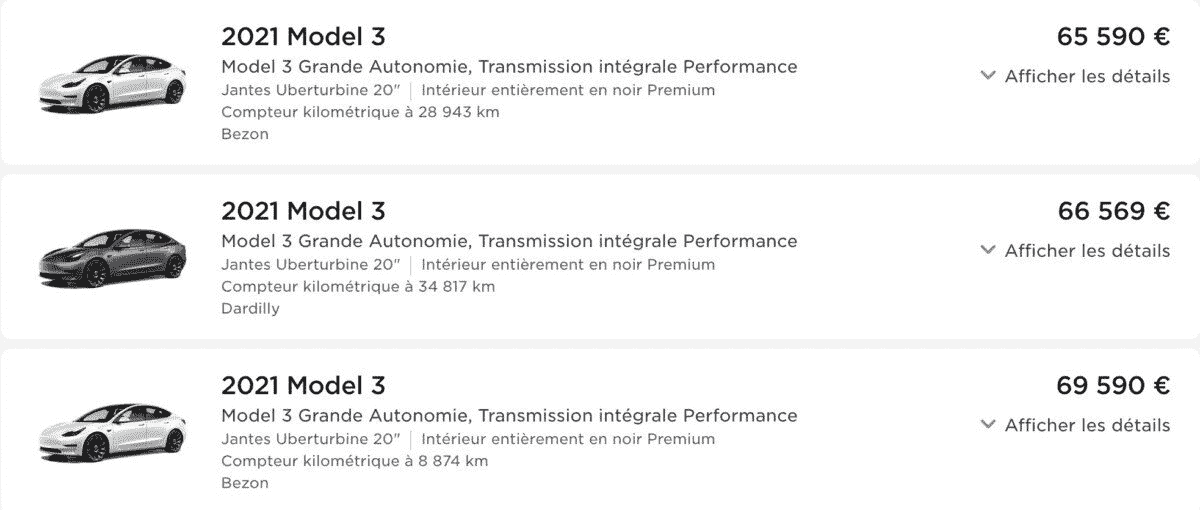 On the screenshot saved above from the second-hand part of the Tesla site, we can see a Tesla Model 3 Performance displayed at 69,590 euros with 8,874 km while it is exchanged for 66,490 euros new. Admittedly, the second-hand model taken as an example is equipped with the "Improved Autopilot" option (3,800 euros) bringing its new price to 70,290 euros, but the fact remains that the second-hand price is very close to the price new, and we are a long way from "25% of the price lost as soon as the new car leaves the dealership".
Another example, visible in the screenshot below, is a Tesla Model Y displaying 19,725 km on the odometer which is displayed at 71,990 euros, which is exactly the same price as the new model.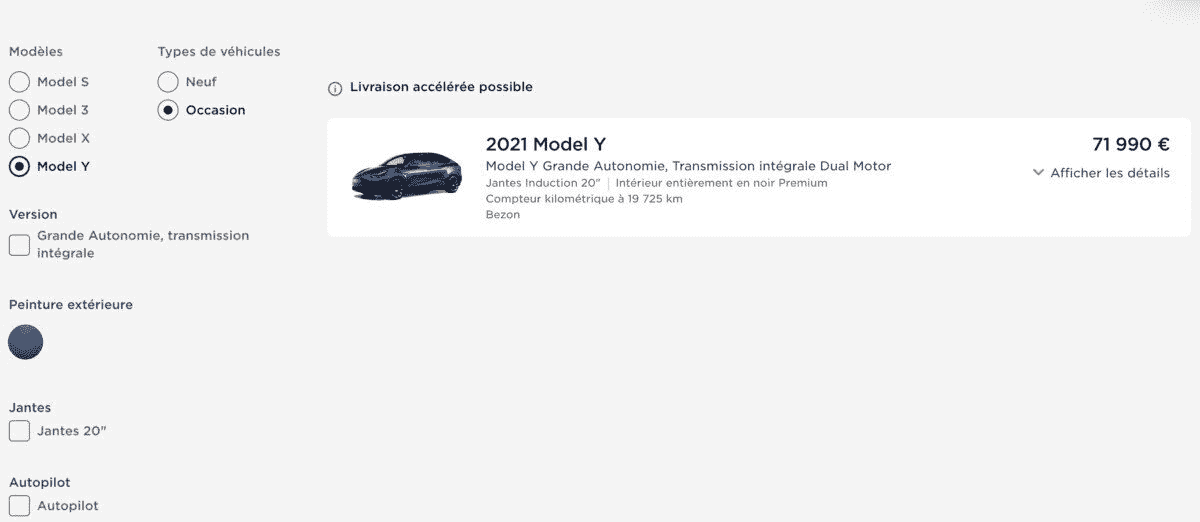 This is a phenomenon that can be seen on cars sold in limited edition, like a Porsche or Ferrari for example, but in no case from a generalist manufacturer. This trend is not unique to France, since our American colleagues from Electrek give several examples, such as a Model Y displaying 24,000 km sold for $1,000 more than a new model.
It should also be noted that in France, there is another particular phenomenon in the second-hand Tesla market. Some companies specializing in the import and export of cars have taken advantage of the bonus system to resell, from six months, a Model 3 to other countries which do not have aid and therefore a new price much higher. This allowed these companies to make nice capital gains, with many cars going to the Netherlands or Norway in particular, where a Model 3 was exchanged for much more expensive new at the time compared to France. But with the increase in prices in France, this phenomenon disappeared as quickly as it appeared.
TESLA IS NOT THE ONLY BRAND AFFECTED
With extended delivery times due to the shortage of components, the Covid crisis, and the war in Ukraine, but also with the legislator pushing for the purchase of an electric model, the new car market is caught in the middle, and it's not just Tesla who suffers. For example, on the Volkswagen group side, you have to wait for some plug-in hybrid models for more than a year and a half! The same goes for Mercedes, where certain models, such as the EQS in particular, will be delivered one year after the order is taken.
A recent study reveals that Teslas are far from the worst with this phenomenon of used cars being more expensive than new ones. For example, for an imposing Mercedes G-Class, some recently used models trade for 21.5% more than new ones in the United States! And some more "conventional" models are not spared either, since a simple Toyota RAV4 hybrid, a Corolla hybrid, or even a Ford Mustang Mach-E are also concerned.
And a return to normal is not to be expected before 2023, or even 2024 according to some manufacturers, including Volkswagen. After this date, it would be another "problem" that will take over, because some players in the automotive industry are already announcing possible battery shortages by 2026, as Carlos Tavares, the boss of Stellaris. Something tells us that used car prices may not be coming down yet, and not just Teslas.
Related Articles
How Much Is A Tesla Model 3, Tesla Model 3 test
Comment
Back to BLOG.