"Zero Accidents Are Possible": Autopilot Director At Tesla Explains The Way To Autonomous Driving
Aug 29,2022 | Chloe Lacour
Before his sabbatical and then departure this July, you could occasionally see videos of Andrei Karpathy appearing at conferences or tweeting the head of AI on Tesla's Autopilot team about his work. This task now seems to be taken over by Ashok Elluswamy, who, according to CEO Elon Musk, has overall autopilot leadership. He published his own appearance at a workshop on autonomous driving this June on YouTube and excerpts from it and further explanations on Twitter.
Tesla mit Occupancy Networks
Many of the principles outlined at the conference are contained in the latest version 10.69 of Tesla's FSD software, Elluswamy wrote on Twitter last weekend before it was distributed to the first 1000 beta testers. CEO Musk had previously described it as a significant advance that warrants the special 10.69 designations but also requires that adoption be phased. The Tesla boss reacted sensitively this week to criticism from one of the early FSD testers.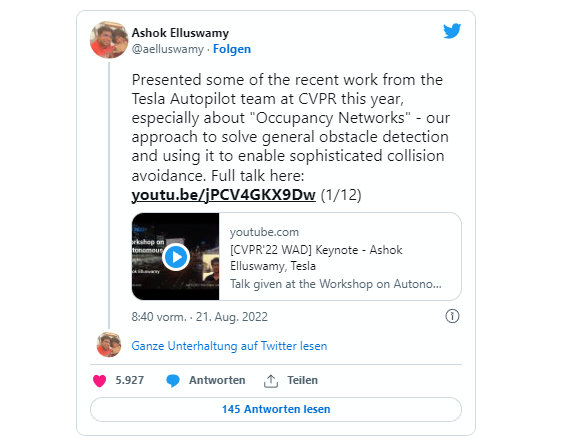 After promising that for a few previous years, Musk said at the annual general meeting in August that Tesla will really solve the FSD problem this year, although he had to laugh himself. Elluswamy was more cautious in his presentation in June by not giving any time perspective. In terms of content, however, in a way, he even went beyond Musk's vision by saying that it will be possible to produce cars that never have to have an accident.
In order to achieve this, Tesla relies on so-called occupancy networks, as Elluswamy explained: For each 3D point in the space around a Tesla, the cameras installed all around determine whether it is occupied and where it is allowed to move. This results in a complete mapping of the environment, including a look into the future, which, according to the Autopilot boss, requires little memory and computing power. It also enables the car to see to the sides, even if they are temporarily obscured by stationary or moving objects.
Autopilot prevents 40 parking accidents a day
That's how Tesla might have gotten "Chuck's Turn" under control. CEO Musk previously announced that this left-turn maneuver, named after a die-hard beta tester, across and onto a highway would work with the latest beta software. In the first tests of the namesake with FSD 10.69, the autopilot system actually coped with it in most cases, but not in all and not perfectly.
As Elluswamy now explained, the calculation and simulation of the available space also benefit normal Tesla customers. The always-on basic functions of the autopilot system would prevent about 40 accidents a day in which drivers put their foot on the power pedal instead of the brakes, usually when parking or maneuvering, he said. However, more intelligence is needed for more complex driving situations. In addition, the Tesla system has to make quick decisions for this. According to Elluswamy, other neural networks are fed with simplified results of the environment calculation and give a collision probability within 2 millionths of a second.
How much of this has already been implemented and what still needs to be solved was not made clear by Tesla's autopilot leader on Twitter or YouTube. But he described the technical progress as "very exciting for us" and explained on both channels that future accidents could be completely avoided if Tesla implements all planned steps correctly.
Related Articles
China's Electric Car Denza D9 Makes A Mockery Of Bmw Kidneys A Reality
Tesla Caliper Covers I Tesla Model 3 Y 18 - 20 Inch Car Modification Accessories
Comment
Back to NEWS.