Batteries: Panasonic Invests 4 Billion In Kansas To Supply Tesla
Jul 14,2022 | Chloe Lacour
Pressed by the American manufacturer to boost its production capacities, the Japanese group plans to assemble on its new American site the "4680" cells, which should make it possible to improve the performance of electric sedans. To take the investment, the State of Kansas has released nearly 1 billion dollars in grants.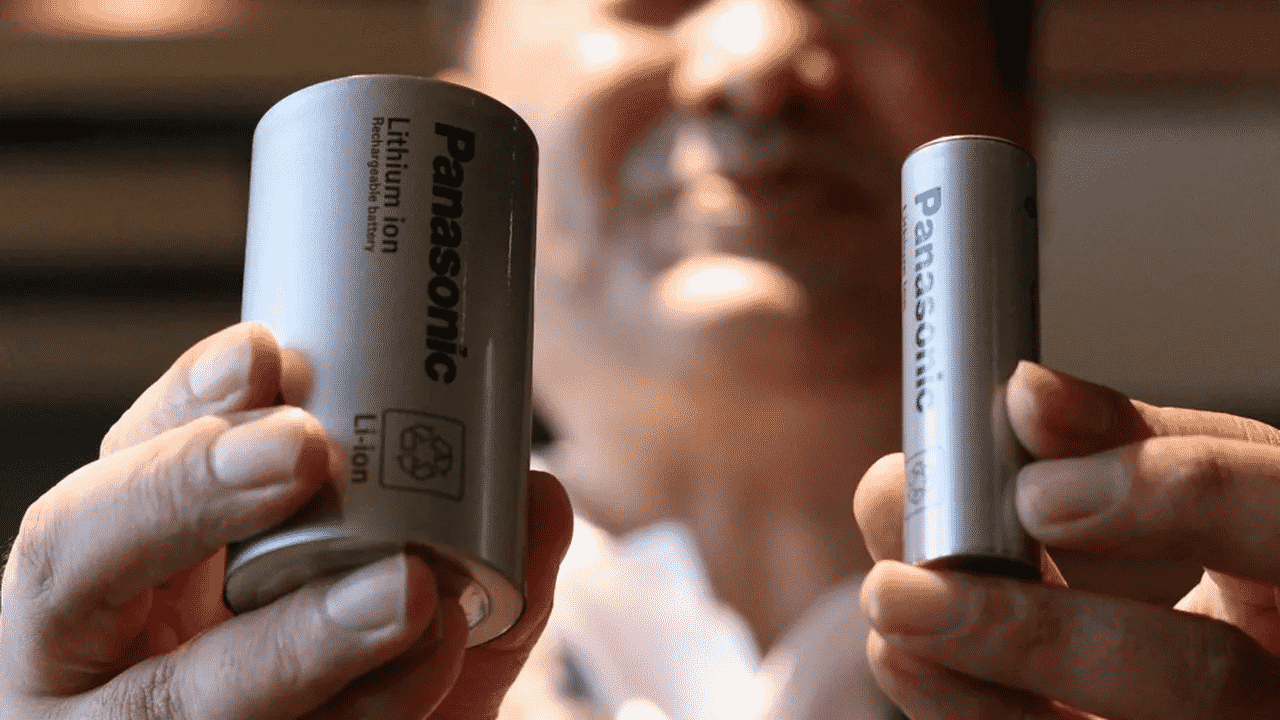 Kazuo Tadanobu, the CEO of Panasonic Energy presents the prototype 4680 cells (left) next to the previous generation 2170.
Anxious to remain Tesla's main battery supplier, Japan's Panasonic announced on Thursday that it would invest $4 billion in a new plant in Kansas. For months, the Japanese group had been studying several sites to meet the pressing demand of the American manufacturer, which needs more battery cells to equip vehicles leaving its factories in Texas.
Last June, Elon Musk, CEO of Tesla, publicly complained about the shortages of batteries that penalized its production rates on its American assembly lines. "With the increasing electrification of the automotive market, the expansion of battery production in the United States is essential to meet the demand", explained, this Thursday in a press release, Kazuo Tadanobu, the CEO of Panasonic Energy, which already operates, in partnership with Tesla, a Giga factory in Nevada.
A new generation of cell
Tesla particularly needs a new generation of cells called "4680", in reference to their diameter of 46 mm and their height of 80 mm. Larger than the "2170" cells currently fitted to Tesla models, the new cells make it possible, according to Panasonic, to manufacture more efficient and less expensive batteries in cobalt, lithium, and nickel. They represent an effective intermediate solution pending the arrival on the market, after 2028, of "solid" batteries, presented as revolutionary by manufacturers in the sector.
According to analysts, Tesla, which assembles its own batteries with cells supplied by its Japanese and Korean partners but also by its own laboratories in the United States, would like to install "4680" cells first in its Model Y SUVs, then in his next Cybertruck.
As a long-exclusive partner of Tesla, Panasonic must constantly invest in production capacity to resist its competitors also engaged in the manufacture of these "4680" cells. Last month, the South Korean LG Energy Solution validated an investment of 450 million dollars in a production line for this type of cell at its plant in Ochang, south of Seoul. The manufacturer did not reveal the names of its customers, but experts believe that a large part of these components is intended for Tesla. While the Chinese battery giant CATL also masters this technology in a solution called "Qilin battery", it has not yet won a major supply contract for this component with Tesla and does not yet have a factory in the United States.
Financial boost
Planning to triple or quadruple its battery cell production capacity by 2029, Panasonic has already announced the inauguration next year of two assembly lines in Wakayama prefecture, Japan, in a financial effort estimated at 80 billion yen ($580 million).
To finance its new site in Kansas, the Japanese group, which had also considered, for a time, setting up in Oklahoma, will benefit from significant state subsidies. Laura Kelly, the governor of Kansas, had adopted, earlier in the year, a support program equivalent to nearly 1 billion dollars for the new factory. "This project will transform Kansas' economy, providing high-quality, high-tech jobs, while bringing to the state a new industry that is forging a more sustainable future," the statement said. Laura Kelly. She assures that the new factory will create 4,000 jobs in her state.
Related Articles
Tech Boss After Tesla Was Kicked Out Of ESG Funds: "Elon Musk Doesn't Understand Anything About Esg Guidelines"
Comment
Back to NEWS.