Burning Tesla, more electric car accidents: insurance confuses with fake test and data
Aug 31,2022 | Chloe Lacour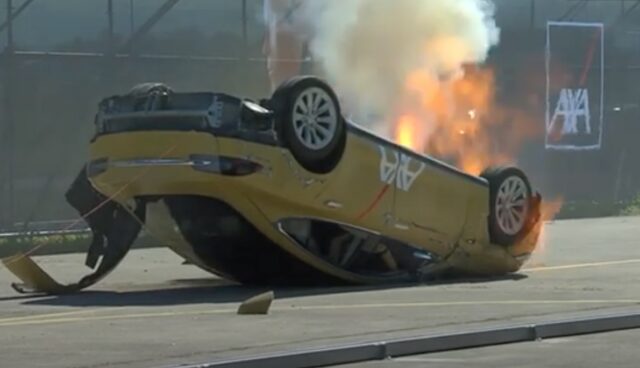 According to information on its Swiss website, the Axa insurance company has been carrying out its own crash tests since 1981. Since 2016 there have also been spectacular videos of the experiments, each dedicated to a current topic, and this year it was the turn of electric cars, in line with their increasing popularity. Instead of clarification, the latest tests brought more confusion. Among other things, the insurance company had an old Tesla burn in front of spectators in Zurich, which turned out to be staged. She also published figures on the increased frequency of accidents in electric cars, which only apply to Switzerland.
Explosions and fire after Tesla accident
Electric cars mean there are "more collisions and new risks," according to the headline of a press release that Axa Germany published last week about the tests in Switzerland. One summary reiterates that "impressive crashes" have shown that electric cars cause more collisions than combustion engines, especially high-performance models due to their "jerky acceleration". The underbody of electric cars also turns out to be an Achilles heel.
In addition, Axa published video material in which an old Tesla Model S drives over half a ramp, tipping over and lying on the roof. Applause from the audience starts hesitantly, but that's not all: there is an explosion roughly between the front wheels of the lying Tesla, then fire with lots of smoke breaks out there, after a second explosion a siren can be heard, and finally, it drives a fire engine in the picture.
According to the Axa text, this should show the dangers of so-called overlapping. The high torque of many electric cars can lead to unwanted acceleration when the power pedal is only pressed lightly, which the driver can no longer control, explains the head of Swiss accident research at the insurance company. Together with an unprotected underbody as the "Achilles' heel of electric cars", this could lead to driving over road islands or roundabouts with battery damage and then a fire, as in the video.
This Tuesday, during the last scenes of the crash film with the Model S in flames, the note "Recreated fire" was displayed, but it seems to be new: According to the information, the video file was changed in an online folder on Monday afternoon. Also included was a pdf document with a "classification" of the Tesla fire; the last change for this is Tuesday morning. At the crash event, it was shown that if the underbody were damaged, the battery could be damaged and burn, writes Axa Switzerland. Because a real fire would have been too dangerous in front of guests, the Tesla batteries were removed and a fire was only "recreated".
More electric car damage only in Switzerland
According to the insurance company, all of this was clearly communicated at the event, but it was not in the German or Swiss version of last week's press release. Axa only confirmed the staging with pyrotechnics when a car magazine asked and may have added the information in the accompanying material. Several reports initially appeared that gave the impression that the Model S had actually started to burn during the test.
In addition, several online media outlets reported that, according to Axa, drivers of electric cars cause 50 percent more accidents than drivers with combustion engines. This is also in both press releases, but in the German version, the board of directors of property insurance at Axa Germany has his say, who lets it be known that electric cars do not cause more accidents in this country than conventional ones. Both statements are actually correct, explained a spokeswoman for the insurance company when asked by teslamag.de. The first refers to Switzerland, where studies have found a higher risk of electric cars, and at Axa Germany "no increased claims frequency for the 'electric' drive type can be identified".
Related Articles
Hundreds of battery packs at Tesla in Texas: 4680 productions in new Gigafactory started now?
Comment
Back to NEWS.