Catl Is Planning The Largest Battery Factory In Europe In Hungary For 7 Billion Euros
Aug 14,2022 | Chloe Lacour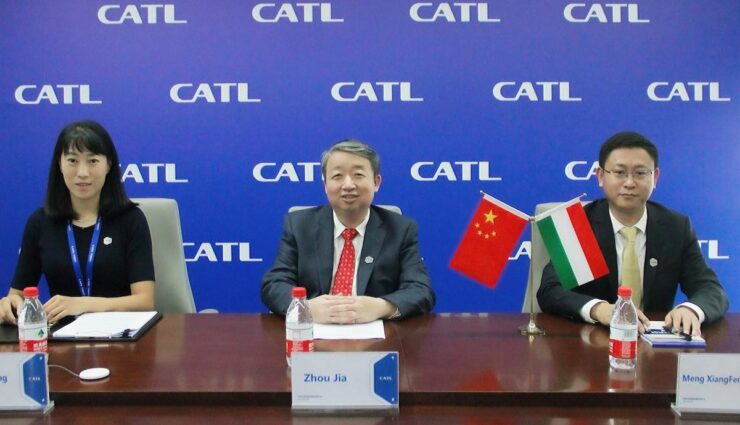 Photo: CATL (in the middle Zhou Jia, Vice Chairman, announcing the plans for Hungary)
In the USA, the geopolitical general weather situation is preventing CATL from deciding on a factory location there, or at least from announcing it, but in Europe, the way for the battery world market leader from China is still clear. After CATL received partial approval for its first European factory in Thuringia in April, the company announced a much more ambitious project in Hungary on Friday: A battery factory with an annual capacity of 100 gigawatt-hours is to be built there, with Mercedes as the largest Customers.
CATL batteries for European electric cars
According to CATL, construction work in a commercial area near the city of Debrecen should begin this year if the company's own shareholders agree. The investments are estimated at 7.3 billion euros. The expected start date is not included in the announcement, but it names many names: The location is near factories of customers such as Mercedes-Benz, BMW, Stellantis, and Volkswagen, it says.
It is already clear who will be supplied first: the first and largest buyer of CATL batteries from Hungary for electric cars will be Mercedes, the German company's CTO is quoted as saying. The Chinese manufacturer is a technologically leading partner and will supply CO2-neutral batteries for the next generation of Mercedes electric cars in Europe.
The announcement does not indicate whether Tesla will also be one of CATL's customers in Europe. The Chinese company has been supplying LFP batteries for the basic versions of Model 3 and then Model Y from the local gigafactory since mid-2020. Last year, Tesla was CATL's biggest customer but appears to have settled on an entry-level Model Y from BYD's German LFP structural battery factory. In addition, a separate factory for 4680 batteries is built on the Grünheide site, which is also intended for carrying battery packs.
More capacity than Tesla in Grünheide
According to Tesla CEO Elon Musk, it should be the largest in the world with an initial annual capacity of 100-gigawatt hours, but only 50-gigawatt hours were initially applied for and approved. Instead, the CATL factory in Hungary should be the largest, at least in Europe - the company is already in the process of surpassing that in its home country. With the new announcement, according to a market researcher from Benchmark Minerals, CATL is now planning 800-gigawatt hours of battery capacity worldwide in 2030, and only in Europe have all manufacturers together planned more than 1 terawatt hour.
Related Articles
Tesla Battery Megapack Now From 3.9 Megawatt Hours And 1.9 Million Dollars
Comment
Back to NEWS.