Chinese electric car brand with CATL battery for a range of up to 1000 km
Aug 29,2022 | Chloe Lacour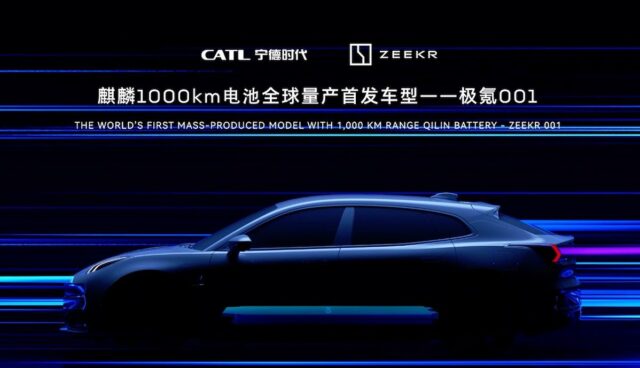 The largest customer of the Chinese battery manufacturer CATL was Tesla last year, and conversely, neither Panasonic nor LG Energy Tesla is likely to have supplied more batteries than the world market leader. However, the two companies are by no means exclusive to each other and have in some ways even been in competition since Tesla announced it would be producing its own 4680 cells two years ago. CATL recently reported explicitly that it had surpassed Tesla's 4680 concept with its own Qilin battery for a range of up to 1000 kilometers. And now it is also clear which electric car should get it first.
Electric car Zeekr 001 with Qilin battery
With regard to Tesla, there is currently more speculation as to whether improved LFP batteries from CATL will soon be used in China. With manganese as additional material, these cells should not be more expensive, but absorb 10-20 percent more energy with the same size and weight. This chemistry is called LMFP or CATL M3P. The improved batteries were rumored to be used in China's Model 3 and Model Y starting in the fourth quarter, but Tesla denied this last week.
In any case, the first new batteries based on the Qilin concept will not go to Tesla. Because on Saturday, CATL announced that it had entered into a five-year partnership with Zeekr, a premium brand for electric cars from the Chinese Geely Group. The world's first mass-produced Qulin electric car will be the Zeekr 009, a large hybrid of SUV and van that has only been shown in outline so far. Deliveries are planned for the first quarter of 2023. And in the following quarter, the concept should show what's still in it, because according to the announcement, the already available sedan 001 will be delivered with a Qilin battery for a range of 1000 kilometers from then.
CATL had already announced at a presentation in June that such a value would be possible. There you could also learn that Qilin means 13 percent more power than a pack of 4680 cells from Tesla with the same battery size and chemistry. The innovation lies in the efficient integration of batteries into rechargeable batteries. In addition, a cooling system with a large contact area should enable rapid reloading, according to CATL from 10-80 percent within 10 minutes.
Tesla boss finds ranges exhausted
Whether ranges of 1000 kilometers before recharging are really needed and bought remains to be seen when they are on the market. Tesla boss Elon Musk said this March that at least 600 miles (965 kilometers) were technically possible a year earlier, but the disadvantages of more mass are too great - a good 400 miles would be enough. In China, however, people seem to think less of such self-restraint. Nio and GAC have also already announced 1000-kilometer electric cars - and charging up to 80 percent within 10 minutes should also be well received in the West, regardless of the question of range.
Related Articles
Basic version of Tesla Model Y in Germany is more expensive than almost everywhere in Europe
Comment
Back to NEWS.