Electric Car Record With Battery Change: Nio Es8 Manages 1000 Km As Fast As A Combustion Engine
Aug 26,2022 | Chloe Lacour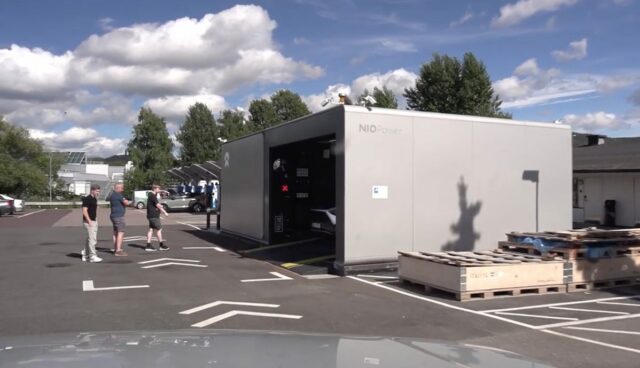 The Chinese electric car startup Nio wants to enter the German market with the ET7 sedan before the end of this year, and it has already started in Norway in 2021 with the ES8 SUV. A special feature is that Nio operates both fast charging and exchange stations for the batteries in its electric cars at home - and plans to do the same in Europe. In Norway, there are currently two locations for the so-called power swaps. Now the YouTuber Bjorn Nyland has tried the concept as part of his usual 1000-kilometer tests - and was faster than ever in an electric car.
Tesla Model 3 is no longer the fastest
That would still apply even if he hadn't subtracted 10 minutes from the time actually required. Nyland found this necessary because he left his Nio ES8 the first time he tried to change the battery against the instructions of the computer voice – probably because of this the exchange was ultimately terminated. But it worked on the second attempt, and after about seven minutes Nyland was back on the road with 90 percent full capacity.
The second exchange is due after a total of 537 kilometers, again at the same station, because Nio in Norway only has two of them. For this reason, Nyland basically only drives to and from one station, always on the motorway, in order to achieve its standard test speed of 120 km/h if possible. He usually takes a longer route but wants to show how it would work in the European future or in China today, where Nio has almost as many swap locations as Tesla Supercharger stations.
And so after another practically problem-free battery change after 776 kilometers and subtracting the 10 minutes for the very first attempt, it takes a total of only 9 hours for Nyland to have covered 1000 kilometers on Norwegian motorways. This is a new record, as shown by the table that appears. Among electric cars, it was previously held by the Tesla Model 3 Performance, which took 9 hours and 15 minutes this July. The Nio was 15 minutes quicker – just as long as a Kia Ceed plug-in hybrid that Nyland tested as a nitro reference (it took him twice to fill up and added a few minutes to the necessary purchase). of a hot dog, he explains).
Changing the battery takes as long as refueling
With the caveat that a well-developed Nio power-swap network was virtually only simulated in this test, the YouTuber comes to the conclusion that an electric car with a swap battery is just right for people who don't have to wait to be recharged on the go want. Because changing only takes as long as refueling, in this respect, it is on a par with combustion engines. In addition, there is still potential for time optimization at the Nio stations: everything worked automatically from parking in a marked area in front of the pits, but you have to stay in the car while it drives in and gets a fresh battery. Altogether, according to Nyland, currently takes 7 minutes rather than the 5 minutes stated by Nio, which can probably be shortened – and used more sensibly than waiting if you don't have to stay in the car.
Related Articles
No More Adjusting Exterior Mirrors: Tesla Profiles To Go, Musk Announces Automatic
Comment
Back to NEWS.