Factory expansion completed at Tesla China in response to report of city closures
Sep 20,2022 | Tesmag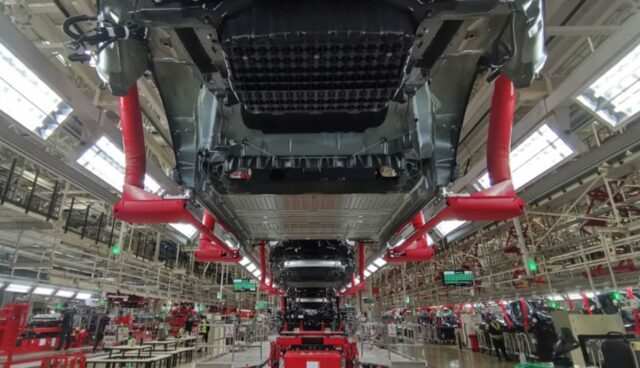 Some observers had expected an even clearer record from Tesla's previously expanded Gigafactory in China in August, but the month's 76,605 Model 3 and Model Y were also more than ever, although production was still partially dormant in the first few weeks. The number should therefore continue to rise in September – and even more in October because, according to Tesla, the factory conversion has only now been officially completed. At the same time, the company commented on a report that it wants to give up expensive city locations in China to present its electric cars.
Tests after the remodeling of the Tesla factory
The actual conversion work with interruptions in production first of Model Y and then of Model 3 had begun in July. That was about half a year later than originally planned – new corona lockdowns made it necessary to postpone and even close the Chinese Tesla factory for a good three weeks from the end of March. Production there should have been running normally again since the second week of August, but at the same time, there seems to have been some follow-up work: According to a Reuters report, Tesla only announced the completion of the project to expand its China capacity this Monday.
Newly set up production lines are to be tested by the end of November. As has been the case since July, this should simply mean that Tesla will continue to try to get as many Model 3 and Model Y models out of them for the domestic market and exports. According to earlier reports from Reuters, the new target capacity for the Chinese Tesla factory is around 22,000 electric cars per week, more than 1.1 million per year. Another Gigafactory location in Shanghai with almost half the capacity is also in preparation.
China sales stronger in suburbs?
Tesla has not yet commented on this, so it has neither confirmed nor denied the figures and plans. On request, the company at least commented on another Reuters report on business in China, albeit not clearly: Tesla is considering giving up its presence in expensive city malls in China and focusing more on suburban locations, the agency reported last week citing informed persons. According to a new report, the company said on Monday that sales channels in China would continue to be expanded at a normal pace. However, this does not rule out the closure of particularly expensive locations, because Tesla previously chose this approach to expand its presence in western countries.
Related Articles
Short Tesla delivery times in China: According to the analyst, "terrifying prospect" for other brands
Comment
Back to NEWS.