German Tesla Factory Now At 1800-1900 Model Y Per Week, More Colors In Test
Aug 25,2022 | Chloe Lacour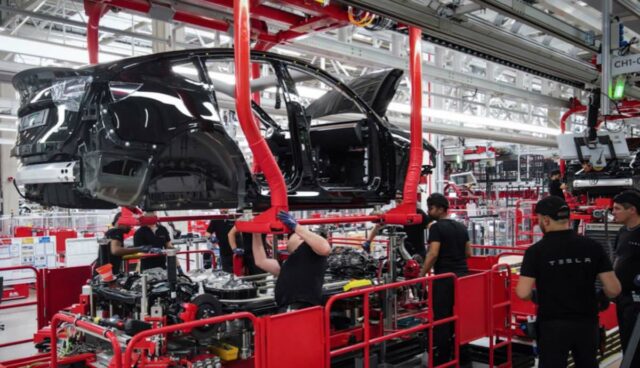 Slower than Tesla CEO Elon Musk had hoped, but still increasing, the new Gigafactory in Grünheide near Berlin is helping to serve the European market. Replenishments from China hardly arrived in July, but with 1725 Model Ys, more of them were delivered across Europe than ever before in the first month of a quarter. So most of it must have come from Tesla's German factory, even though it was itself closed for two weeks in July for conversions. And as has now been heard from there, production has now reached 1800-1900 Model Y per week.
Tesla plans 2000 Model Ys per week
The next brand should also be taken soon: at least 2000 Model Y per week from September, i.e. next week. For the time being, work on five days a week in two shifts should suffice. According to earlier information from teslamag.de, the start of a third shift is planned for October if enough staff are available. In an interview this week, Brandenburg's Economics Minister confirmed that this should be the case before the end of the year, which he rated the Tesla settlement as "completely positive" so far.
According to Tesla, the German Gigafactory reached its first milestone of 1000 Model Y in one week in mid-June, almost three months after the official opening. The new factory in the US state of Texas, which started two weeks later, took a good four months longer. The thousand mark is said to have fallen here last week, but Tesla has not yet officially confirmed this.
Against the background of the newly leaked figures for production in Grünheide, the impression of drone observers that the activity of the Tesla factory has recently increased seems to be confirmed. In the meantime, about half of the Model Y Performance and Long Range (LR) are to be produced, after the Gigafactory initially only produced the top version for private customers. With the next increase to 2000 Model Y in September, the LR share should even rise to 90 percent.
More colors from German gigafactory
In addition, the electric car goods from the German Tesla factory should soon be more colorful. From the start, with a few exceptions, only black and white Model Ys could be seen at the site, and only these two liveries have been delivered from there so far - performance models in other colors do not yet exist in Europe, and Model Y LR in red, Gray or blue come from China. From a technical point of view, the paint shop in Grünheide is now able to switch between all colors. However, samples would still be sent to the USA and the final tones would be determined.
Related Articles
German Tesla Factory Now At 1800-1900 Model Y Per Week, More Colors In Test
Comment
Back to NEWS.