Late redemption: Tesla referrers can send photos for transport deep into space
Jun 07,2022 | Chloe Lacour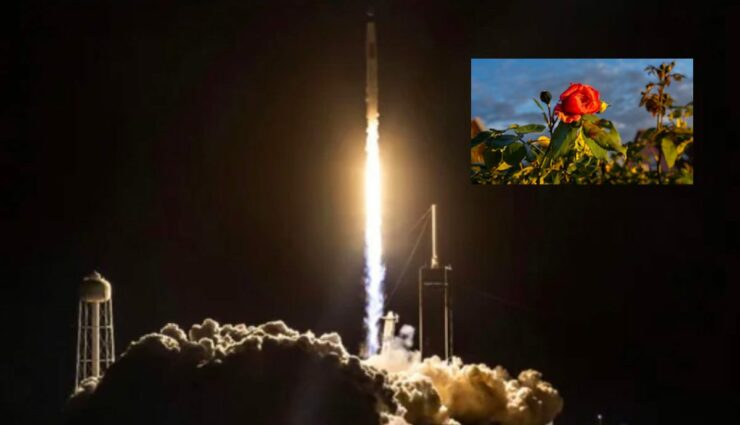 Until spring 2019, Tesla's referral program was able to quickly earn valuable bonuses up to a 2 percent discount for a new roadster for each successful customer acquisition, and until autumn 2021 there was still free supercharger electricity for both sides. Tesla also promised a reward that probably only has ideal value: you should be able to send any photo into space to mediate the purchase of an electric car. As with the Roadster today, many Tesla recruiters have been waiting for it for a long time - but now the action really seems to be starting.
Tesla requests photos for a bonus
The space reward is no longer even mentioned on Tesla's US pages on the earlier programs, but there is still a reminder of it on the German pages. "We are in the process of realizing our plan for the implementation of this great reward and will soon be sending you an e-mail inviting you to submit a photo." And last Friday, the announced invitation actually arrived at some private Tesla agents.
In German, for example, the Twitter user @we_drive_at was contacted by Tesla in connection with the rocket campaign, as he documented with a screenshot of the email. Documents would show that he was qualified to "send your photo on a journey into space," it says. It is expected to be submitted by the end of June, and more details would follow as the actual launch date approaches. Each participant can only submit one photo, Tesla reminds us. Another German customer has already shown on Twitter which picture he sent to Tesla for the space trip.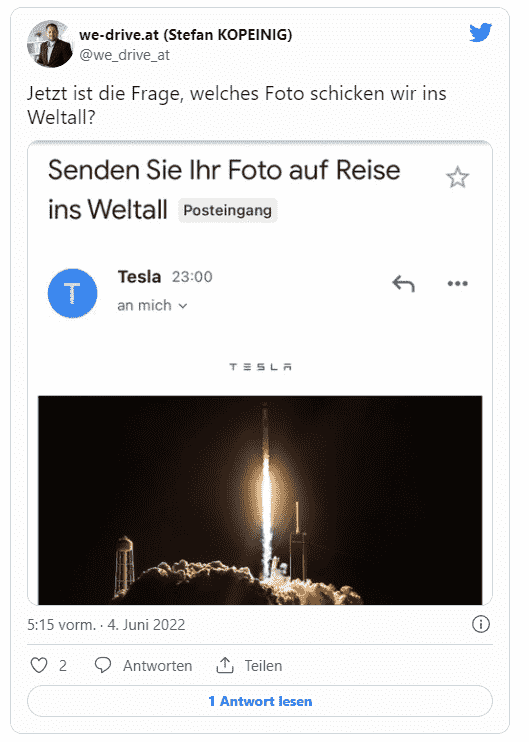 some Tesla recommenders in the USA also received a mail asking them to send in their photo. Apparently, not everyone has earned the right to be sent into space: The author himself belongs to this group of people but has not yet received an e-mail like this, as he writes. He had heard the same thing from other active participants in the previous referral program and therefore assumed that Tesla was sending out these invitations in waves.
SpaceX launch with unusual cargo
But some already have them - and now like @we_drive_at the luxury problem that they have to decide on a photo. According to previous reports, it will be laser transferred to glass and then sent into orbit deep in space by rocket. Tesla did not explicitly mention that this transport will be taken over by SpaceX, but it can be assumed. It will then float around for millions of years, CEO Musk wrote, and by the way, you can really choose any motif you want. Now this action seems to be starting in earnest. One of the next SpaceX launches is likely to have unusual cargo on board.
Related Articles
Tesla: Self-driving cars will find their way without GPS
Comment
Back to NEWS.