Mid-Size Tesla Model 3 No Longer Available To Order In North America
Aug 13,2022 | Chloe Lacour
Tesla's model selection is manageable - but this has not detracted from the company's success so far. In fact, it restricted its range in North America even more on Friday: In the Tesla configurator for North America, the Model 3 can now only be ordered as a basic or performance version, i.e. no longer in the medium Long Range (LR) variant. CEO Elon Musk justified this with too long waiting lists and stated that if production is higher, it will come back.
Model 3 only Tesla with the basic version
In addition to the volume models Model 3 and Model Y, Tesla has the premium electric cars Model S and Model X in its range - after a break of almost two years, they should come back to Europe towards the end of the year. So far, the Model 3 has been available in three versions in Western markets, while the Model Y has only two, namely Long Range or Performance. Like the Model 3, it is also available in China as a basic version with a smaller LFP battery.
In North America, however, there are only two versions of each Tesla model. On Friday, Twitter users discovered that the middle Model 3 is still displayed in the configurator, but can no longer be selected. It is now under the other two variants with the small note "available in 2023" (see photo above). That, plus CEO Musk's comment, indicated that the change wasn't a technical oversight.
A special feature is that only the Model 3 is offered in a real basic version with a smaller battery and rear-wheel drive. Model Y, Model S, and Model X, on the other hand, are each available as a long-range or performance or plaid with the same battery but a more powerful drive. So now there's a gap in the middle on the Model 3, while Tesla doesn't have an entry-level version on its three other electric car models.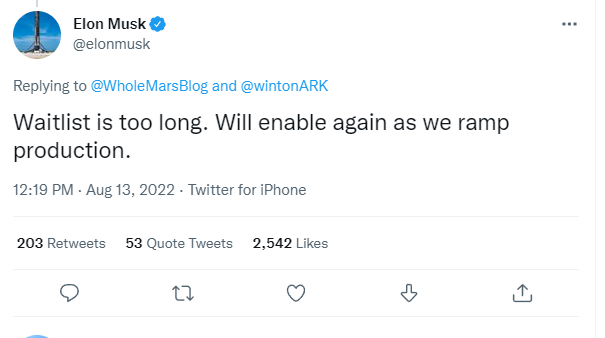 Shorter US delivery times for Model Y
According to Tesla CEO Musk, the reason for the decision against the mid-range Model 3 was that the waiting list was getting too long. That came as a surprise, however, because the delivery time estimates for the Model Y given in the configurator went much further into the future, at least on Saturday. Model 3 should be available for new orders in the USA from October and by January at the latest. Tesla has announced the delivery of the Model Y Performance as early as September, but the Long Range should not be available until January at the earliest, and maybe not until July. In China, the medium-sized Model 3 disappeared from the Tesla configurator without comment a little over a year ago, and so far it has not returned.
Related Articles
Xiao Mi Beats Tesla With The Cyberone, An Ai-powered Humanoid Robot
Comment
Back to NEWS.