Musk: Prices at Tesla "shamefully" high, turnaround in raw material costs is emerging
Jul 21,2022 | Chloe Lacour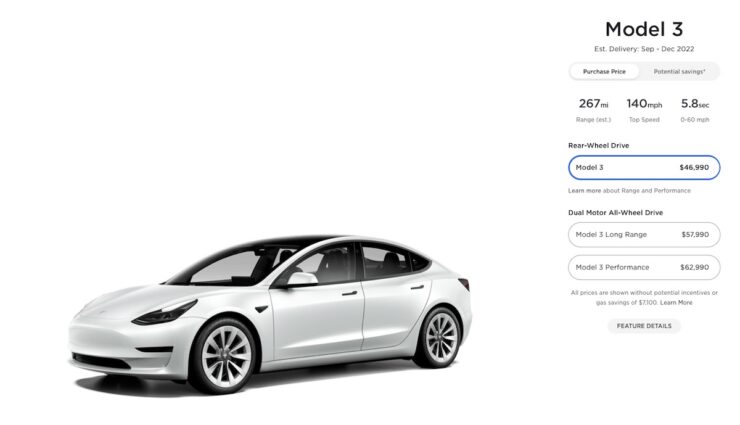 Tesla's Model 3 was long heralded as a $35,000 electric car, but instead, the first examples were sold in 2017 at base prices closer to $50,000. In the spring of 2019, a slimmed-down Model 3 for $35,000 could actually be ordered in the US configurator, but shortly thereafter it could only be ordered by telephone and was completely abolished again at the end of 2020. A little later, prices for the other versions also began to rise, with the most recent US increase this June. Tesla CEO Elon Musk thinks this is slowly becoming embarrassing – and at least promised a trend reversal.
Tesla prices have risen sharply since 2021
Until March 2021, the Tesla price development showed downwards worldwide, but then a series of increases began first in the USA, which lasted until this June. You currently have to spend at least $46,990 for a Model 3, compared to $37,490 just over a year ago. In Germany, the Tesla entry-level price before environmental bonus deductions rose from the lowest level of 43,560 euros at the beginning of 2021 to 52,965 euros most recently, which also means 1000 euros less government funding for it.
Because the many increases did not lead to a noticeable decrease in demand, Tesla shareholders were happy. Buyers, however, found it less appealing, and as early as mid-July, when asked about it, CEO Musk promised price cuts if the current high inflation leveled off. In the analyst conference after the publication of the Tesla business figures for Q2 2022 late on Wednesday, an investor wanted to know more about it. In fact, Musk was more specific in his response to this and other statements, but only slightly.
In view of the long delivery times, Tesla must anticipate what its own costs will look like in several months when setting the price, Musk initially repeated this explanation that he had given earlier. If there are signs that inflation is easing, a small cut is possible, the Tesla boss said, still cautious. But if he had to guess, he would bet on less inflation later this year, he explained. A downward trend can already be observed for some commodities, and it will probably be the same for most by the end of this year or early 2023.
CEO Musk promises trend reversal
Musk named lithium as an exception, the processing of which into battery material is currently like a "license to print money". He confirmed that it was time for a downward turn in the prices for his electric cars: they are currently "at shameful levels," said the CEO. Tesla has recently had plenty of supply chain and production problems in combination with "crazy" inflation, he justified himself. In the meantime, he has hopes of being able to lower the prices a little, Musk explained again, without giving a more precise order of magnitude or a time frame. This is not to be understood as a promise, but in any case, his statements did not sound like further increases.
Related Articles
According To The Head Of Technology, 4680 Production At Tesla Is Progressing – And Is Not Yet Important For 2022
Comment
Back to NEWS.