Neither with high prices nor quality problems does the demand for Tesla fall
Sep 01,2022 | Chloe Lacour
Production of the Tesla Model Y at Giga Berlin
That Tesla is the most successful manufacturer of electric cars today cannot be doubted, the numbers are the numbers. That it can maintain that leadership throughout the decade is already another matter, although at the moment the numbers point to that, considering the broad brush forecasts of the most important manufacturers. These forecasts can be revised upwards later, more than once it has already happened.
Right now, and in the future, Tesla's ability to meet the demand for its four models (mainly Model 3 and Model Y) not only determines how the others fare and their volumes, but also their share price. Right now its shares are trading at about $275, the price after the second split, with a capitalization of more than $850 billion.
Financial analyst Pierre Ferragu of New Street Research was enthralled by his visit to the German gigafactory last week, in which he and other colleagues tested the cars and saw how it works from the inside out. This comment is very significant since it already places Giga Berlin as a German factory of Premium cars, even «luxury». Luxury is something else, but his words have been those: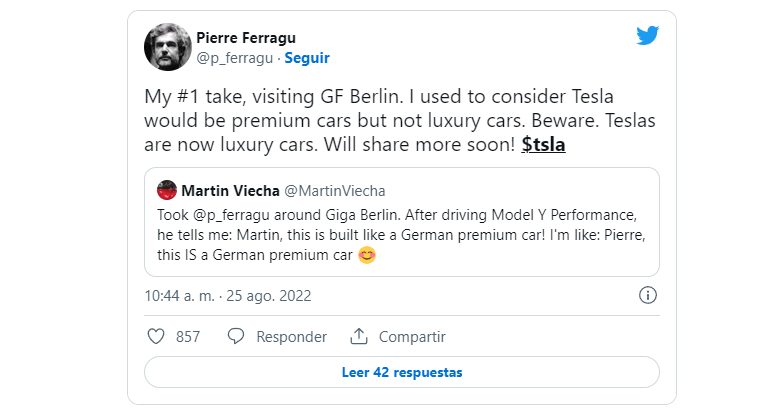 Mr. Ferragu tells his customers that Tesla has an unprecedented demand for its electric cars, something that " everyone I know at Tesla and with whom I have been able to talk about it" has confirmed. He added that the lawsuit isn't just for Tesla, it's for its competitors. Data in hand, you are absolutely right, never in the history of the automotive industry have so many electric cars been ordered and the volumes continue to rise: they are already more than 10% of world sales.
Regarding the Berlin factory, he described it as more efficient than the Fremont one, due to its good logistics and the 45-second cycles of the production chain. It will be able to reach 10,000 cars a week when it is at full capacity, which is approaching a rate of 500,000 cars a year. The analyst believes that TSLA's price target is now $530 (almost double what it is now), and that the capitalization could reach $10 trillion in 2030 (more than 11 times its current value) if it reaches a volume of 20. million units per year.
But can Tesla do such a large volume? In 2017 a volume of almost 73 million passenger cars was reached worldwide, assuming that it returns to a similar figure, Tesla would have to have a beastly market share and multiply its current capacity by 10. In addition, it needs a much more complete range of models than the one it has now, and clearly dominates markets such as the Chinese, European, North American, Japanese, or South Korea.
| Model and period | Production | deliveries |
| --- | --- | --- |
| Model S/X (T1) | 14.218 | 14.724 |
| Model S/X (T2) | 16.411 | 16.162 |
| Model 3/Y (T1) | 291.189 | 295.324 |
| Model 3/Y (T2) | 258.580 | 254.695 |
| Total first semester | 580.398 | 580.905 |
This is the official data that we can transfer to you now, it seems quite easy for Tesla to exceed the volume of 2021, but it will not exceed it by much if it continues at the same rate. In the third quarter, we will see an uptick as Giga Shanghai has increased its capacity and delivery capacity of the Model Y RWD both locally and in Europe. On the other hand, Giga Texas and Giga Berlin are increasing their cruising speeds.
All manufacturers are facing unprecedented demand for electric cars, with few exceptions. Orders are piling up pretty much for everyone too. Mr. Ferragu is interested in seeing Tesla shares rise because he is surely a shareholder too, and he has the power to influence so that more people buy and his clients see how the shares rise. We create the messenger, we can do it, but it doesn't seem impartial.
A manufacturer of luxury cars does not have its customers waiting months for spare parts, nor do they pass quality control cars that will have problems in their first technical inspection, nor do they have hundreds of thousands of volunteers doing the work of developing their system. semi-autonomous driving -which is not yet ready, continues to increase in price and already goes to $15,000-. Impartiality is to say this too, but it is not so nice in a note addressed to investors.
Related Articles
Comment
Back to NEWS.