No More Adjusting Exterior Mirrors: Tesla Profiles To Go, Musk Announces Automatic
Aug 26,2022 | Chloe Lacour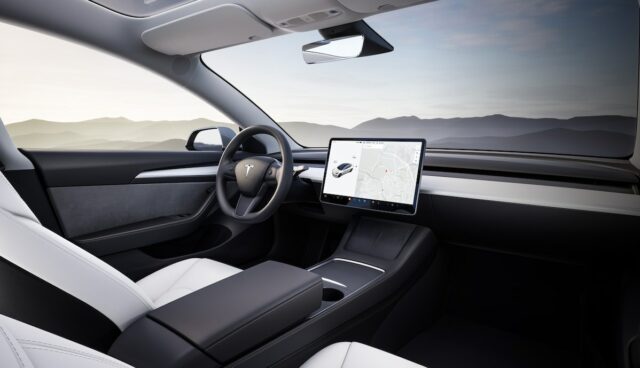 A few Tesla customers in the US recently received version 2022.16.3.10 of the vehicle firmware, which also contains the latest beta software FSD 10.69 for the autopilot system - according to CEO Elon Musk, they should only have about 1000 testers for the trial start. In the meantime, including in Europe, Tesla is distributing its firmware 2022.24.5 without autopilot features, but with practical new functions. And CEO Musk announced that one of them will soon be made unnecessary.
Seats, heating, driving synchronized
The distribution of the Tesla firmware for everyone began according to the tracker TeslaFi like that for the 1000 beta testers last weekend. 2022.24.5, therefore, contains minor innovations such as the option to move the side camera image to a different position if it is displayed when blinking, or (but not in Germany) to suppress the warning sounds of Sentry mode.
More exciting, however, is the introduction of portable profiles. CEO Musk last announced this as a cloud service this year and said that from then on every Tesla will adapt to the saved wishes of the person behind the wheel. This seems to have been implemented with the new Tesla profiles. Settings and preferences are synchronized across all vehicles used using one's own account, according to the release notes. This applies to mirrors, seats, autopilot, driving and climate options as well as navigation, media, and data sharing.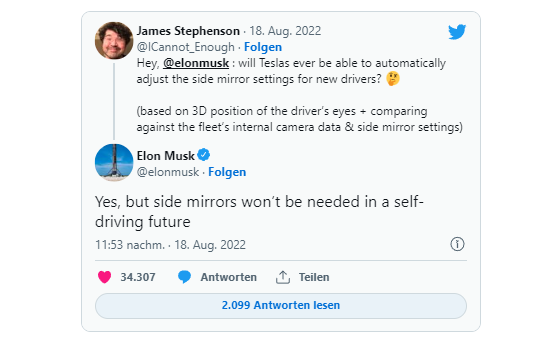 Portable preferences with Tesla Account
To make the preferences portable, you need to link the profile in the vehicle to your Tesla Account. From then on, this profile should be available in every Tesla to which the respective person has access. This would apply, for example, within a family with several vehicles of the brand as well as for professional rentals: via the app, anyone invited can use a Tesla and because this allows them to be recognized when they get in, their cloud profile can be displayed on the screen are offered for selection.
This is certainly practical, especially for frequent Tesla changers. At least one customer would like it to be even more convenient: @ICannot_Enough asked Tesla boss Musk last week on Twitter whether it will ever be possible for the exterior mirrors to automatically adjust themselves correctly for each driver. He suggested that this could be done via a 3D positioning of the eyes and a comparison with settings saved by others.
In a future with self-driving cars, mirrors would no longer be needed, the CEO initially replied. There will still be an auto-adjustment of the exterior mirrors, Musk added a little later. After the cloud announcement has been implemented, there is already a new promised item on the customer wish list.
Related Articles
Tesla Denies Changing The Battery In Model 3 And Model Y In China
Comment
Back to NEWS.