Satellite Mobile Communications: T-mobile Closes Gaps With Spacex, Tesla And Apple Could Follow
Aug 27,2022 | Chloe Lacour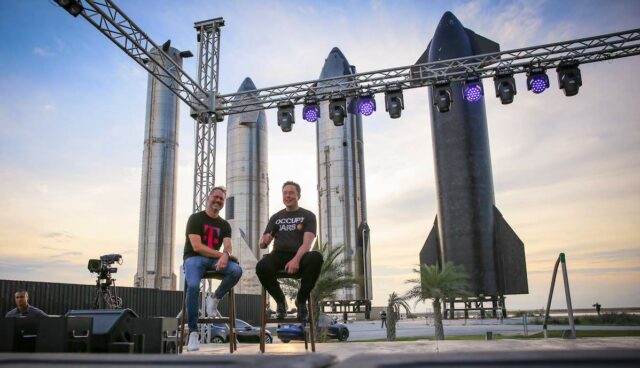 In front of a suitable rocket backdrop at SpaceX's Boca Chica site in Texas, Elon Musk and Mike Sievert, the CEO of T-Mobile US, presented cooperation on Thursday evening that is intended to make terrestrial mobile phone coverage complete with support from space. For now, that only applies to T-Mobile customers in the United States, but the partners specifically invited other companies to work together on "truly global connectivity." Tesla's electric cars will be able to use the service, Musk confirmed as CEO of SpaceX like Tesla. And Apple seems to be moving in the same direction.
Starlink cellular for regular smartphones
SpaceX and T-Mobile may have narrowly anticipated Apple with their "special" cooperation, according to Musk. Because the smartphone inventor also sent out invitations to his September event on Thursday, and this time it's themed "Far Out". This, along with the graphic of a constellation-style Apple logo, fits well with speculation that Apple is planning to add satellite connectivity to its iPhone 14.
Now T-Mobile wants to do that first with SpaceX - and according to a joint statement from the two companies, you don't even need a new mobile phone for that. The vast majority of today's smartphones in the T-Mobile network will also be able to use the Starlink service, they write. However, a beta test is not scheduled to begin until the end of 2023, and there is one important limitation: For the time being, customers should only be able to use the satellite connection for messaging services. The partners want to tackle language and larger data transfers later.
Service also for Tesla electric cars
If today's devices can use the service, SpaceX will have to make correspondingly greater efforts. According to the announcement, Starlink satellites are to span a mobile network from space on the frequencies of T-Mobile over the USA. But this requires next-generation satellites, and to get them into space, SpaceX needs the new Starship rocket system, Musk explained in front of several prototypes. There hasn't been an orbital test with it yet, and approval for it in Texas, among other things, is a long time coming.
Perhaps that's why at the end of the T-Mobile version of the joint press release, it is explicitly pointed out that better coverage for its own customers via Starlink is a forward-looking statement, which means it is subject to great uncertainty. Tesla and SpaceX boss Musk, as usual, showed no such caution. Instead, when asked on Twitter, he promised that Tesla's electric cars would also get the satellite service. Previously, he had always turned down requests to integrate Starlink because the receiver was too large. With the satellite generation v2, it should work soon after all - if everything else works.
What exactly does Apple mean by the "Far Out" hint, the company is likely to reveal it on September 7th. In any case, the cooperation between SpaceX and T-Mobile suggests that the mobile world is ripe for an expansion into space in order to better supply the earth. Technology investor and Tesla shareholder Gene Munster called satellite connectivity on the iPhone 14 Pro Max a "safe bet" on Friday and even thought it possible that Starlink, T-Mobile, and Tesla would be presented by Apple as partners.
Related Articles
Commodity Bill: Metals For 20 Million Electric Cars Would Cost Tesla $100 Billion
Comment
Back to NEWS.