Supercharging With 480 KW: Electric Car Startup Xpeng Wants To Surpass The Tesla Model When It Comes To Charging
Aug 18,2022 | Chloe Lacour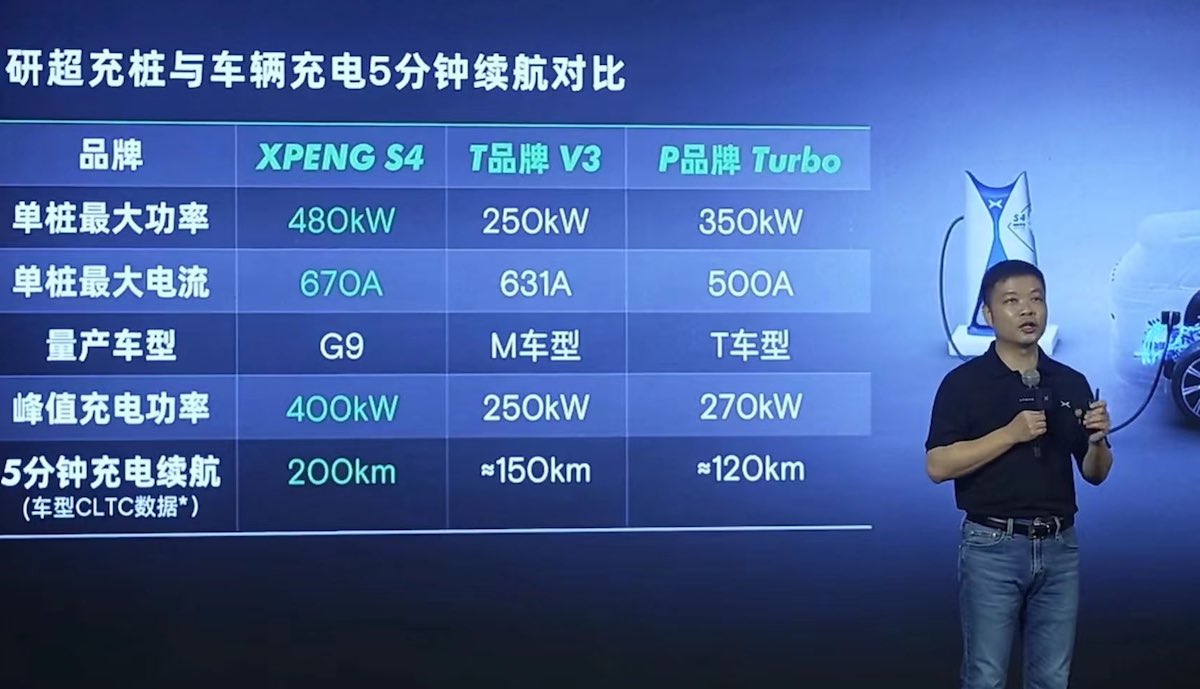 In the West, car manufacturers are slow to build their own fast charging stations, modeled on Tesla's supercharger network, if they intend to do so at all. In China, on the other hand, even startups are seriously competing with Tesla in this regard. With Xpeng, the second one informed about the opening of the thousandth own station. The electric car manufacturer, like Tesla, uses the term supercharging network – but he is said to be about twice as fast.
Direct comparison with Tesla and Porsche
Xpeng made the announcement this week at an event dubbed Supercharging Media Day. Apparently, there is no shying away from Tesla bonds there - nor from comparisons with the US company and other big names: the most important data for charging at Xpeng, Tesla and Porsche were shown on a slide (see photo above). And when it comes to the ultimately decisive performance, the Chinese startup is way ahead.
Because the new S4 charging station, according to Xpeng, is up to 480 kilowatts. Your own G9 electric car can use up to 400 kilowatts of this and recharge electricity for a distance of 200 kilometers within five minutes. The company correctly specifies up to 250 kilowatts of V3 superchargers for Tesla and a maximum of 350 kilowatts for Porsche charging stations, of which the Taycan can use 270 kilowatts. With supercharging there will no longer be any fear of range and the landscape of electromobility will change, said Xpeng co-founder He Xiaopeng, probably with a view to his own variant.
So far, S4 supercharging has only been available at exactly one station where the media presentation of the G9 took place. According to the company, construction in ten major cities is to begin this year and from 2023 in other cities and on the most important motorways. By 2025, 2,000 additional supercharging stations are to be opened at Xpeng in China. With the latest and fastest, the number of his own charging stations has now risen to 1,000, around 800 of them with up to 180 kW of power. The competitor Nio spoke in July of 1012 own stations for battery exchange within a few minutes.
Chinese electric cars charge faster
Pre-sales of the Xpeng SUV G9 in China started last week, according to the publication Gasgoo. According to the manufacturer, this electric car is designed for the global market, and like other Chinese companies, it is preparing to launch in European countries. Tesla was there earlier, but will soon have to defend itself against this competition in Europe - just like the rest of the West. With Nio and GAC, two other electric car manufacturers have already presented charging solutions with up to 500 kilowatts, and Nio wants to install such ultra-fast columns in addition to exchange stations in Europe. At Tesla, supercharging power is to be increased in steps to 350 kilowatts, according to CEO Elon Musk.
Related Articles
More Germans Want To Buy An Electric Car, Tesla Just Behind Audi And Hyundai
Comment
Back to NEWS.