Tesla Ai Day Changed To September 30: Humanoid Robot Prototype Will Appear!
Jun 04,2022 | Chloe Lacour
Musk said Optimus will "change the world" and may even be more famous than Tesla.
Musk tweeted today that Tesla could have a working humanoid prototype in the next few months, delaying Tesla's second AI Day until September. 30 days.

Tesla announced a humanoid robot called Optimus on its first AI Day in August 2021. Musk said in April that Optimus is the most important product development project in 2022, possibly even more so than the automotive business, and that production of the first humanoid robot will begin in 2023.
Musk revealed that Optimus will be able to do a lot of things humans don't want to do and said the robot will usher in an "era of abundance." He is also optimistic that Optimus will "change the world" and may even be more famous than Tesla, but "it may be hard to imagine."
But to everyone's appetite, Tesla has not disclosed a working prototype of the robot, so it is not clear how complex the first-generation version of the humanoid robot, called Optimus, will be.
And Musk's latest tweet means that people will be expected to see Optimus on September 30.
What might Optimus look like?
So, what does the Optimus humanoid robot, which Musk has in mind, "may be bigger than the electric car business", looks like?
We can at least spell out some truth from Tesla's successive disclosures.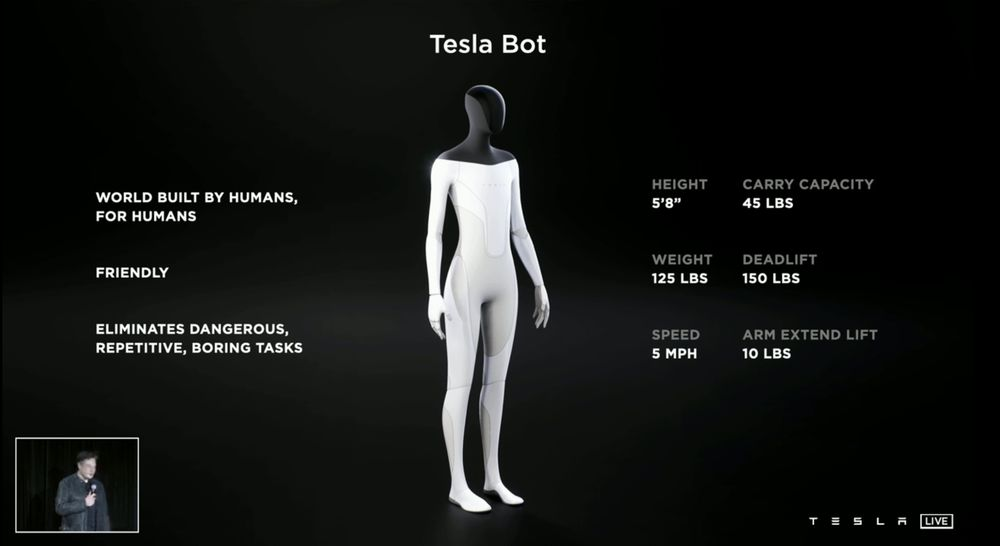 On the first artificial intelligence day in August 2021, Musk introduced that Optimus is 5 feet 8 inches (about 1.72 meters) tall and weighs 125 pounds (about 56.7 kilograms).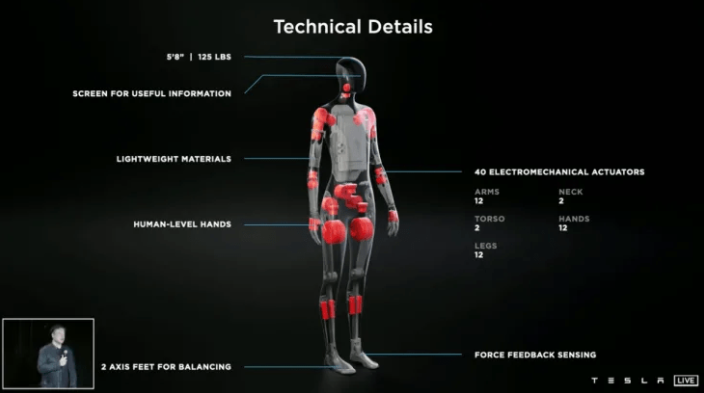 The humanoid robot will be used to fill labor gaps, performing tasks that are dangerous, repetitive, or too boring for people to do, such as using a wrench to attach bolts to a car or going to a store to buy groceries.
The Tesla robot head is equipped with a camera for navigation, driven by an artificial neural network (Artificial Neural Network), its face will have a screen for displaying and providing information, and the hands can act like human hands degree of action. Most importantly, this new product won't be super expensive.
According to Industrial Securities, this humanoid robot combines Tesla's AI technology, which is the automatic driving technology based on the predictive ability of the visual neural network nervous system, and the DOJO D1 supercomputer chip with extremely strong computing power. They are all seamlessly connected, and the delay between adjacent chips is extremely low. The training module maximizes bandwidth retention. With Tesla's own high-bandwidth and low-latency connectors, the computing power is as high as 9PFLOPs ( 9 petaflops).
On December 19, 2021, in an in-depth interview, Musk once again mentioned that he wants to let robots do dangerously boring jobs that humans are unwilling to do.
I think there will be a lot of jobs in the future that people won't do if they don't get paid, like washing dishes, if you do it all day, you'll be very irritable, even if you really like doing dishes, you're willing to do it every day eight hours?
Then there are those dangerous jobs, which are dangerous and boring, and have repetitive stress injuries.
I think these jobs are where humanoid robots can be of the most value, and our goal is to get robots to do things that humans don't want to do.
He also envisions a future where Tesla's robots may even become human companions.
It actually ends up being a really nice companion. It can be individualized, and over time, he may develop a unique personality, not all robots are the same.
Musk also mentioned that the robot could be connected to Tesla cars.
It will use an autonomous driving reasoning computer. We have done a lot of training for the four models of Model S/Y/3/X. The technology in recognizing things in the real world can be directly used by robots. However, there are also many actuators and sensors that need to be customized to be developed.
Related Articles
Elon Musk Wants To Cut Tesla Jobs By 10%: 'pause Hiring', Says Email
Comment
Back to NEWS.