Tesla Allowed Building A Huge Megapack System On A Factory Site In Texas
Aug 16,2022 | Chloe Lacour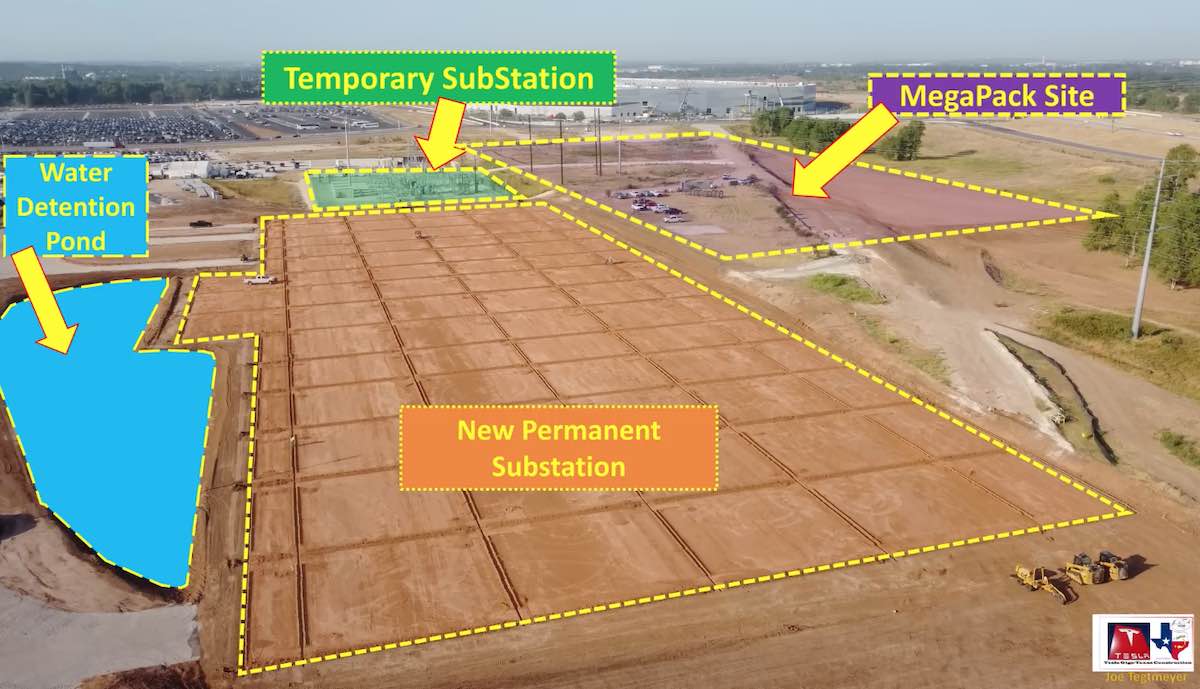 Photovoltaic installation on the huge roof of the Gigafactory in Texas is gradually taking shape and could ultimately lead to a solar output of a good 30 megawatts - but Tesla not only wants to produce electricity on the premises of its factory but also store it on a large scale. This spring it became known that an area for the installation of megapacks is planned there, i.e. large stationary batteries that Tesla offers for industrial customers. And now the company has received approval for it.
Photovoltaic and batteries for Tesla factory
The Teslarati blog found out about this week, as it reported on Monday. Accordingly, the city of Austin has approved Tesla's application to build an additional 53 hectares on the huge Gigafactory site. The greater part of this is earmarked for a permanent substation to replace a much smaller temporary one, about a third for a hitherto unknown number of megapacks (see photo above).
Cars are currently still in the megapack area while the ground for the substation is being prepared, but battery installation could also begin soon at the usual Tesla pace. However, the company is taking its time with photovoltaics on the main building, as can be seen in a drone video by observer Joe Tegtmeyer last Friday. Installation began in January and it is now clear that Tesla is putting its own name on the roof with solar panels. However, only around 19,000 of the more than 70,000 modules expected have been installed.
According to calculations by Tegtmeyer, all of them together could enable an output of a good 30 megawatts, which would make the Tesla roof in Texas one of the largest systems of this type in the world. The Megapack stores are to be placed north of the long main building. A planned capacity does not yet emerge from the pure construction applications. According to Teslarati, it will later be found in more detailed planning, which Austin is currently running as "open".
Megapack space for gigawatt-hours
However, the site in Texas would offer space for a record-breaking system. A new version of the Tesla Megapack has recently been released, the capacity of which has been further increased to 3.9-megawatt hours. Its footprint is now a good 15 square meters, and even if you double that for distances, more than 300 battery modules could still be accommodated per hectare. In theory, each hectare offers space for a whole gigawatt hour. So far, this brand has only been used by very few battery storage systems. Tesla itself already operates another Megapack plant in Texas, which has a stated capacity of 200-megawatt hours.
Comment
Back to NEWS.