Tesla: Analyst Warns Of Major Bitcoin Shock
Jul 19,2022 | Chloe Lacour
Tesla is not only a pioneer in e-mobility, but also in cryptocurrencies. At the beginning of 2021, the company was one of the first listed companies to buy bitcoins as a long-term investment. A hot bet, but one that likely caused Tesla to take a huge hit in the second quarter.
When Tesla releases Q2 numbers after the US market closes on Wednesday evening (July 20), Barclays analyst Brian Johnson expects the Bitcoin investment to be written down by around $460 million, or 40 cents a share. The reason for this is that Bitcoin ended the second quarter at around $19,000 - and thus well below the $32,000 to $33,000 at which the e-car maker entered early 2021, according to the expert.
Under current US accounting rules, cryptocurrencies are treated as intangible assets. Price gains or losses in Bitcoin investments must therefore be reported accordingly in the quarterly reports - even if not a single coin was actually sold during the period under review.
The e-car pioneer recently had around 42,902 bitcoins on its balance sheet - more than almost any other listed company. Only the software group MicroStrategy, which has mutated into a Bitcoin holding company, has an even larger inventory of almost 130,000 coins.
Possibly a positive surprise
Despite the potential impact of an impairment on its Bitcoin investment, Johnson expects Tesla to beat Wall Street's expectations on Wednesday with quarterly earnings (EPS) to come in moderately above analyst consensus. After the recent comments on the cost explosion in the newly opened plants near Berlin and Austin, however, the focus will be particularly on free cash flow.
In addition, Johnson has confirmed the estimate for vehicle deliveries in the current third quarter. Despite a short-term closure of the plant in Grünheide near Berlin, he still believes that doubling production there in August and delivering 18,000 vehicles in Q3 is feasible. According to Barclays, 213,000 units should roll off the assembly line in Shanghai by the end of September – 3,000 more than previously forecast.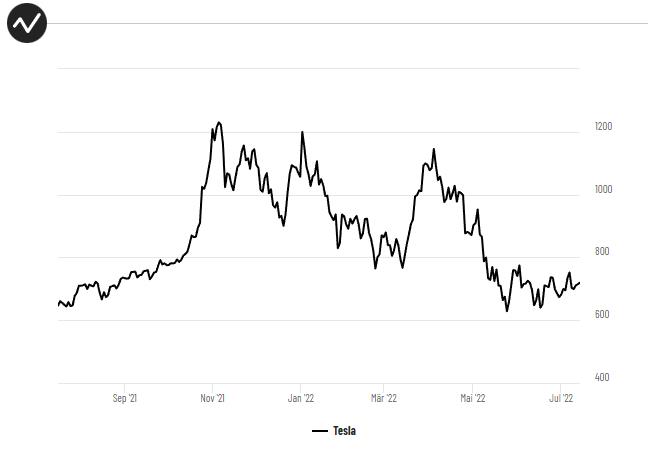 Although the investment bank raised the price target for Tesla shares by $10 to $380 ahead of the figures, based on the closing price on Friday, this still corresponds to an almost 47 percent downside risk. The "underweight" rating was confirmed accordingly.
After a significant correction since April, Tesla shares have recently moved sideways. A positive surprise in the midweek release could provide the impetus for a rebound.
Related Articles
CATL Builds Batteries With A Range Of 1,000 Kilometers - Tesla Is At A Disadvantage
Comment
Back to NEWS.