Tesla Announces Preliminary Data For The Second Quarter Of 2022 ~ A Decrease From The Previous Period, But The Number Of Vehicles Delivered Increased By 26% Year-on-year
Jul 12,2022 | Chloe Lacour
Tesla announced on July 2, 2022 (local time) that production and deliveries in the second quarter of 2022 were lower than the previous quarter. It was the first quarterly output decline in two years since the coronavirus pandemic hit in the second quarter of 2020. But it has increased compared to the same period last year.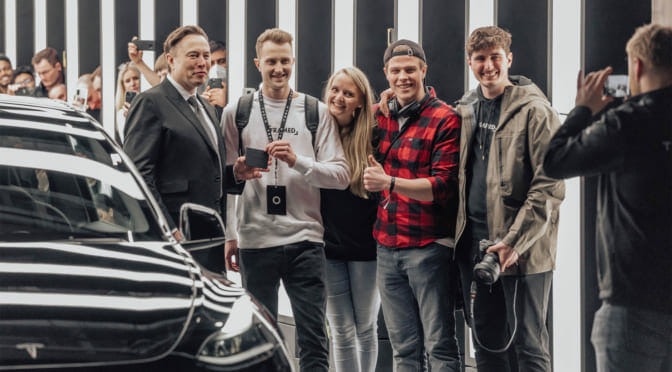 The first photo shows the first delivery of the Model Y at the Giga factory in Berlin
Lower than the previous quarter for the first time in two years
On July 2, 2022, electric vehicle (EV) maker Tesla released preliminary data on production and deliveries. Production of "Model S/X" was 16,411 units and "Model 3/Y" was 244,169 units, for a total of 258,580 units. The first quarter was 305,407 units, just under 50,000 units, a drop of about 15%.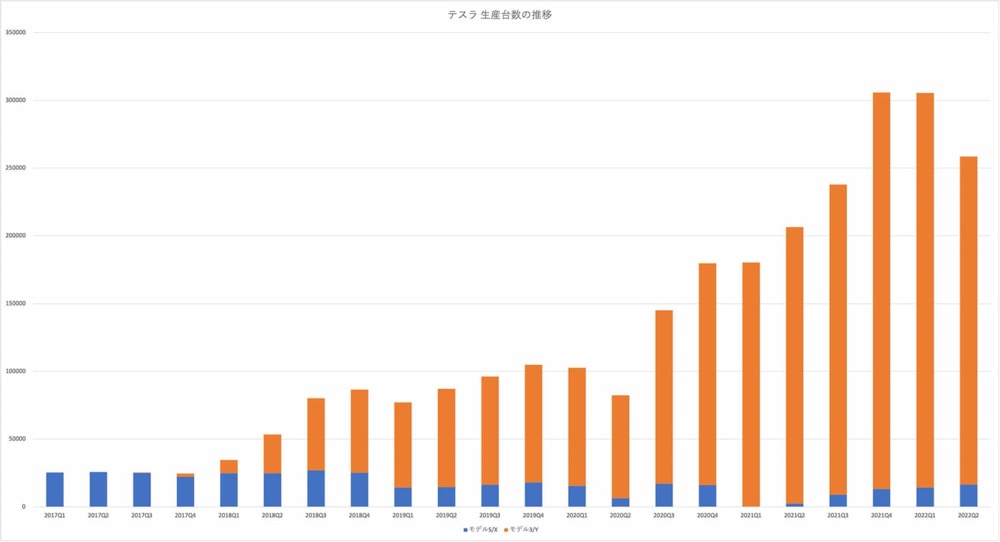 【Reference information】
Tesla Vehicle Production & Deliveries and Date for Financial Results & Webcast for Second Quarter 2022
The number of vehicles delivered was 16,162 for the "Model S / X" and 238,533 for the "Model 3 / Y", for a total of 254,695, which is also about 45,000, up from 310,48 in the previous fiscal year. It was a decrease of 18%.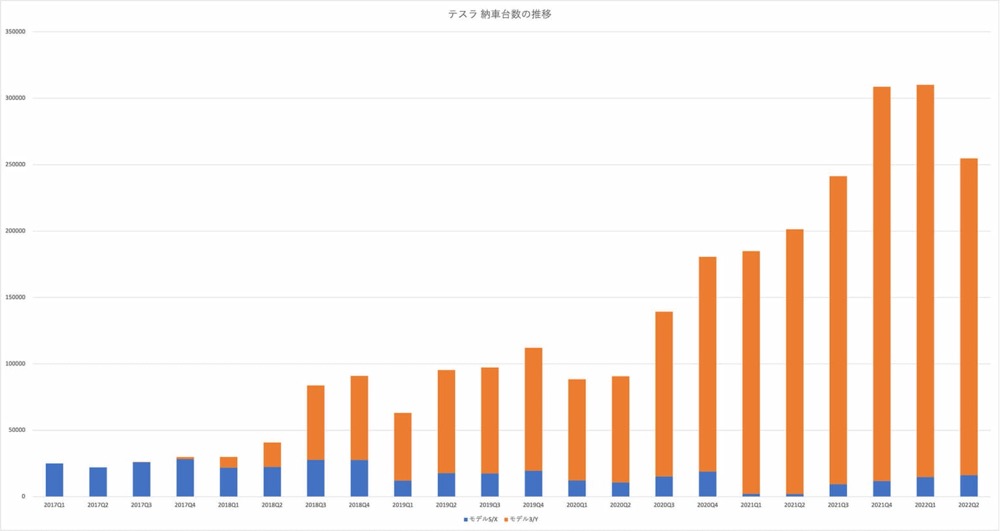 According to The New York Times, the Chinese market accounts for about 40% of Tesla's sales. Given that factories have not been operating for three weeks, a sharp drop in output appears to be expected.
25% Year-on-year Growth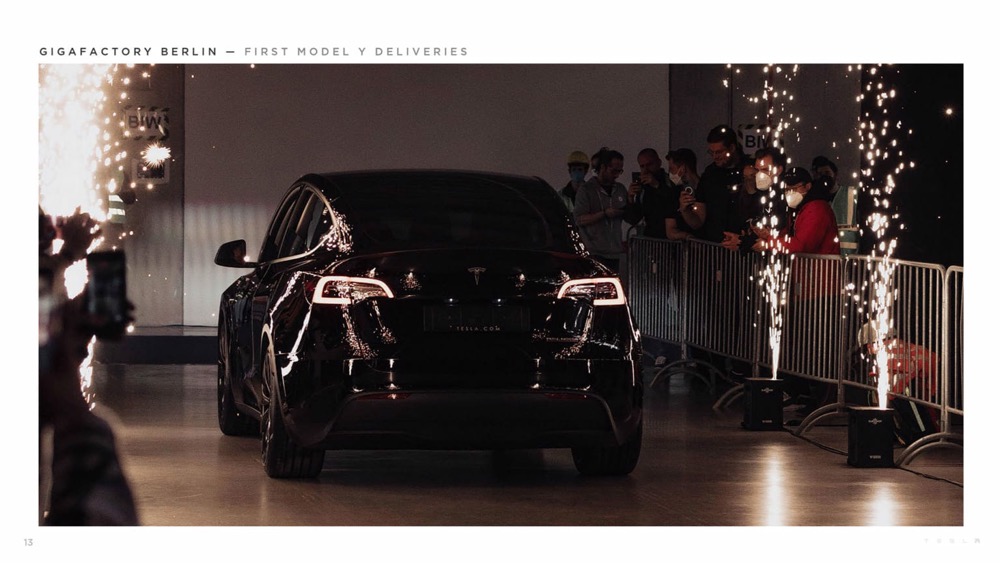 On the other hand, compared to the same period last year, production increased by 25% and vehicle deliveries increased by 26%.
Toyota North America (TMNA) and General Motors (GM) both had sluggish year-end reports on July 1. GM's market share increased from a year earlier, but sales fell 15%. TMNA's unit sales in the first half of 2022 were down 19.6% compared to the same period in 2021.
Compared to Toyota and GM, Tesla seems to be doing pretty well. Tesla said in a preliminary report, "Supply chain challenges continue, and we have produced over 258,000 vehicles and over 254,000 vehicles despite factory closures beyond our control. I delivered the cars. "
He added that June 2022 is "the most-produced month in Tesla's history."
Reuters' Shanghai plant's output on May 23 fell to 1,512 in April from 65,754 in March, with daily output in late May after the lockdown. I reported an internal memo that the number will be 2600 units. According to the memorandum, the Shanghai plant alone can ensure an annual production capacity of about 950,000 units.
In addition to improving conditions at the Shanghai factory, we can imagine that Tesla's overall production is increasing as the Berlin factory opens for a few months.
In addition, "Model S/X" production and deliveries in the second quarter exceeded the previous quarter, and U.S. factories appear to be still operating.
On the production side, Tesla is suppressing the impact compared to other companies in the same industry as the semiconductor shortage persists, but the recent news that 200 people related to autonomous driving have been fired, Elon Musk's employment topic is in the media In full swing, the CEO mentioned layoffs of 10% in an interview with Bloomberg.
Perhaps because of this, Tesla's stock price has fallen from a high of $1,145.45 on April 4 this year to $681.79 on July 1.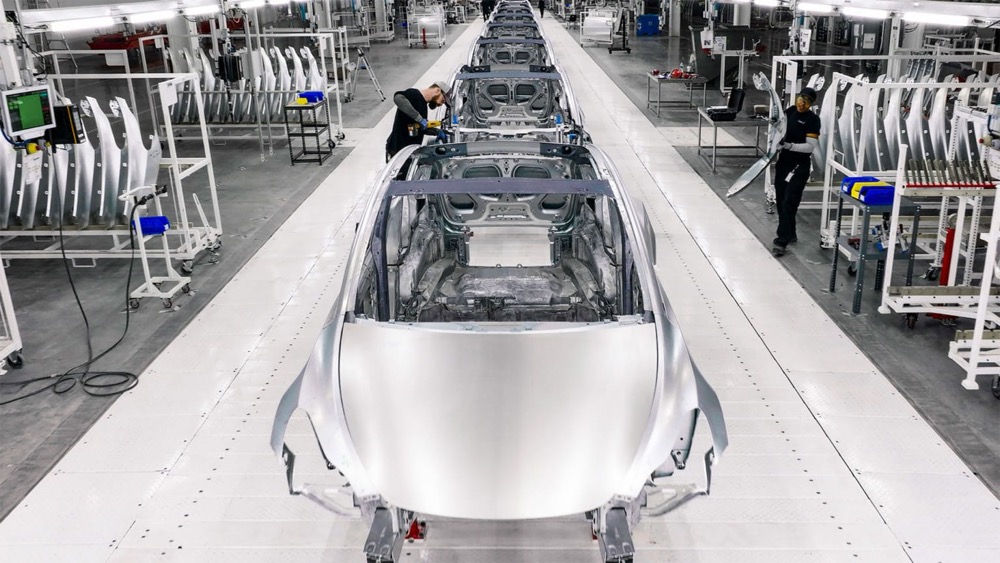 That said, there is growing interest in electric vehicles (EVs) amid a global fuel shortage.
In the U.S., gasoline prices continue to exceed $5 a gallon. Especially in California, where prices remain high, the anomaly above $6 has continued since early June.
From the late 1990s to the early 2000s, even when gasoline prices rose due to adverse conditions such as the Gulf War, it was at most $4. At the time, the Toyota Prius was hugely popular on the West Coast, in part because fuel costs became cheaper.
Now, the New York Times and other reports say that interest in electric vehicles is increasing as gasoline prices rise. If the electric vehicle market grows, Tesla's performance will continue to grow for some time.
Financial Results for the second quarter of 2020 will be released on July 20. I want to focus on what kind of numbers the production reduction will come out.
Related Articles
Tesla's Electric Vehicle Sales In China Rebound Sharply
Comment
Back to NEWS.