Tesla Autopilot For Europe Is No Longer Allowed To Change Highways Without Being Asked
Jul 25,2022 | Chloe Lacour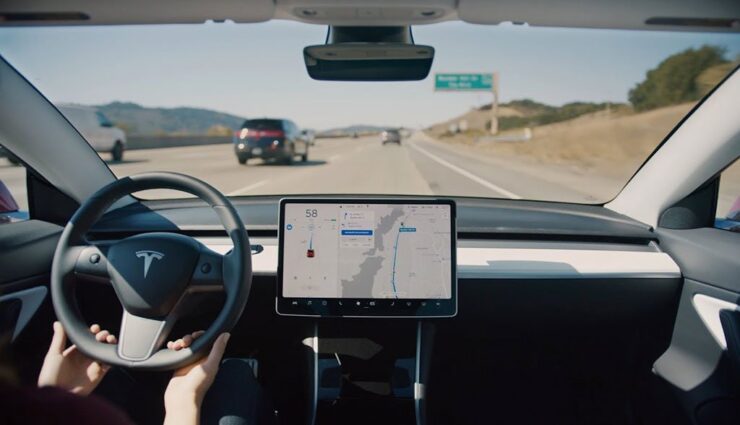 When Tesla sends out updated software for its electric cars over wireless connections, most owners are happy because it fixes bugs or introduces new features. This is also the case with version 2022.16.1.1, the introduction of which started last week: Among other things, the range forecast is said to be more accurate, and driver profiles are now linked to Spotify accounts. Especially in Europe, however, the update also contains a regulatory restriction for the autopilot system, which causes annoyance.
Autopilot navigation needs confirmation
It was already clear that it was coming. At the beginning of June, a German Twitter user reported on a test drive with a Model Y with software version 2022.11.102. "The Navigate on Autopilot feature has been updated," the notes said. It is only available in Teslas whose owners have purchased the FSD option for future autonomous driving or their Europe savings version EAP. In addition to the normal autopilot aids, the function, abbreviated as NoA, allows automatic highway changes when necessary to follow the route according to the navigation system. She still does. But unlike before, the person behind the wheel has to tap the turn signal lever beforehand.
So the change is not huge - but the confirmation-free change of motorway is said to have prevented deliveries of Tesla electric cars with FSD or EAP options in Europe from the last week of May because the authorities noticed that it was not compatible with applicable law is. According to reports, an update to correct it should be ready days later, but it was not initially seen on customers' cars. The distribution of software from 2022.16.1 onwards also only started outside of Europe last week – but already contained the reference to the autopilot restriction "in markets where European (ECE) regulations apply.
For once, European customers would have been happy to wait longer, but as of this week, several of them were also offered the update to 2022.16.1.1, according to reports on Twitter. Trackers also showed the increasing distribution of this version in Europe. Basically, you can decide not to install the new software, but then the improvements contained in it will not be available either. In addition, the term "recall" is used in the notes on the changed autopilot functionality at NoA, which suggests that Tesla should not leave the decision to its customers, at least in the long term.
KBA reached Tesla limit?
Tesla's reference to ECE regulations is another indication that government intervention preceded this update. As early as February, it was said that the German Federal Motor Transport Authority (KBA) was in contact with the Dutch authority RDW, where Tesla does its type approvals for the EU, on issues related to lane changes. So customers across the continent may have the new autopilot restriction to thank for the German agency, which has been pushing for stricter enforcement of international regulations.
As far as is known, they have not recently been changed to the detriment of Tesla. On the contrary, the UN Commission UNECE is working on new rules that could allow beta testing with new FSD software in Europe, as is already being done in North America. However, an observer from the software industry does not assume that this will be possible from a regulatory point of view this year. Tesla had already restricted autopilot functions with a software update in 2019 (regular ones as well at the time) and justified this with UNECE regulations.
Related Articles
Tesla Is Bringing Back The Slimmed-down Fsd Package At A Half (increased) Price
Comment
Back to NEWS.