Tesla - Breakout By Numbers And Now?
Jul 26,2022 | Chloe Lacour
The Tesla share reacted clearly positively to the last quarterly figures. Is there anything else to come or was it just a short hop?
Tesla stock has been on a downtrend since its all-time high of $1,243.49 on November 04, 2021. The stock fell back to a low of $620.57 on May 24, 2022.
The value then formed a symmetrical triangle. It broke out of this on Thursday with an up gap between $751.99 and $764.60 followed by a long white daily candle to the upside. The breakout came after the company's after-hours earnings release on July 20. These turned out better than expected:
Tesla posted second-quarter earnings per share of $2.27, beating analyst estimates of $1.86. Revenue of $16.93 billion exceeded expectations of $16.52 billion.
Tesla confirms its goal of delivering around 50% more cars in 2022 than in 2021, despite the difficulties caused by material shortages and production disruptions, and promises a "record-breaking" half-year.
Despite some slight profit-taking since a high of $842.36, the stock has held its ground well above the triangle so far.
Share worth buying?
With the break out of the triangle, Tesla stock has completed a minor bottom. A target of just over USD 960 can be derived from this floor. Before that, however, there can still be a reset to the triangle and thus also a gap close. That would mean levies towards $751.99.
However, if the stock stably falls below USD 751.99, the chart picture would cloud over again. In this case, sheds towards USD 640 would be expected, which would mean that the value would fall back to the lower edge of the triangle.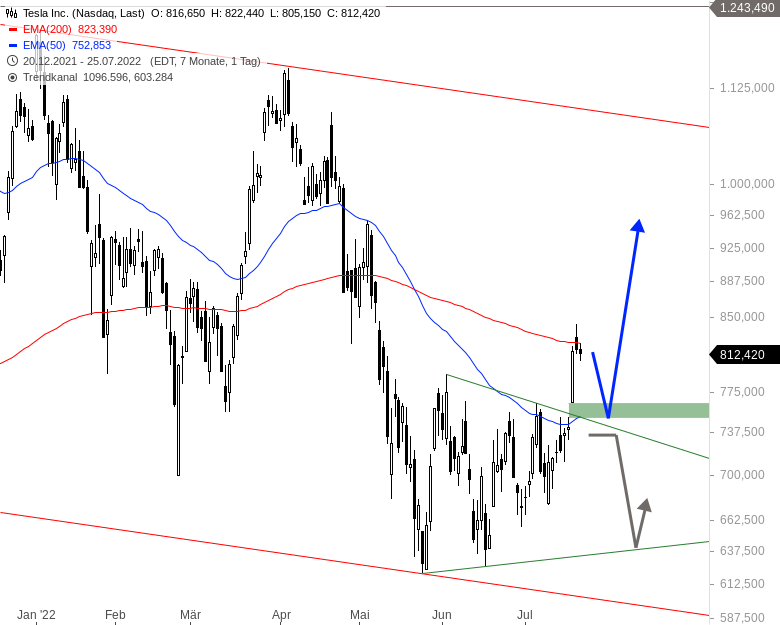 Conclusion: The Tesla share is an interesting trading candidate for a few weeks, but only after a small setback.
Related Articles
Tesla Wants To Realize Service Within An Hour With "formula 1 Pit Crew Technology"
Comment
Back to NEWS.