Tesla catches fire, doors and windows stop working, and driver barely saves himself
May 24,2022 | Chloe Lacour
It happened on the morning of the 20th in Vancouver, Canada. Driver Jamil Jutha found himself trapped in a burning 2021 Tesla Model Y.
"The door wouldn't open," Jusha recalled. "The windows don't roll down." With the fire, the car lost power to all electronic components, including the normal window-opening system.
Jutha understandably panicked as toxic fumes began to fill the cabin from the vents. He could have joined Tesla Fire Deaths.
The moment the car was destroyed was photographed by those present: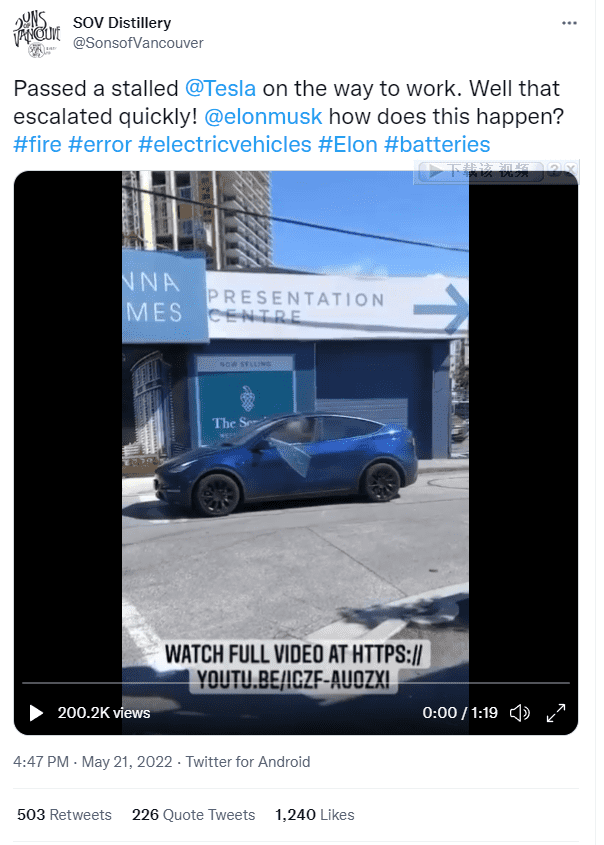 The strength in the foot was Jutha's salvation. "I kicked in the window, got out, and called 911 [local police] right away," she said. The window was broken and he managed to escape. "We're very lucky that this individual had the sense and the strength to kick out the window," fire chief Brian Hutchinson told CTV.
Tesla cars have physical mechanisms for fire situations
The accident is under investigation and firefighters are trying to find out what exactly went wrong with the car.
Like any electric opening car, Tesla vehicles rely on mechanical devices to open the doors. But Jutha says the emergency protocol for opening the door in the event of an electrical failure is not intuitive – so much so that he himself was not aware and had to break the window.
There is a small lever next to the button to open and close the windows for the driver and front passenger. The mechanism is located at the bottom of the door. On Model X, it is necessary to remove a connected part of the inner cover to access, on Model S, the drive is accessed under the seat. The devices should be obvious to anyone, including those who don't own a Tesla and may find themselves stuck in one just the same.
Jutha encourages other Tesla car owners to familiarize themselves with what to do if the same happens to them. And since it's not just the owner who can end up in one of these, the video below is recommended for everyone.
In the video, you can see how there is no standard among Tesla cars, how the mechanisms are not obvious, and how some of them can cause damage to the car: which means they can cause damage just by testing.
Comment
Back to NEWS.