Tesla concept with the production of its own 4680 batteries works, but only halfway
Sep 08,2022 | Tesmag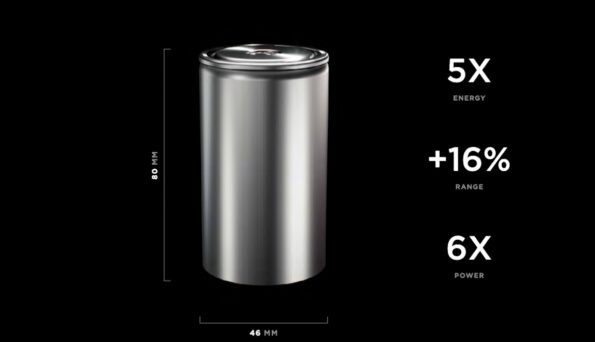 According to an announcement by CEO Elon Musk at Battery Day in September 2020, Tesla wanted to have built up 100-gigawatt hours of annual capacity to produce its own battery cells by the end of this year, but it now looks like only a tenth of that or less. Musk himself said at the annual general meeting in August that Tesla will probably be able to produce batteries in large volumes by the end of 2022, without being more precise. According to a report, however, an important process for this, which should account for about 50 percent of the targeted cost reduction, is not yet under control.
Tesla saves $2000-$3000 per battery
Roughly speaking, the 4680 concept from Tesla presented at Battery Day (see photo above) is characterized by two special features: The round cells are larger than in the 2170 format previously used by Tesla. As a result, fewer of them are required for a complete battery pack, which means, among other things, fewer connections to be made; on the other hand, the robust batteries can serve as part of the supporting vehicle structure, which saves weight. And secondly, Tesla has set itself the goal of making the production of the individual 4680 batteries far more efficient.
According to its own statements, the news agency Reuters has now interviewed twelve experts, nine of whom have had close ties to Tesla and three have examined old and new batteries there. And the result of that research was mixed, as she reported on Tuesday: Tesla is already said to be saving money with the 4680 batteries, but so far only half as much as planned, and changing that could take time.
So far, the cost of a battery for the Model Y could be reduced by 2000-3000 dollars with the 4680 concept, reports Reuters, citing the experts. These savings are said to be due to the 4680 format. Instead of around 4,400 individual batteries, only 830 of the larger ones are needed per battery pack. In addition, Tesla has reduced the number of spot welds per battery from four to two and thus the total number by a factor of 10. In addition, connections and other materials would be saved, especially since the larger batteries do not have to be bundled into modules and become part of the structure in the package.
Is musk too optimistic about 4680 productions?
So this part of the Tesla concept is already working. But the second important aspect of this is the electrode coating in a largely dry process that takes up much less space and energy and is said to yield roughly the second half of the savings. Tesla has been trying to commercialize this process in a pilot plant in Fremont since autumn 2020, using technology from the German mechanical engineering company Saueressig, among others. So far, however, according to one of the experts interviewed by Reuters, this has only worked on a small scale. At higher volumes, there is too much waste, which negates the cost reductions achieved with the new process.
That's what CEO Musk may have had in mind when he explained at Tesla's August AGM that hitting a high 4680 volume is difficult to predict. He predicted the end of this year, but one of the experts quoted by Reuters thinks he is too optimistic: "I think he will solve it, but not as quickly as he would like," said Stan Whittingham, battery researcher and Nobel Prize winner. Carrier in 2019, the agency.
Related Articles
Comment
Back to NEWS.