Tesla jobs in germany: company has thousands of opportunities
Jun 14,2022 | Chloe Lacour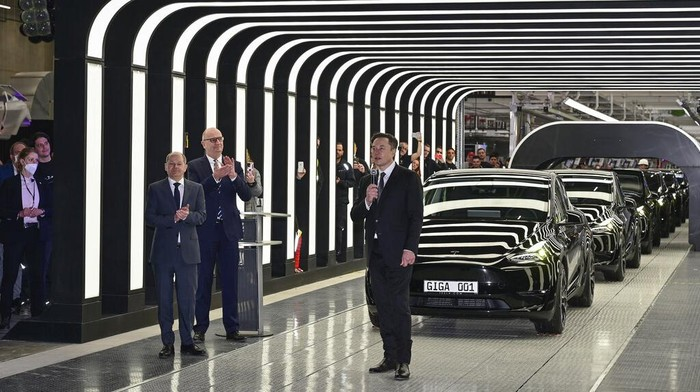 Hundreds of vacancies at Tesla in Germany are filled every month according to information from the regional minister for the economy.
Tesla is hiring 500 to 600 people a month at its factory in Gruenheide, Berlin. The multinational is working with the national employment agency to recruit workers who are no longer needed at German automakers, Brandenburg's regional economy minister said. Learn more and see how to apply for one of the jobs at Tesla in Germany.
Tesla jobs in Germany
According to Minister Joerg Steinbach, since the installation of the factory, Tesla has hired between 4,100 and 4,500 people so far. According to information published by Reuters, of the number of new hires, approximately 10% are foreign nationals, mainly from Poland.
"The situation of automakers in other regions realizing that electric car production requires fewer people than in the past is helping us because we are trying to bring them here to Brandenburg," Steinbach said.
The Gruenheide (metropolitan region of Berlin) plant has been operating in two shifts since May 23, with a third scheduled to start before the end of the year, he added. Tesla did not respond to the Reuters report, but Chief Executive Elon Musk told employees in early June that the company would reduce the number of salaried employees by 10% as it is "overstaffed in many areas". However, Musk tweeted that "the number of employees per hour will increase."
About Tesla's Berlin-Brandenburg gigafactory
The Gigafactory Berlin-Brandenburg is Tesla's first factory in Europe and the brand's most modern on the continent. Tesla's factory in Germany is sustainable and efficient and is dedicated to manufacturing hundreds of thousands of Model Y vehicles and millions of battery cells.
Currently, there are hundreds of vacancies open for professionals of different levels of competence and experience. In fact, the need for staff is such that the company is not requiring any experience in the automotive industry for new hires.
Jobs at Hyundai: there are 8,100 new jobs.
Discover job opportunities in Germany
Among the hundreds of job offers in Germany at Tesla, the company is recruiting for its factory vehicle flow engineer, project coordinator, manufacturing engineer, electrician responsible for VEFK/battery, maintenance technician, shift manager (maintenance), controls maintenance technician, inbound operational transport planner, plant operator, production clerk, and cost analyst.
Tesla Germany is also recruiting Software engineers (Control Systems – Cell Engineering), Quality Inspector, Calibration technicians, Purchasing technicians, Quality Assurance professionals, Parts Quality supervisors, Mechatronics Engineer, Foundry Mechanic, tool mechanics, industrial mechanics, manufacturing financial analysts, architectural designer, construction planning and scheduling specialist among many others.
Related Articles
Elon Musk Asks Employees For Help After Difficult Quarter At Tesla
Tags
Tesla Y Accessories
Comment
Back to NEWS.