Tesla Model 3 Severely Damaged By Extreme Hail, Owner Films From The Inside
Aug 24,2022 | Chloe Lacour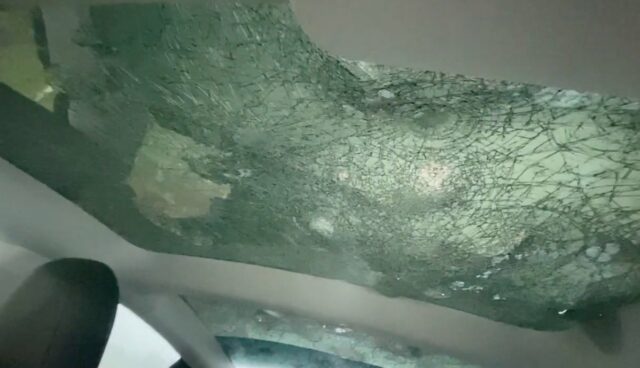 Canada's Alberta is used to severe hailstorms, which is why parts of it are nicknamed "Hail Alley," but in early August things got tough, even by their standards. According to local media, several dozen cars were badly damaged on a highway in the region when they were caught in hail with grapefruit-sized chunks en route. Among them was a Tesla Model 3, as a video of the owner shows. The large glass roof of the Tesla offered him protection – but not the interior from water.
Tesla roof cracks but doesn't break
The roof of the Model 3 and Model Y is not made of metal, but of glass - a highly stable one, as Tesla made clear for a while with an animal comparison: In tests, the roof of the Model 3 withstood the weight of two African elephants, they said earlier on the site. Since then, multiple videos have been released demonstrating its stability.
In a way, so is the case of the Tesla owner, who got his Model 3 caught in record-breaking hailstorms in Canada in early August. Chunks the size of tennis balls and grapefruits hailed his electric car, writes Russ Osborne on his YouTube video, which was first reported by the blog Drive Tesla Canada. The glass didn't withstand that, but it still protected him from the falling ice.
As the video begins, repeated thuds can be heard, the Model 3's front window is already completely splintered, and there are many small splinters lying around. The same applies to the roof, which is dented in some places towards the interior. However, the hail could not penetrate the glass either at the front or at the top, so its protective effect was retained. To be on the safe side, Osborne stayed under the metal that supports the large pane roughly in the middle of the roof during the storm.
Hail dented Model 3, water inside
However, the glass construction of the Model 3 could not prevent plenty of water from penetrating the interior. This shows a second video from Osborne, in which it is no longer hailing outside, but raining in the Tesla. A hole appears to have been created roughly in the middle of the collapsed roof, allowing water now collected to flow into the car. Finally, recordings from the outside in a third video show that the extreme hail also heavily dented the body. On the left side, the front side camera, the mirror cover, and the loading flap are also torn off.
Comment
Back to NEWS.