Tesla Model 3 Should Drive 15,000 Kilometers – Without Using A Charging Station
May 30,2022 | Chloe Lacour
Driving electrically without a charging infrastructure: Australian researchers want to prove that this is possible – using only the power of the sun.
Newcastle (Australia) – With their modern battery technology and their energy management, the models from Tesla are among those electric cars that offer a particularly good range suitable for everyday use - even if they have the prestigious super values ​​​​of a Lucid Air or prototypes like the Mercedes EQXX not reach. 1,000 kilometers are now considered a desirable goal.
Tesla is supposed to drive 15,000 kilometers – without using a charging station
According to official information, the Tesla Model 3 can cover up to 580 kilometers, but in everyday life, it is significantly less, depending on your driving style. The external circumstances also have a significant impact on the range, such as the weather. Mileage drops rapidly when it's cold, and where the sun is always shining, it's higher. So why not go one step further and fill the solar energy directly into the batteries?
The Munich start-up Sono Motors is trying exactly this approach with its Sion model: Solar cells installed on the body are intended to significantly increase the range. Researchers from the University of Newcastle in the Australian state of New South Wales now want to demonstrate the potential of this idea by sending a Tesla Model 3 on a 15,000-kilometer journey across the continent over a period of twelve weeks, during which it does not have to park at charging stations.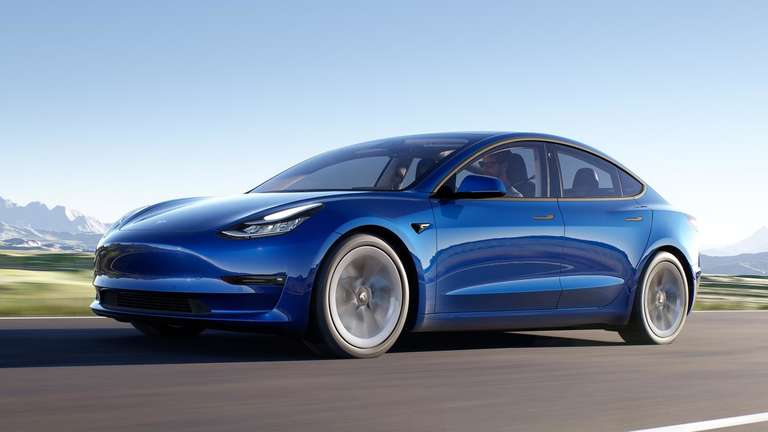 Tesla is said to drive 15,000 kilometers – thanks to the giant roll panel
Unlike the German Sion, the solar cells for the "Charge around Australia" project are not installed on the car, but are carried separately and rolled out when charging is required. Of course, this is not possible with commercially available panels, as we know them from house roofs - which is why the researchers produced them from PET (the plastic that disposable bottles are made of) in a 3D printer and coated them with a special color that captures light energy. The result can be seen in this YouTube video:
Tesla is to drive 15,000 kilometers - with inexpensive solar technology
According to the researchers, the 18-meter-long roll-up panel costs just ten Australian dollars (just under seven euros) per square meter, making it significantly cheaper than conventional silicon technology – but it delivers energy even with less solar radiation.
You can find even more exciting car topics in our free newsletter, which you can subscribe to right here.
If the experiment works, it could make electric cars independent of the charging station network and thus alleviate the widespread fear of range. Even areas where there are hardly any or only a few charging stations can then be opened up for electromobility.
Related Articles
Tesla Can't Compare To The Fuel Car Company, What's The Matter With The "esg" Ranking That Advertises Environmental Protection?
Comment
Back to NEWS.