Tesla needs $600bn for factories and batteries, report says
Sep 02,2022 | Chloe Lacour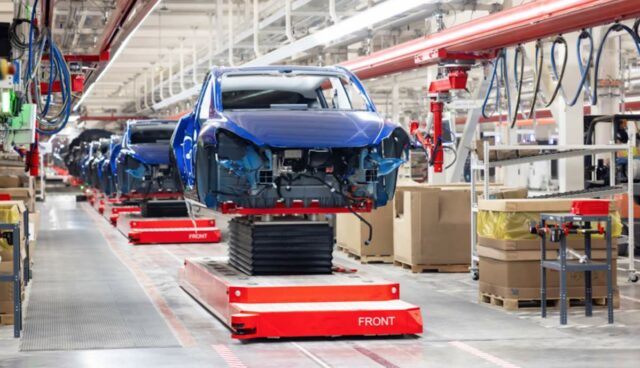 Tesla's long-term goal is to increase production of its own electric cars to 20 million units per year by 2030, and a commodities publication recently calculated that the metals alone would currently cost around $100 billion to do so. But that's not all: Tesla could invest $400 billion in the necessary factories over the next few years, according to a new report, and it would cost another $200 billion to buy or produce enough batteries.
A new Tesla factory every year
He would "equate it with the Manhattan Project in World War II," said Michael Tracy of the Reuters news agency consultancy on Tesla's goal of 20 million electric cars a year. That would be more than a twentyfold increase compared to 2021. According to Reuters, 1.5 million are expected for this year, so that production would have to increase again by a factor of 13. To do this, Tesla would have to put a new gigafactory into operation on average every year.
Tesla has already proven to be a disruptive company in the past, writes Reuters. But the goal for 2030 requires more than just disruption: if it is achieved, it means a fundamental realignment of the global auto industry and, in addition, the extraction and trading of battery material.
The costs for seven to eight new electric cars and additional battery factories alone are estimated at 400 billion euros, reports Reuters. It would cost another 200 billion dollars to produce or buy the required batteries yourself. The raw material costs are already included. For enough batteries for 20 million electric cars in 2030, Tesla would have to increase its own battery production as well as that of suppliers and the capacity of raw material and material producers. The report puts Tesla's current battery capacity at 100 gigawatt-hours, but that's likely to include production at the gigafactories in Texas and Germany, which are still under construction.
As big as VW and Toyota combined?
On the sales side, according to Reuters, Tesla would also have to gain market share from all its competitors and in 2030 would be as large in terms of quantities as the previous market leaders Volkswagen and Toyota together. There are indications here that the opposite of scarcity will soon prevail, because both start-ups, especially from China, and established manufacturers are increasingly bringing electric cars onto the market. Advisor Tracy told Reuters he was skeptical that Tesla can grow to twice the size of Toyota in eight years. After all, it took the Japanese company decades to build up its current capacity.
Related Articles
Investment company: Tesla can expect billions in credits for battery production in the USA
Comment
Back to NEWS.