Tesla Offers By Far The Best Experience In Fast Electric Car Charging
Aug 22,2022 | Chloe Lacour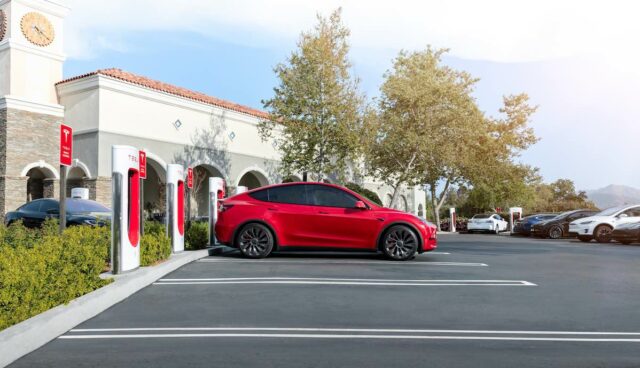 Some Tesla drivers in the US are defecting from their own supercharger network. Although you need a CCS adapter for this in Europe, you can import it from Tesla itself from South Korea, and it enables the use of all foreign columns according to this standard. This can sometimes save money. Overall, however, the Supercharger network is clearly the best rated by electric car drivers in the USA, a market research company has now determined.
Tesla improves on industry average
J.D. awards up to 1000 points. Powers in its quarterly investigation were awkwardly named U.S. Electric Vehicle Experience Public Charging Study (EVX), and last week the results of the latest edition were released. The basis for this is surveys of electric car drivers about their experiences at various charging stations. With 739 points, the superchargers were clearly ahead. Tesla was the only provider to achieve a value above the industry average of 674 points.
To be named by J.D. Powers than other operators ChargePoint, Electrify America, and EVgo, the first of which scored 644 points and the last just 573 points. The market researchers do not reveal in detail how Tesla's clear leading position came about. But you can imagine it: According to a press release on the latest EVX study, one in five respondents reported that they had not used a station they had visited for charging. In 72 percent of these cases, this is said to have been due to malfunctions, which are very rarely heard of in Tesla superchargers.
Overall, the best user rating was for the process of fast electric car charging itself. Here J.D. Power averaged 745 points. The respective systems are therefore understandable for the customers and do not present them with unsolvable problems. On the other hand, shoppers were probably the most dissatisfied with the costs: Here, only 473 points came out on average. Values ​​for the individual operators are not given, but Tesla is also likely to have done poorly here: In the USA and in Europe, supercharging prices have recently risen drastically, and users of the CCS adapter for third-party columns usually justify this with cost advantages.
Supercharger and Destination Charger in front
Besides fast DC charging, J.D. Power is also based on the experience of using slower AC stations. At Tesla, they are grouped together in the network for destination charging, and here too the company was at the top. With 680 points compared to 667 points for the second-placed provider Volta and 633 in the industry average, the gap here was much smaller. Destination chargers are operated by hotels or restaurants, which can use them to attract Tesla drivers in a targeted manner. As with the superchargers, Tesla is currently in the process of making this network usable for other electric car brands.
Related Articles
Tesla Remains Self-confident: The Price For Fsd Should Rise To $15,000 After The Update
Comment
Back to NEWS.