Tesla Registered "tesla (thailand) Co., Ltd." And Stated That The Car Was Sold Without Assembly.
May 25,2022 | Chloe Lacour
Today, someone found that on the website of the Department of Business Development (DBD) there is a company registration information of "Tesla (Thailand) Co., Ltd." or Tesla, an electric car company from the United States that many people are waiting to enter. Doing business in Thailand
According to the information on the website, the company was registered on April 25, 2022 with a registered capital of 3 million baht. There are 3 directors of the company, namely:
David Jon Feinstein Serves as Chief Executive Officer, Pioneering New Markets Including being the chief executive of Tesla India
Vaibhav Taneja, Chief Accounting Officer
Yaron Klein, Tesla's Treasurer and CFO of Tesla Energy Operations (a subsidiary of Tesla, responsible for solar products, Powerwall, home, and factory batteries)
The objective of the company stated that the business of selling electric cars. Installed energy storage system Energy generation system means that if Tesla actually starts doing business in Thailand Probably the whole car was imported. No local assembly There is also an opportunity to market solar panels for homes and Powerwall as well.
The office address is on the 23rd floor of M Thai Tower, All Seasons Place, and the contact email address is the domain tilleke.com owned by the well-known law firm Tilleke & Gibbins. Should accept company registration and other actions for entering Thailand
However, incorporation doesn't always mean Tesla will start doing business in Thailand. For example, Tesla Motors Singapore was registered in Singapore in mid-2010, but it took almost 11 years for the car to actually start selling the car in early 2021. But this is the first step that Tesla may be interested in opening the market in Thailand.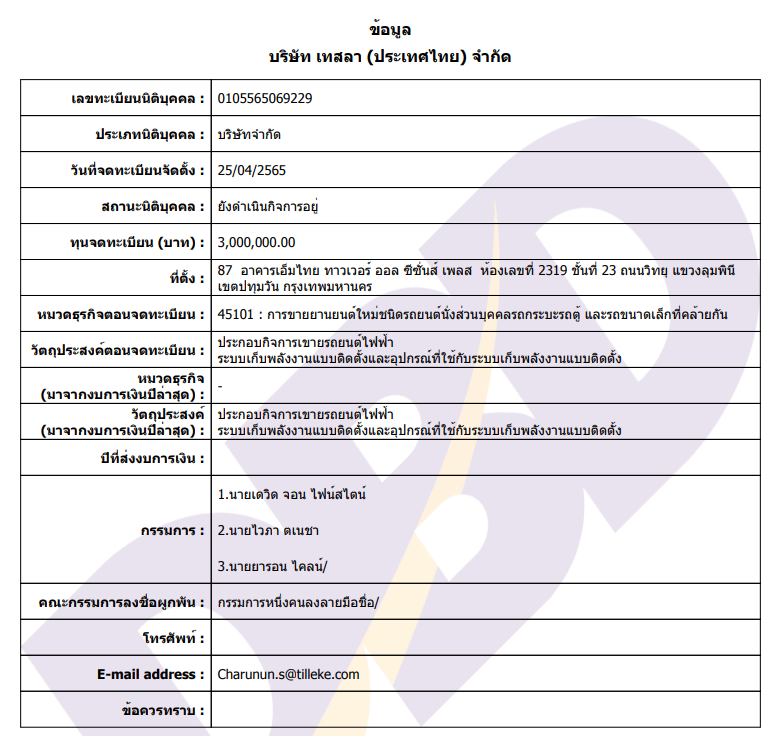 Comment
Back to NEWS.