The Tesla Model Y Propulsion Is Finally Available In France
Aug 27,2022 | Chloe Lacour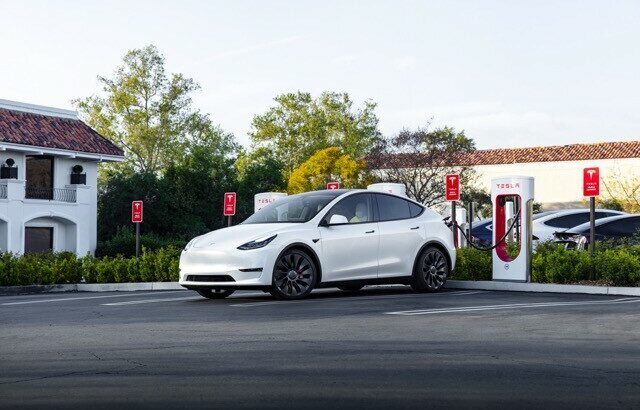 Marketed for a few months, the Tesla Model Y is now available in a propulsion version on the French market.
That's it! Tesla is taking a new step in its development in France. Indeed, if it has already been a few months since the Model Y has already been marketed with us, today it is a brand new version that has just expanded the French range. As announced by the manufacturer in a press release just published, the Propulsion variant is finally officially available for order and visible in the configurator. A new, more affordable version, while the electric SUV was until then only available with two engines and all-wheel drive. And good news, with its price below the €50,000 mark, the latter is now eligible for the €2,000 ecological bonus. A welcome little boost that should no doubt help convince customers who are still hesitant.
Interesting performances
But then, how does this Tesla Model Y Propulsion stand out from the rest of the range? Above all, it is through its unique architecture, consisting of a single-engine sending all the power to the rear wheels. A system similar to that found on the Volkswagen ID.4 and ID.5, rivals of the American SUV. The latter does not detail its power but claims a 0 to 100 km / h achieved in 6.9 seconds, for a maximum speed of 217 km / h and a weight of 1,909 kg. The battery is recharged with a power of 170 kW and can cover between 430 and 455 kilometers WLTP, depending on the size of the rims chosen in the configurator.
A more affordable price
Good news, and as is already the case on the other models in the range, the Autopilot semi-autonomous driving system comes as standard. A real asset for the SUV, which displays a price significantly cheaper than the other versions, since it starts from 49,990 €, an ecological bonus of 2,000 € not deducted. For comparison, Model Y Grande Autonomie starts at €64,990, while the Performance version has an entry ticket of €69,990. The last two are equipped with all-wheel drive.
Related Articles
Satellite Mobile Communications: T-mobile Closes Gaps With SpaceX, Tesla, And Apple Could Follow
Comment
Back to NEWS.