Xiao Mi Beats Tesla With The Cyberone, An Ai-powered Humanoid Robot
Aug 13,2022 | Chloe Lacour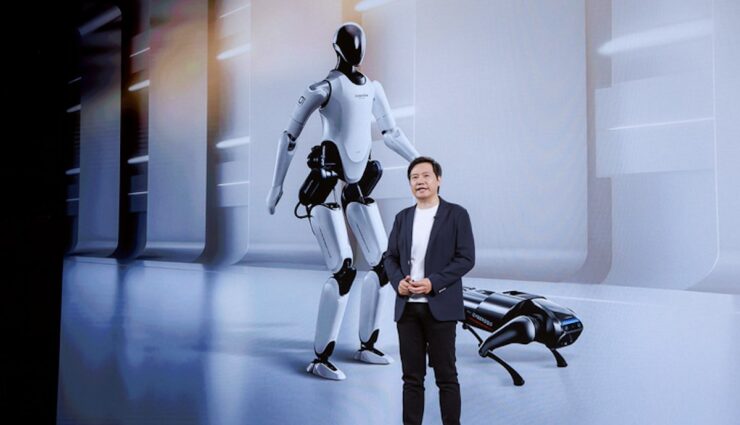 Lei Jun has already been described as a copy of Steve Jobs, but the success proves the co-founder and CEO of the Chinese electronics manufacturer Xiaomi right: Within a few years, his company developed into one of the largest smartphone manufacturers with Apple borrowings in design and presentation of the world. Xiaomi also officially targeted the electric car business last spring. This is not necessarily to be understood as a Tesla imitation, because there are electric vehicles in China from many local manufacturers. But on Thursday, Jun presented a humanoid robot that is strikingly reminiscent of the Tesla Optimus project.
Xiaomi wants to lead in autonomous electric cars
Xiaomi will initially invest 10 billion dollars in the development of intelligent electric cars, the Chinese company announced last March and founded Xiaomi Automobile in September, based in Beijing. Since then, the project has apparently been worked on intensively, because on Thursday Lei explained that his own technology for autonomous driving is already being tested. According to a press release, the founder announced that Xiaomi should be one of the leading providers in this field by 2024.
With that, he entered an area that Tesla CEO Elon Musk sees as crucial for his own company: Without a solution for FSD (short for Full Self-Driving), Tesla is basically worth nothing, he probably said with a view to market capitalization this May. However, Musk declared a new project before and after that, which he surprisingly announced in August 2021, to be even more promising: the humanoid robot Tesla Bot, which he now calls Optimus. The CEO may want to show a prototype for this later this year. But in this respect, Xiaomi has now forestalled him.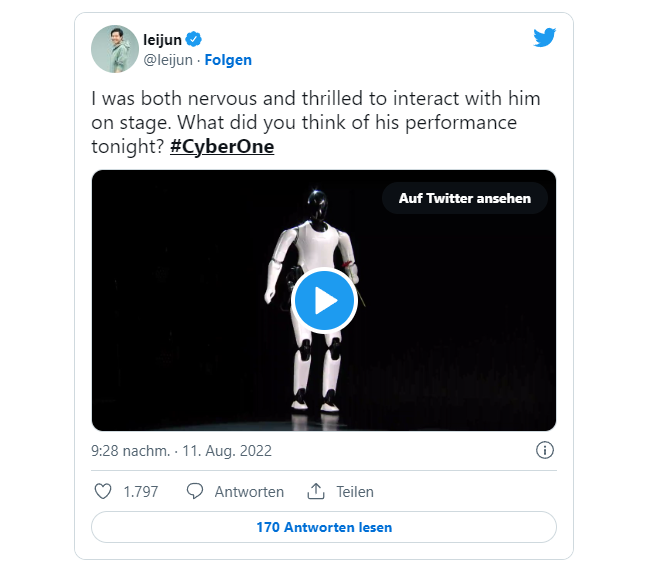 Because at his annual presentation on Thursday, Lei not only reported on ambitious autonomy plans with his own software and hardware but also called a humanoid robot onto the stage. The black-and-white prototype followed this request in tripping steps and with a flower in its gripper, talked to the founder, handed over the flower, and indicated kung fu movements. This interaction made him nervous and excited at the same time, Lei wrote. Cyber ​​One (that's the name) stands for the departure into the field of intelligent robots. There is still a long way to go, but Xiaomi always believes that something wonderful will happen.
Tesla is still without a robot prototype
Tesla boss Musk had also declared less poetically about his Optimus that he would usher in "an age of plenty" because humanoid helpers would bring an end to the shortage of work. Unlike Xiaomi, he has not yet presented a prototype, but he says it could be the case at a second AI day at Tesla this September. At the AGM in late July, Tesla showed photos of two mechanical hands with single fingers shaped into a heart symbol, understood as an Optimus preview, but Musk didn't get a humanoid visit on stage. So he is increasingly dealing with agile and well-financed competitors from China, and not just when it comes to electric cars.
Related Articles
Tesla Finally Opens Orders In France For These Two New Super-powerful Models
Comment
Back to NEWS.