Tesla Model Y Performance: The Charging And Travel Times Of Our Supertest
Aug 13,2022 | Chloe Lacour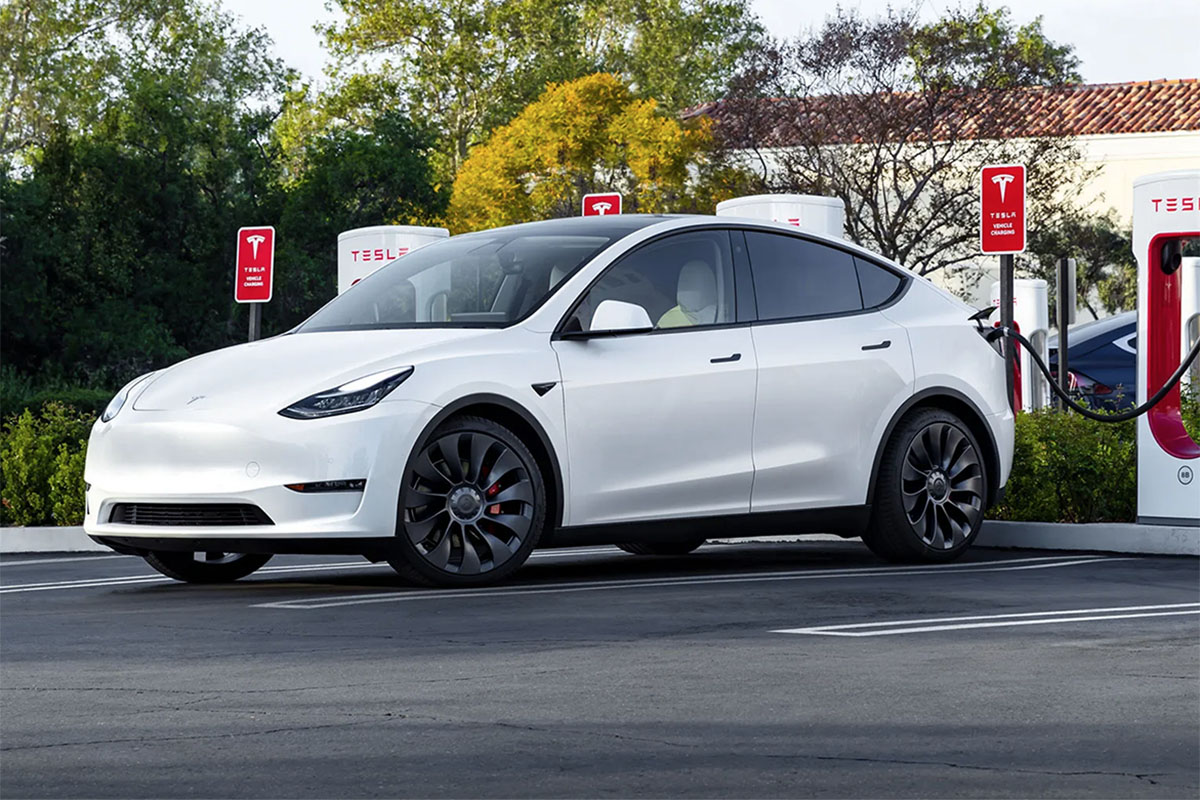 The Tesla Model Y Performance has panicked our ranking in terms of autonomy. It remains to analyze its performance in terms of recharging.
A sort of Tesla Model 3 size XXL, the Model Y takes up the sedan's successful recipe. Impressive efficiency, stifling performance and interesting technologies are its hallmarks. Traveling on board is only a formality and sweeps away prejudices about electric cars with the back of 21-inch rims. We expected no less from this SUV.
During long motorway journeys, it posted an average consumption of 21.5 kWh/100 in our hands or 348 km of autonomy in total. With less wind and less hectic air conditioning, it is very easy to envisage scratching an additional twenty kilometers. But how is it when traveling, exactly? Answer with this second part dedicated to the Supertest of this SUV.
Tesla Model Y Performance charging curve: a useful full tank in 32 minutes
The Tesla Model Y Performance is equipped with a battery of 75 kWh net capacity according to many estimates. It's no longer a secret. Connected to sufficiently sturdy fast terminals, it can increase up to 250 kW of direct current power. No other electric SUV charges so hard yet. Not even the crossovers (it's SUVs, by the way?) from the Korean group Hyundai-Kia, like the Hyundai Ioniq 5.
But unlike its competitors, the charging curve does not form a plateau at any time. Moreover, during this test, the Model Y never hit the maximum power promised by the brochure, drawing a maximum of 222 kW very briefly at 15% load. The temperature of 37°C that day would have had a detrimental effect on the preconditioned battery. This is one of the only explanations since the V3 Superchargers are able to deliver all their power regardless of the number of cars connected to the station.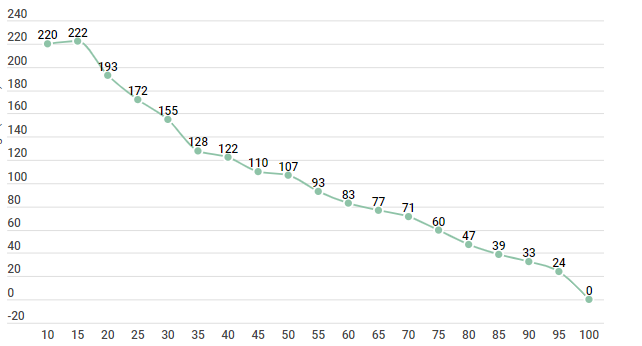 Charging power (in kW).Load rate (in %)
105kW
Average power from 10 to 80%
32 minutes
Charging time from 10 to 80%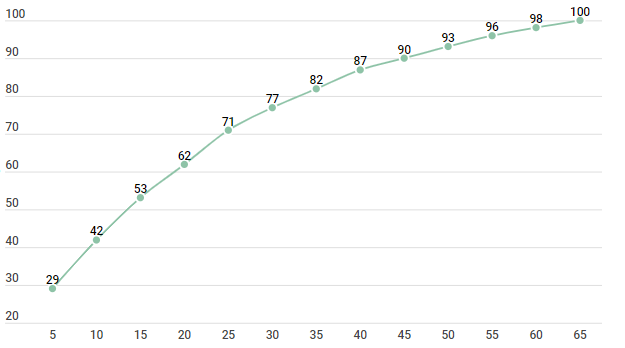 SoC load rate (in %).Charging time (in min)
Still, the curve is what it is, and drops dramatically beyond this observed peak. And the values ​​are low: at 50%, the counter displays 107 kW, while only 47 kW remains at 80%! This represents 81.2% less than the announced peak, or 78.8% less than the peak observed that day. For comparison, the Hyundai Ioniq 5 still bottled 114 kW at 80% load. Also, if the battery is not the same, of course, the curve recorded during our exclusive test of the Tesla Model S Long Autonomy showed a more satisfactory form.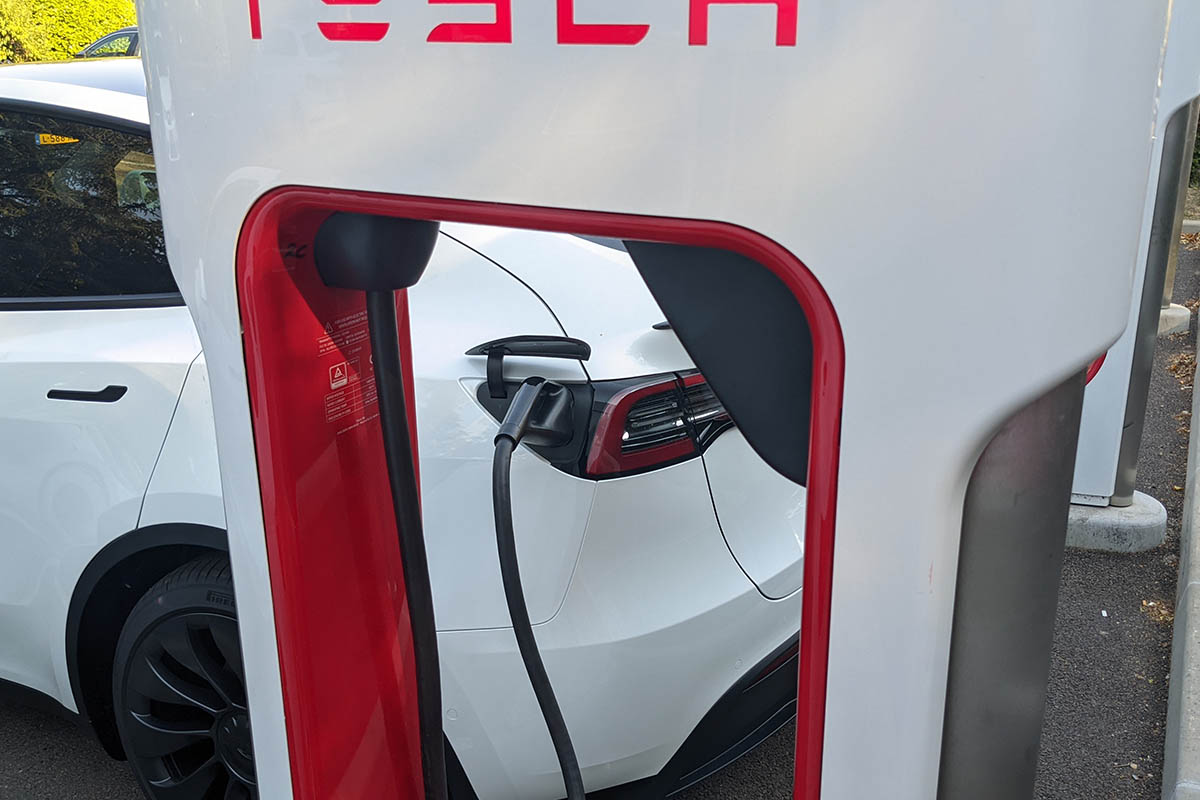 In the end, the exercise of the usual 10-80% claimed here 32 minutes of immobilization to the Supercharger. The powers are not exceptional, but the refueling is in the average of the electric Chrono market hand. It then takes 12 more minutes to reach 90%, while charging to 100% requires an additional 20 minutes. In the end, we clocked 65 minutes to go from 10 to 100%.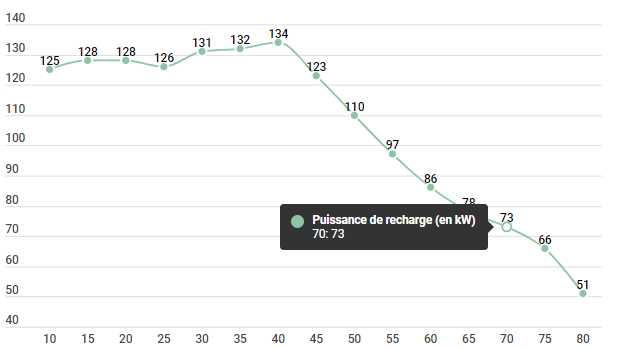 Charging power (in kW). Charge rate (in %)
But that it was not our surprise when performing another full recharge, initially without much conviction, on an Efacec-Allego terminal with a maximum power of 160 kW. The context is – almost – the same: a car that has already driven many kilometers before plugging in, an outside temperature of 34°C, and no battery preconditioning have been activated. Again, the maximum power (promised by the terminal) was not reached, climbing to a maximum of 134 kW at 40% load. It was after this long plateau that the curve started to drop, with values ​​a little higher than on the last generation Supercharger. A shame, which resulted in a 10-80% in 34 minutes! You know the line: "without mastery, power is nothing". The perfect Model/Supercharger symbiosis obviously doesn't always work.
10 to 80%

80 to 100%

10 to 100%

Charging time (in min)

32
33
65

Autonomy gained (in km)

244
69
313
Autonomy recovered: 233 km in 30 minutes
But more than the overall recharge time, it is the autonomy recovered per minute of recharge that matters most when roaming. And with its efficiency and total range of 348 km, the Tesla Model Y Performance puts the church back in the middle of the village. Thus, taking this data into account, it can gain almost 233 km in 30 minutes of recharging. It is just below the Ioniq 5 which does not play in the same court when it comes to charging speed.
| | | | | |
| --- | --- | --- | --- | --- |
| Charging time (in min) | 15 | 30 | 45 | 60 |
| Autonomy gained (in km) | 149 | 233 | 278 | 306 |
How much do Tesla Model Y Performance charges cost?
The price of Superchargers is constantly increasing. Now, the national average is €0.50/kWh. This is the price list that is applied to the stations of Avallon and Dardilly, the stages of our reference 500 km journey.
For a recharge of 10 to 80%, the Model Y recovers 54 kWh according to the onboard meter. Or almost 60 kWh on average according to the meter of all other charging stations. On a Supercharger, the typical top-up, therefore, represents a total amount of €27. Or 11.06 €/100 km according to the autonomy observed on this long journey.
We did not make the necessary top-ups for this trip (see below). However, if we had respected the necessary rates, we would have paid 28 €. As usual, the price of refueling on arrival to find the starting SoC depends on the charging point. The final cost price could then be between €11.54/100 km (final recharge on Supercharger) and €7.70/100 km (final recharge at home).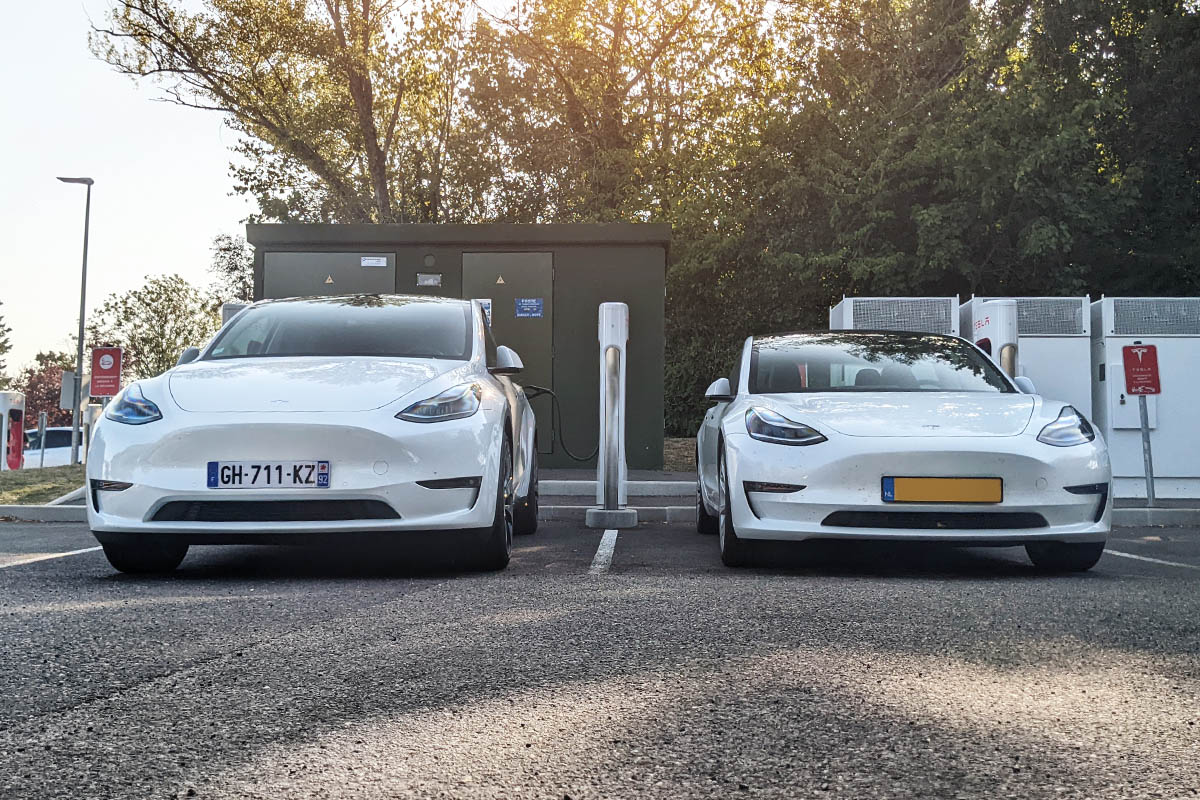 On-Board Route Planner: Excessive Caution
For this Supertest, we were only able to complete one 500 km trip, in the Paris-Lyon direction. Usually, we take advantage of this to perform recharging tests, leaving plenty of time to focus on route planners and setting up the fastest possible roadmap on the way back. From then on, we barely changed our stage plan so that we could plug into one of the Superchargers below 10% to establish a curve.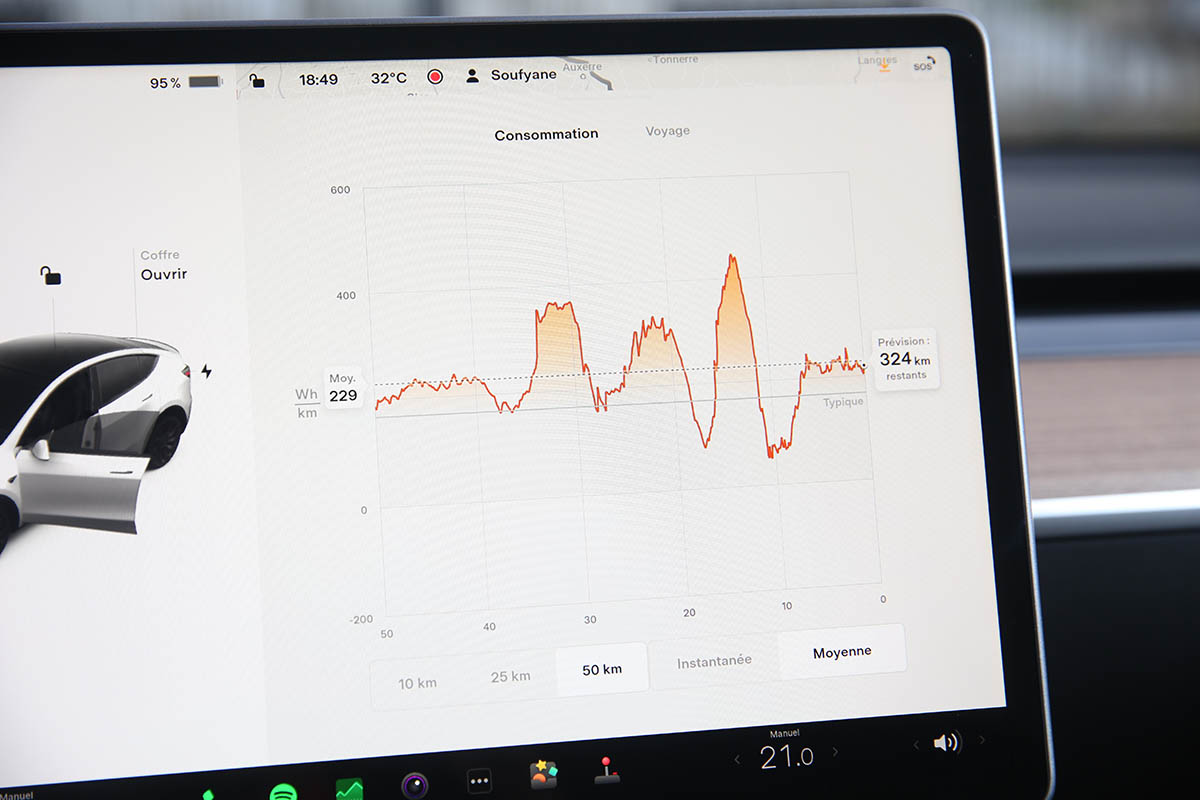 Departing from Porte d'Orléans in Paris with 96% battery, the onboard planner was particularly cautious in its estimates. According to him, our first stop was to be made at the Supercharger in Auxerre, where we passed by with a 50% charge remaining. Useless, especially since these V2 terminals do not allow you to make the most of the Model Y's charging capacities.
Finally, it was at the Avallon station that the stop was the most consistent, where we still had 33% battery. An 80% recharge here allows you to reach the Dardilly station in one go, where we have achieved our 10-100% benchmark. Note that the stage could have been much shorter here since a level of 35% charge would have been sufficient to pass the 500 km mark with a 20% charge remaining.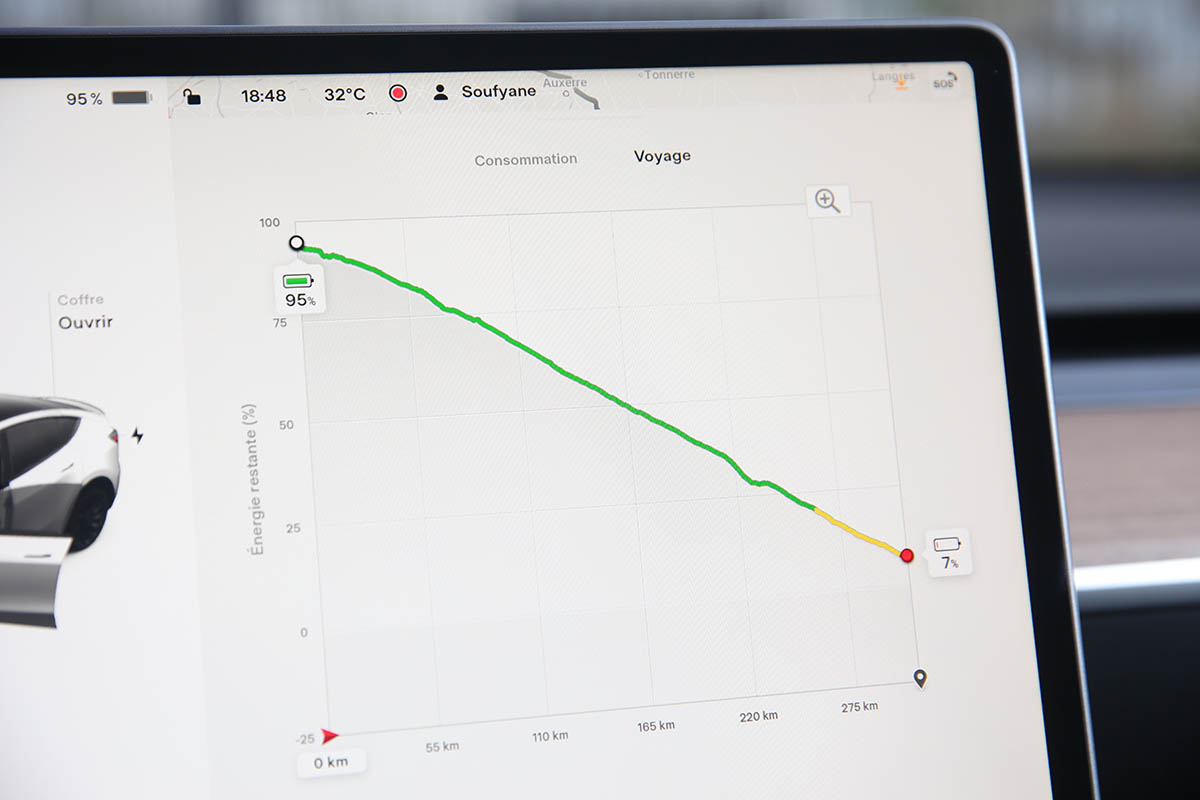 In retrospect, we could have reached the Beaune Nord station with an SoC between 5 and 10% load. Nearly 35 minutes later, we could have resumed the road to our destination. With this route plan, we would therefore have saved… 4 minutes of recharging in total. It is insignificant. Of course, this is only a theory, however quite close to reality, since it is based on our constant measurements throughout the journey.
In the end, according to this diagram, by retaining only the necessary recharge times, we added 39 minutes of immobilization to the 4:18 hours of driving that day. That is a total of 4 h 57 to complete the 500 km of reference. However, it is worth adding here the minutes wasted to reach the Superchargers located outside the motorways, with an average package of 8 minutes, compared to 4 minutes usually with the stations on the rest areas. This brings the trip to a total of 5:13 hours.
The Tesla planner is very intuitive to use. If in doubt about its estimates, it's fairly straightforward to select another Supercharger and find out the charging rate upon arrival. Opposite, the ABRP, and Chargemap planners rely on slightly higher consumption than our reality, but also on much faster recharge times with 23 minutes and 18 minutes of recharge respectively, in two times. ABRP chooses the Superchargers of Avallon and Tournus (8 and 15 minutes of stop), while Chargemap provides the Supercharger of Avallon and the Electra station of Beaune (3 and 15 minutes of stop). In short, neither equals Tesla's onboard planner, which however deserves to be contradicted from time to time.
Related Articles
Tesla Model Y Autonomy: How Many Kilometers Can You Travel At The Wheel Of The Electric SUV?
Comment
Back to TESLA MODEL Y.