Tesla Caliper Covers I Tesla Model 3/Y 18-20 Inch Car Modification Accessories
f you're looking for a way to keep your Tesla Model 3 calipers protected, look no further than our caliper covers. Our covers are made from high-quality materials and are designed to fit your Model 3 perfectly. Plus, they're easy to install, so you can get them on your car in no time.
Our set of four (4) Performance Caliper Covers, designed and tested to specifically fit over Tesla Model Y stock factory brake calipers, will give your Model 3 a "big brake" race-ready look that will turn heads. They have the look and feel of "performance" OEM calipers due to a number of decorative touches.
The upgraded Tesla brake caliper is made of high-quality aluminum alloy material. In comparison to other plastic caliper covers, ours is more durable and lasts longer because the aluminum alloy material we designed for the 18-inch caliper has high-temperature resistance and stability.
Tesla caliper covers with a wheel hub size of 18 -19 inches are compatible with the Tesla Model 3 Y from 2017 to 2021. After multiple tests and installation on a Tesla Model 3, the brake caliper cover appears to be a perfect fit for the Model 3.
Installation requires only four screws. Increased machine motion by upgrading the caliper cover
Before & after
Before installation
Ordinary boring, no performance features
The cooling in general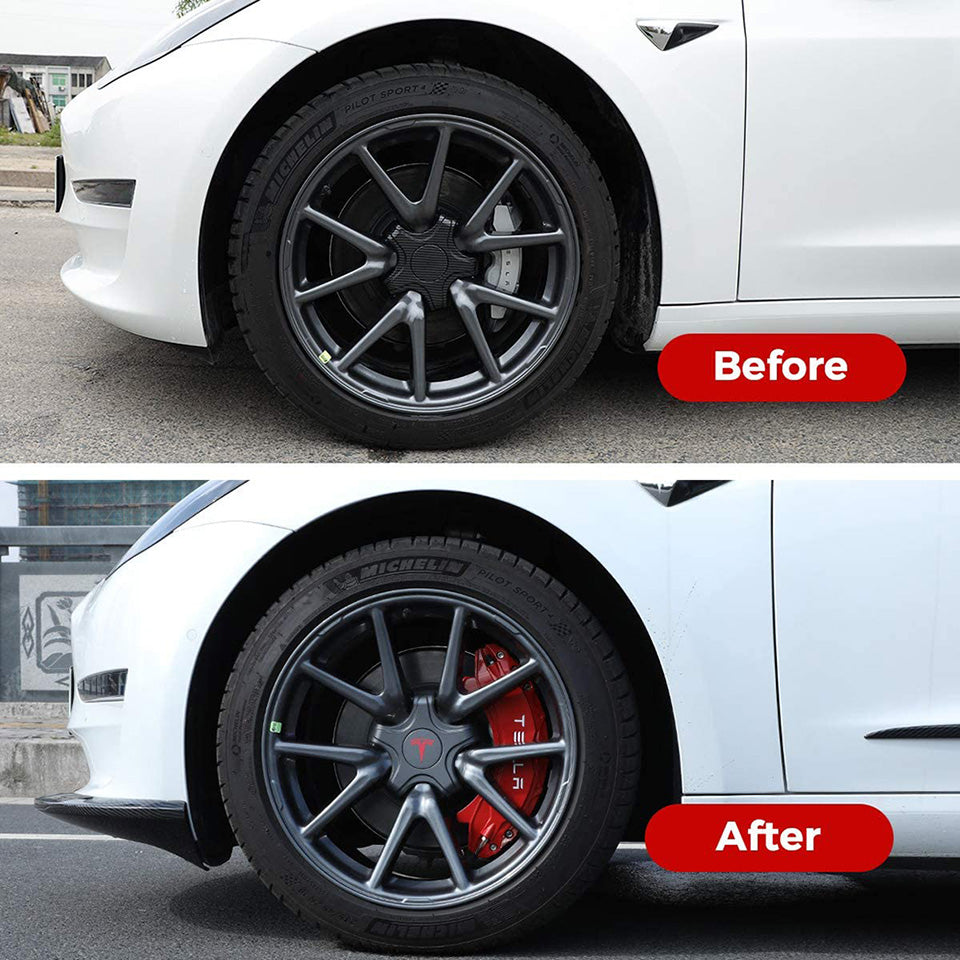 After installation
Very unique, very cool
Increased the luxury sense of the car, and increased the uniqueness of the car.
More movement than other people's M3.
The high-quality aluminum alloy increases the heat dissipation of tires.
Front caliper cover
Perfect coverage of the original car caliper housing
Added performance identifier,
Better than any other caliper cover on the market

Steering system
Does not affect the steering
It does not affect the driving problem
Perfect integration with the original car

High-quality material
Aluminum alloy can accelerate the heat dissipation of the car,
And can protect the original car caliper
Perfect coverage

Rear caliper
The perfect blend
Unique design makes him shine even more

Caliper Covers VS Paint Jobs VS Powder Coated
Caliper Covers
Are caliper covers tacky?
This is a very polarised debate within the Tesla owners community. In the heated discussions of the most popular Tesla forums like TOO and TMC, you will see that some people only swear by paint jobs while others are thrilled with th