Tesla Caliper Covers I Tesla Model 3 Y 18 Inch 19 Inch Car Modification Accessories
f you're looking for a way to keep your Tesla Model 3 calipers protected, look no further than our caliper covers. Our covers are made from high-quality materials and are designed to fit your Model 3 perfectly. Plus, they're easy to install, so you can get them on your car in no time.
Our set of four (4) Performance Caliper Covers, designed and tested to specifically fit over Tesla Model Y stock factory brake calipers, will give your Model 3 a "big brake" race-ready look that will turn heads. They have the look and feel of "performance" OEM calipers due to a number of decorative touches.
The upgraded Tesla brake caliper is made of high-quality aluminum alloy material. In comparison to other plastic caliper covers, ours is more durable and lasts longer because the aluminum alloy material we designed for the 18-inch caliper has high-temperature resistance and stability.
Tesla caliper covers with a wheel hub size of 18 -19 inches are compatible with the Tesla Model 3 Y from 2017 to 2021. After multiple tests and installation on a Tesla Model 3, the brake caliper cover appears to be a perfect fit for the Model 3.
Installation requires only four screws. Increased machine motion by upgrading the caliper cover
Before & after
Before installation
Ordinary boring, no performance features
The cooling in general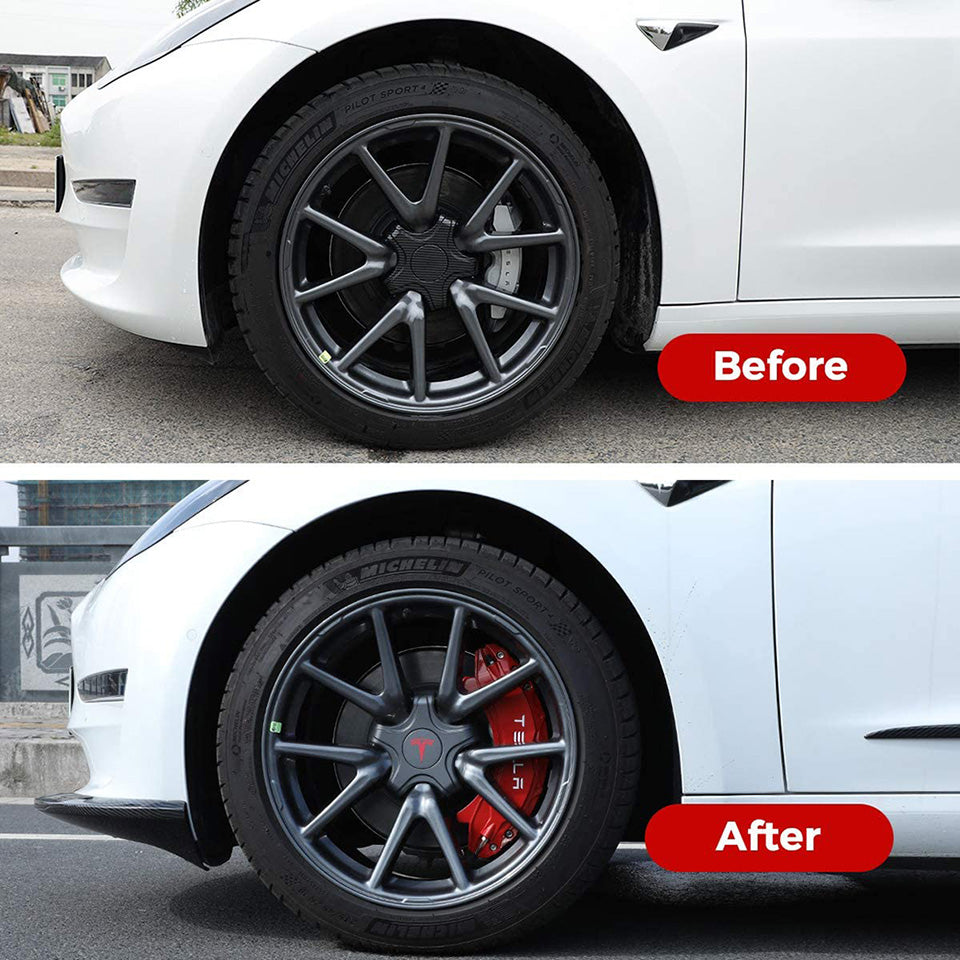 After installation
Very unique, very cool
Increased the luxury sense of the car, and increased the uniqueness of the car.
More movement than other people's M3.
The high-quality aluminum alloy increases the heat dissipation of tires.
Front caliper cover
Perfect coverage of the original car caliper housing
Added performance identifier,
Better than any other caliper cover on the market

Steering system
Does not affect the steering
It does not affect the driving problem
Perfect integration with the original car

High-quality material
Aluminum alloy can accelerate the heat dissipation of the car,
And can protect the original car caliper
Perfect coverage

Rear caliper
The perfect blend
Unique design makes him shine even more

Caliper Covers VS Paint Jobs VS Powder Coated
Caliper Covers
Are caliper covers tacky?
This is a very polarised debate within the Tesla owners community. In the heated discussions of the most popular Tesla forums like TOO and TMC, you will see that some people only swear by paint jobs while others are thrilled with their covers. And usually, people who hate covers didn't even try them or even paint their calipers. People commenting on covers though, speak from experience.
It is a personal choice. To help you make your own opinion on the matter, let's review together with the options available out there.
What are the key benefits of the caliper covers?
Price: As a rule,

more than half the cost of a paint job

Installation:

Easy, it takes 30 to 45min to install. You can do it by yourself or easily find someone to help you. Read our quick and detailed installation guides below for more insights.

Removable: Caliper covers are nonpermanent: You can take them off and replace them. This is a great way to test if you are comfortable with them and your color choice. This is also a great option if your car is on lease.
What are the downsides that most people comment about?
Heat up your brakes and affect braking performance

Increase dust accumulation

Damage your warranty

Fall off on high speed
Copying the Model 3 performance
These downsides are actually a bit of a misconception. Thanks to their lightweight aerospace aluminum bodies and design, our caliper covers help to dissipate the heat and therefore maintain great braking performance. If you want to learn more about this process, we have developed more on the subject in the heat dissipation section.
Another myth that we can often encounter in discussions around this topic is that adding covers on your caliper could be an issue for your warranty and braking performance. It wouldn't affect the serviceability of the vehicle or affect the vehicle warranty unless it was not installed properly and created some damage. Your caliper covers won't be an issue for the service center.
The fairy tale about covers felling off at high speed probably comes from the fact that back in the day, some standard caliper covers solution were made to fit different types of vehicles. Our covers are designed for the Tesla Model 3 only, their snug fit will make them hold on tight to your calipers even at 120mph on the highway.
Another thought that some owners have shared with us before is that they somehow feel uncomfortable upgrading their calipers because it feels like they are trying to mimic the Model 3 Performance.
Are you uncomfortable and feel like you are copying the Model 3 Performance?
You might feel uncomfortable getting red caliper covers as it could convey the fact that you are pretending to own an M3P.
The reality is, that red is a traditional color for calipers and there is a good reason for that. It fits nicely with a wide range of vehicles color from Black to White.
But if you are looking for something different we went out of our way to offer you 2 additional color options: Green and yellow.

Painting your calipers
What are the benefits of painted calipers?
Fully customized, you can choose the color and paint that you want.

You can keep the original shape of your model 3 calipers

If you do it on your own it will be cheaper or as expensive as caliper covers
What are the common downsides of this solution?
The process: It takes much more time to make, you will need time to prepare the car, apply one paint layer, wait for the paint to dry, apply another layer, and so on
Even more tedious (and expensive) if you want to maintain the Tesla logo
Require some solid DIY skills if you want to do it on your own

More expensive / more labor-intensive if you need professional help. In some areas like California or Washington DC, getting a customed paint job on your 4 calipers will be at least USD500.

The risk of getting paint on some parts that you don't want to

Brakes' heating and cooling cycles increase the chance for your caliper paint to crack and peel off.
How to paint your calipers?
What do you need to start? You will need paint, a paintbrush, painter's tape (to cover the areas that you don't want to paint), and a floor jack.
Step 1: Elevate your car using your floor jack.
Step 2: Get rid of the wheels
Step 3: Clean your brakes
Step 4: Mask off the parts around the calipers that you don't want to paint using 3M tape.
Step 5: Add some chemical reactor with your paint
Step 6: Apply the first layer of paint. As you will need to apply several layers and make them light, to avoid the paint to become gummy. Repeat the process for all calipers.
Step 7: Let's dry for a few hours and apply the second layer.
Step 8: If you want to keep the Tesla branding on your calipers, you can apply a Tesla logo decal.
Powder Coated Calipers
To summarize, the process will be as labor-intensive as the painted solution but it will add a layer of complexity since you will need to remove the calipers from the wheel.
Here is our take. If you are convinced that you will never need your original caliper's color back, that you have the budget or the time and skills to perform a paint job, go for it. You will be, for sure, pleased with the results. But if you are looking for an easy do it yourself solution, be able to change your mind or caliper style easily, our caliper covers are a perfect fit for you. You won't regret it.
Some people might think caliper covers are not as authentic as a paint job. So what?
Truth is, they are incredibly bright and even larger than the original caliper, giving them a nice racing-ready look. You'll love them!

Let's go over some additional benefits of adding our caliper covers to your Model 3.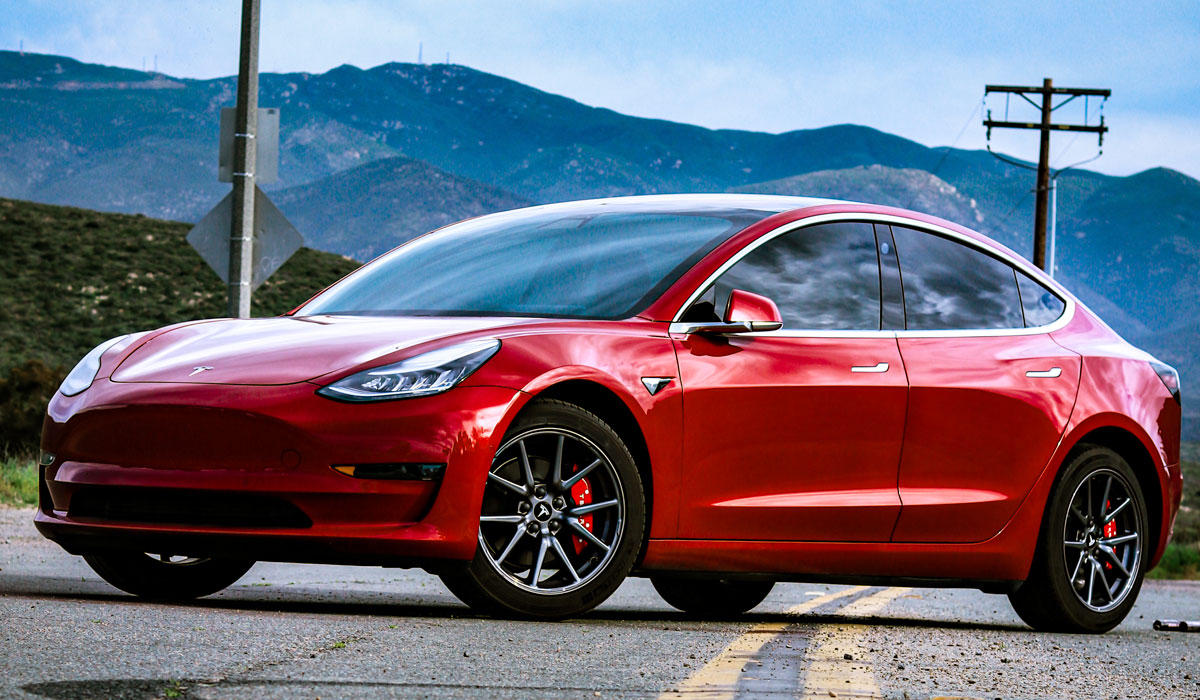 Installation
Installation time: Average installation time is about one hour.
Tools required: Safety glasses, floor jack, wrench (included with set). Note: no special tools, adhesive, or caliper modification is required for installation.
Detailed Installation
Step 1: Identify the appropriate caliper cover to be installed, you have two pieces for the front wheels and 2 smaller pieces for the rear wheels. It should not be an issue to distinguish them. Once you are sure that you have the correct calipers covers you can position them accordingly.
IMPORTANT: The installation approach described below is applicable to both front and rear caliper covers (i.e., the fastening approach is identical).
Step 2: All caliper covers must be positioned with a rubber cap on the upper end of the caliper and the tubing on the lower end of the caliper.
Step 3: Locate the gap between the brake disc and the caliper bracket.
Step 4: Use the fixed buckle on the caliper covers to hook to the caliper bracket. Push the buckle toward the center until it's flush with the caliper bracket sidewall.
Note: Make sure the bracket is even on both sides and align the cover center with the caliper center.
Step 5: Move on to the second buckle. Locate the gap between the caliper and the disc brake. Insert the adjustable buckle and push the buckle towards the center until the bolt holes are flush and aligned.
Step 6: Thread the hexagon bolt through the buckle hole. Then, attach the provided nut to fasten the buckle.
Step 7: Tighten the bolt and the nut with the provided tools. Make sure to apply enough force to secure them in place.
Step 8: Before finishing the installation, verify that the brake disc protective cover behind the brake disc doesn't affect the installation of the buckle. If it
does affect installation you can use a flat-head screwdriver to pry it to the side. You can restore it back in place after the buckle is installed.
Step 9: Next, test the installation.
Place tire back in place. Install 2 lug nuts by hand and see if the wheel interferes with the caliper cover when rotated. There shouldn't be any metal friction noises.
After confirming that there is no problem. Install remaining lug nuts. Jack down the vehicle and complete securing lug nuts with the appropriate tool.
Drive the car at a low speed and check for any interference or rubbing. There should be no scraping sound. Once you're certain there is no interference, installation is completed.
Congrats on finishing the installation!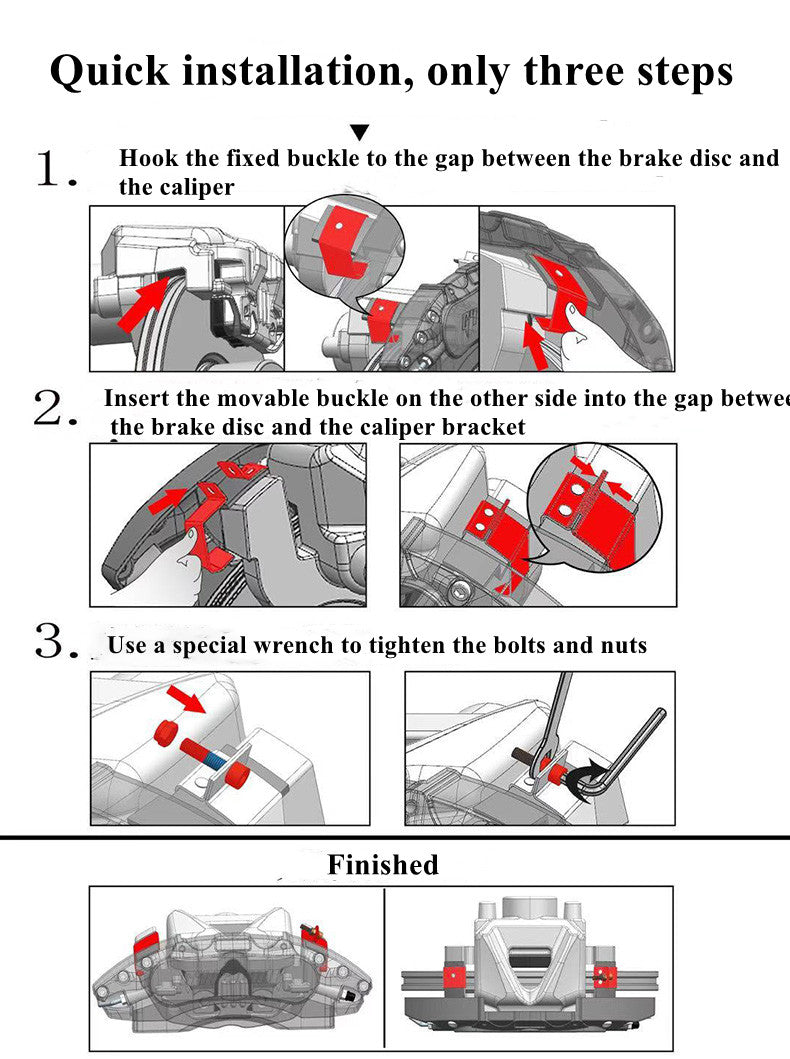 Package List
4 packs/set × 18" /19" Car Caliper Covers for Tesla model 3 (235/45) 2017-2021
(the 2 front calipers are bigger than the 2 rear)
1 set × screws and special tools
4 pcs × "Tesla" logo (it is a sticker pasted on the caliper cover)
FAQ

1. Will the Talsem caliper covers fit with my Model 3 wheels?
Yes, our caliper covers fit all versions of Model 3. These custom-fit caliper covers have been designed for optimal fitment for both 18" and 19 Model 3 factory wheels.
Caliper Covers will guarantee brake caliper fitment when utilizing the appropriate TALSEM Caliper Cover part number specific to the Model 3.
2. What if I have aftermarket wheels?
Caliper Covers are designed for a close fit. but if you have aftermarket wheels and would like to determine whether you have enough space, measure from the back of the wheel to the front of the caliper. If you have 1/8" (approximately 3mm) of clearance, then you have enough space.
Another much easier way to test if your wheels are compatible: if you can slide two stacked quarters between the brake caliper and the wheel, then you have enough room to fit our product. Feel free to contact us directly if you have any doubt.
3. Do the caliper covers hurt or help with heat dissipation?
They help. Heat test has demonstrated that caliper covers improved heat dissipation. The Caliper Cover only covers the front of the caliper allowing all heat to escape up through the top of the caliper.
4. Will caliper covers reduce brake dust on my wheels?
Customers report a significant decrease in brake dust after the installation of their caliper covers.
5. When using regenerative braking with my Model 3, will brake dust or heat dissipation still be a factor? You'll still use your brakes. But it's true that you'll use your brakes less in a Model 3 than someone driving a gas-powered internal combustion engine vehicle due to regenerative braking.
6. What about painting my calipers?
You can try painting your calipers but be prepared for a lot of work. First, you'll need to get the whole car up on jack stands. Then you'll have to decide whether to paint them in place or disassemble them. Either way, everything will have to be completely clean or the paint won't stick. If you're painting the calipers in place, you'll need to use a brush, but there will be areas that will be hard to get to. Caliper Covers provide a more convenient and cleaner approach.
7. Can I purchase aftermarket brake calipers instead?
Aftermarket calipers can certainly provide a different look, and, depending on the brand, they might work better than your stock calipers, but the high price point (sometimes thousands of dollars) for aftermarket brake calipers should only be considered if you mainly want an upgrade in brake function.
8. Why not install custom plastic brake covers?
Installing plastic covers on brake calipers is discouraged by many in the industry. The reason: a brake system converts the forward motion of the vehicle into heat by pressing the brake pads against the rotors, the plastic could melt causing your brakes to malfunction. In addition, be prepared to spend time trying to fabricate them to fit, often difficult installation, and, not worth the hassle. And, post-installation, it can be difficult getting them to stay in place.
9. Do caliper covers form-fit to the surface shape of my calipers like plastic brake covers?
No. Our Caliper Covers simply cover what many consider an unattractive part of the wheel.
10. Can the red coating on my caliper covers hold up to the heat?
Caliper Covers are powder coated for high heat, durability & toughness.
11. To get that "pop" of color, can't I just order red calipers with my Model 3?
At this time, Tesla OEM red calipers can be ordered ONLY with the Performance version of Model 3.
12. Are caliper covers removable for brake service?
Yes. Reverse installation to remove, and then reinstall after service.
13. Can I order one with a color of my choice?
Yes. Our caliper covers are available in red, yellow, and Tiffany blue.
14. Does the red used on Performance Caliper Covers perfectly match the Tesla red body paint?
No, the red used for our caliper covers is called "Red Baron." It is a fairly standard color used by most of the popular big brake companies. Nearly all customers with red cars are perfectly fine with this color. Since the brakes are not against the body of the vehicle, the red being slightly different is not very blatant or obvious. According to our customers, it blends in nicely and looks very sharp. However, this is subjective.
15. Can I install caliper covers myself?
Professional installation is highly recommended. Instructions will be provided with the product for the installer and instructions are also available in digital format under our "Instructions" tab. Note: professional installation of Performance Caliper Covers should take 45 minutes - 2 hours depending on the experience of the installer.
16. Where can I find a professional installer?
In every area, there are competent wheel and tire service centers/shops that have a specialty in aftermarket product installation. These installers tend to be the most adept at installs like Performance Caliper Covers. However, it is imperative you ask your installer to follow the instructions provided. Note: although we've had reports of some customers having their aftermarket products installed at a Tesla Service Center, in general, this is unlikely as their policy is not to install aftermarket parts.
17. Do you ship internationally?
Yes! We ship this product internationally.