Tesla Model 3 Front Lip ABS Painted Spoiler 2021-2023
With our newest front lip spoiler, you can add a sporty style to your Tesla Model 3 front lip spoiler. They are simple to set up and inexpensive. All three of our alternatives are constructed of ABS injection molded plastic. The look of carbon fiber is achieved by a process known as Hydro Dipping. This is a significantly less expensive alternative to true molded carbon fiber that still looks beautiful!
Function: Anti-scratch and wear-resistant, will not affect the height of the car chassis, and will safeguard the original car bumper.
Material: The surface is shiny black and composed of high-quality ABS.
Installation: Compare the installation position before you begin. To install it, self-tapping screws are required. Installing using screws will make the installation more secure and will strengthen the protection.
Features: There are three portions in all, which are spliced together in an overlapping fashion. When you are hit, the force is spread evenly.
Beautiful Appearance: This tesla model 3 carbon fiber front lip spoiler adds a sporty touch to the vehicle and greatly enhances the style and appearance.
High-performance function: The front bumper lip might help the driver feel more at ease.
Installation method: To avoid unskilled installation by car owners, product damage, or improper installation due to inappropriate operation, it is recommended that car owners go to the accessory repair site for installation.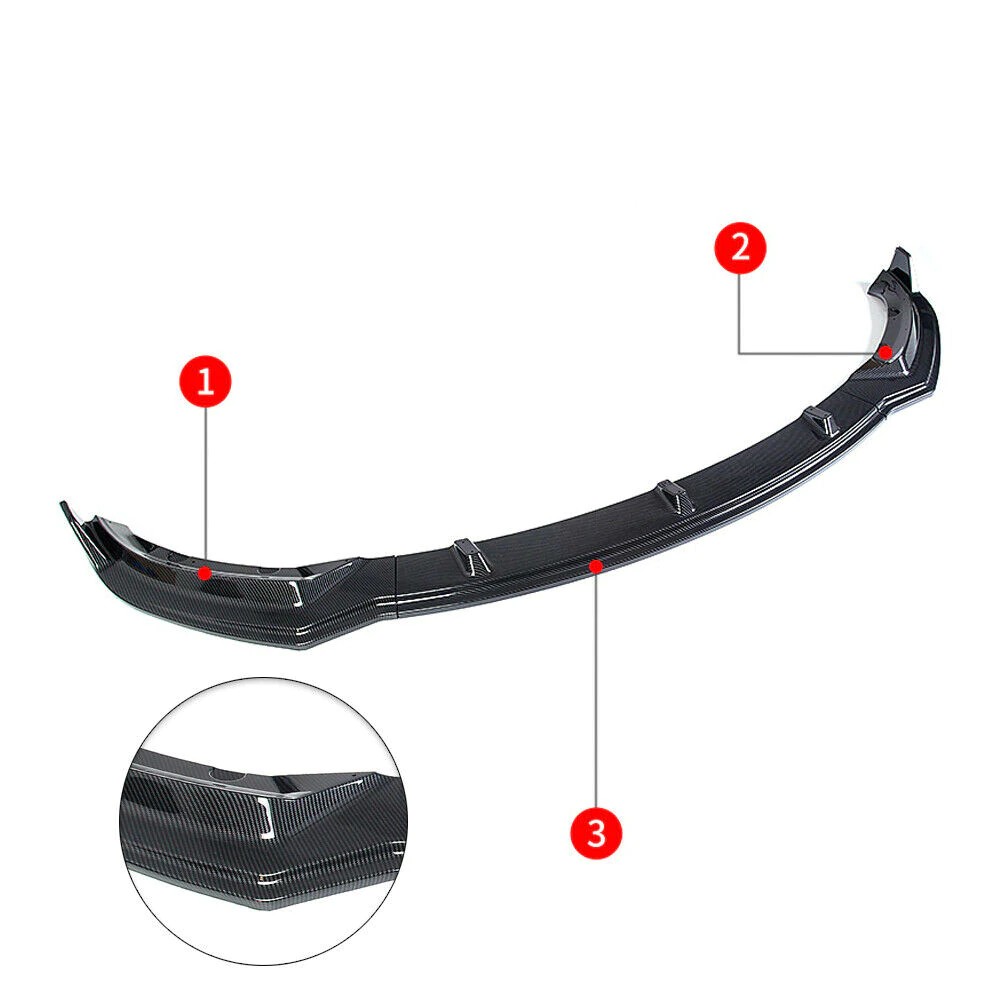 Installation Instruction
1: Before beginning installation, please clean the front bumper surface or the place that you wish to put on it.
2: Determine the position and length of the front bumper to be installed.
3: Mark the location for hole drilling on three parts' front lips based on the measurement results.
4: After drilling holes in three pieces of front lips and adjusting the angle and length, temporarily fasten it with the bolts included in the installation kit.
5: Place the temporarily fastened 3 pieces of front lips close to the front bumper to mark the position for drilling the holes in the front bumper.
6: Drilling holes in the front bumper, adjusting the angle and length, then fixing with the three front lips and fastening all of the bolts tight to complete the installation.
7: To boost the decoration and stability of a distinctive shape style design front bumper, you may need adhesive double-sided tape, automotive silicone, or a support strut rod.
Specifications:
Weight:4.99 pounds
Size:40 x 9.5 x 5.5 inches