How Much Is A Tesla Model 3, Tesla Model 3 test
Jul 01,2022 | Chloe Lacour
The Teslas, real UFOs in the automotive world for a few years now, often make the headlines: extraordinary performance, comfort, extreme simplification, autopilot, or the brilliance of its leader Elon Musk... You will have understood it, Teslas are much more than ordinary cars. Ultra-connected and highly technological, Tesla has been offering a more affordable car for several years now: the Model 3. Constantly improved since 2018, the Model 3 is back in a new version with some features worthy of a science fiction film. But what is the Tesla Model 3 really worth? Is it a car reserved for geeks or an ordinary car?
The Model 3 is the penultimate achievement of the brand and it is the most affordable model. In France, the price of the sedan starts at €38,800 with an ecological bonus of €6,000 deducted. The Model 3 shares many elements of the Model Y SUV, which is none other than Tesla's latest achievement. Like all the brand's cars, the Model 3 is a 100% electric car whose technology is highlighted.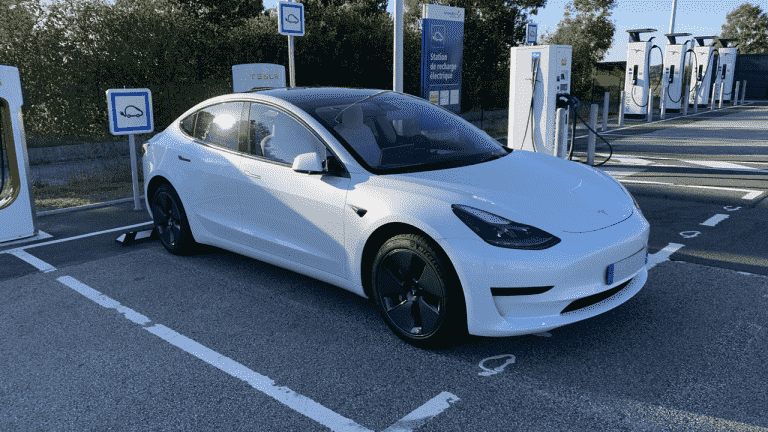 It was announced to the public on March 31, 2016 and deliveries began the following year. In France, you will have to wait until January 4, 2019 in order to order it. It experienced the first major update in 2021 with the addition of new equipment such as the heat pump and a redesign of the cabin.
Since then, the model has continued to improve at a breakneck pace. As soon as we received our model at the end of 2021, the American company is already planning improvements in 2022 with, for example, windshield wipers whose uprights will be heated as well as the addition of ventilated seats among other improvements, some of which will be available afterward for our model.
Test condition
This test is based on a test of more than 2 months of a Tesla Model 3 Propulsion with 60 kW batteries type LFP (lithium iron phosphate) from CATL from the Shanghai Megafactory in China. We tested it mainly in the Dordogne, a department with a slightly hilly terrain with a good number of paying and free terminals for so-called slow charging with a home charging point. During this period, we have made great journeys.
Summary
The 3 versions of the Model 3
Tesla Model 3 Drive
Tesla Model 3 Long Autonomy
Tesla Model 3 Performance
The electric car, is a real psychological break for some? Fear of failure?
Real autonomy and costs
The Supercharger Network: Tesla's Ultimate Weapon?
Switching to electric, hassle, or happiness?
Comfort and equipment
Sentinel Mode - View your Tesla's cameras remotely
A minimalist but devilishly efficient interface
Tesla's standard autopilot, useful or just a gadget?
The 5 levels of autonomous driving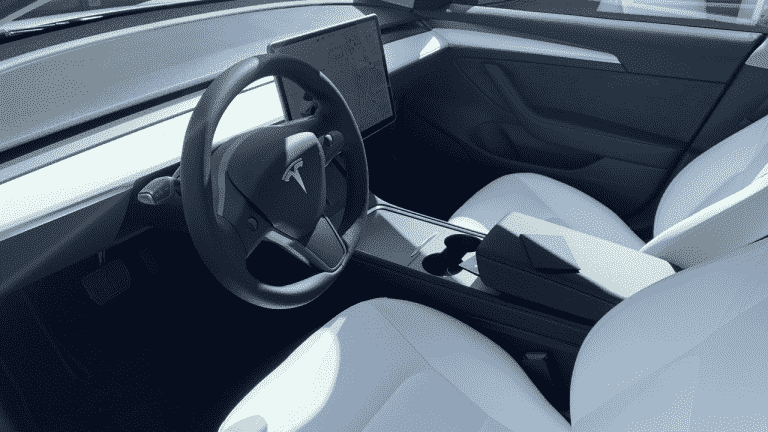 Tesla designed the Model 3 as an electric vehicle from the ground up, with full vertical integration. Every component, including the batteries, motors, and even the exterior aerodynamics, are optimized to take advantage of each other and create one of the most energy-efficient, yet incredibly powerful vehicles ever created.
The 3 versions of the Model 3
Tesla Model 3 Drive
Price without option (ecological bonus included): €38,990
WLTP autonomy with 18" aero rims: 491 kilometers
Power: 325 horsepower
Tax horsepower: 7
Maximum speed: 225 km/h
Acceleration 0-100 km/h: 5.6
Tesla Model 3 Long Autonomy
Price without option (ecological bonus included): €55,180
WLTP range with 18" aero rims: 626 kilometers
Power: 462 horsepower
Tax horsepower: 11
Maximum speed: 233 km/h
Acceleration 0-100 km/h: 4.4
Tesla Model 3 Performance
Price without option (ecological bonus included): €57,990
WLTP range with 20" Uberturbine rims: 547 kilometers
Power: 510 horsepower
Tax horsepower: 12
Maximum speed: 261 km/h
Acceleration 0-100 km/h: 3.3
The Tesla Model 3 has an extremely sleek design with its sober lines while maintaining a sporty side. The forms are soft and not very aggressive. We are quite far from certain French models with their prominent and aggressive designs. Here, sobriety is the keyword. With almost no buttons in the cabin, the driver is guided to the essential: the road. These avant-garde electric cars have a highly technological aspect via their disconcerting ergonomics.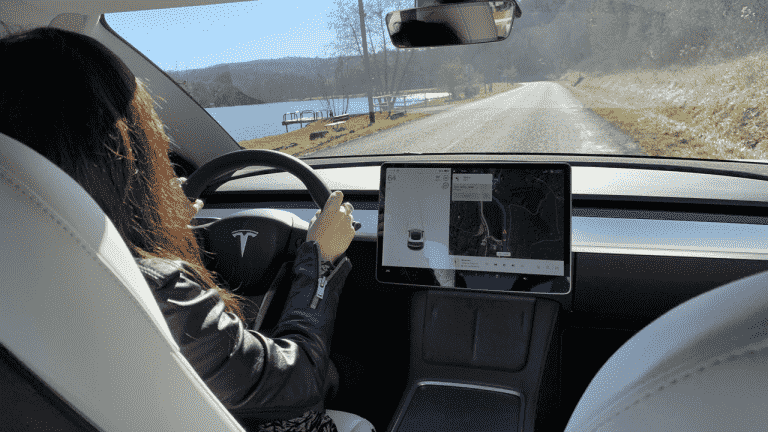 Side size, it will be necessary to be careful. If the car is rather low with its 1,443 mm, its width is quite large with 1,849 mm for 4,694 mm long with a rather average steering rate. It will take some time to become familiar with these proportions, especially if you are driving on narrow streets.
The electric car, is a real psychological break for some? Fear of failure?
The best way to take the plunge is to try it out. It is possible like any car to request a test drive. At Tesla, these tests last 30 minutes. Certainly, this time is very short but it already allows to apprehend the car and to break some received ideas. However, these 30 minutes do not allow us to gauge the car on a daily basis, on the possible problems of an electric car. We are going to provide you with some answers.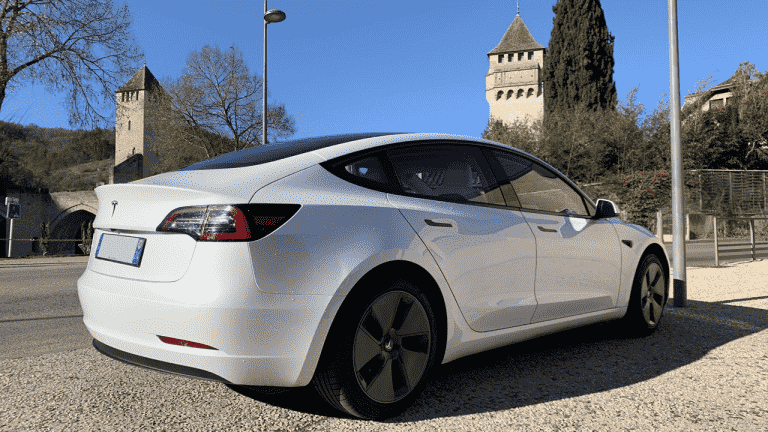 Real autonomy and costs
Our Tesla Model 3 is equipped with a battery with LFP (lithium iron phosphate) type technology with a power of 60 kW. On paper, the car is announced for 491 kilometers WLTP and 510 kilometers estimated with 18-inch rims equipped with AeroWheels which give a small performance gain over long distances. But what about the actual performance?
It is difficult to estimate the capacity of the car in this area as the actual performance will be subject to several variables such as temperature, terrain, winds, etc. However, we will try to provide some answers on the experience acquired each time a battery use 0 to 100% (estimated for the last percentages).
In hot weather with a conditioned battery (at the right temperature) it will really be necessary to count on a range of around 360 km with a mixed route between road and motorway.
Autonomy city: 370 km
Autonomy road: 320 km
Highway autonomy 270 km
In cold weather, as is the case at the moment, it will be necessary to count on a loss of 20% of the battery capacity. This is due to the fact that the batteries do not like extreme cold plus the fact that we will have to use heating, defrosting etc. The Tesla Model 3 has a heat pump to optimize this aspect.
We are therefore very far from the capacity of 491 km WLTP displayed on the Tesla site. The WLTP standard for Worldwide harmonized Light vehicles Test Procedure is a procedure intended to measure CO2 emissions for a given vehicle. These tests are carried out under very specific criteria, very different from our daily habits. They do, however, provide a comparative basis. This test lasts 30 minutes over a distance of 23.25 km with a defined pressure and temperature.
The Supercharger Network: Tesla's Ultimate Weapon?
Overall, today's electric cars offer fairly similar performance and that is why the issue is not so much the possible distance with the car but rather its ability to recharge quickly. And it's not as simple as it seems. Indeed, there are several ways to recharge your car, but we are going to talk here about what is called fast charging because this is the challenge in order to be able to overcome long distances. Charging at home or in a so-called slow charger as you find everywhere is not the most important thing. What counts to go far without it becoming an obstacle course is to be able to reload quickly without constraint. Tesla has the advantage over its competition of offering a large network of Superchargers. A real sales argument from Tesla, these ultra-fast recharges have democratized the electric car.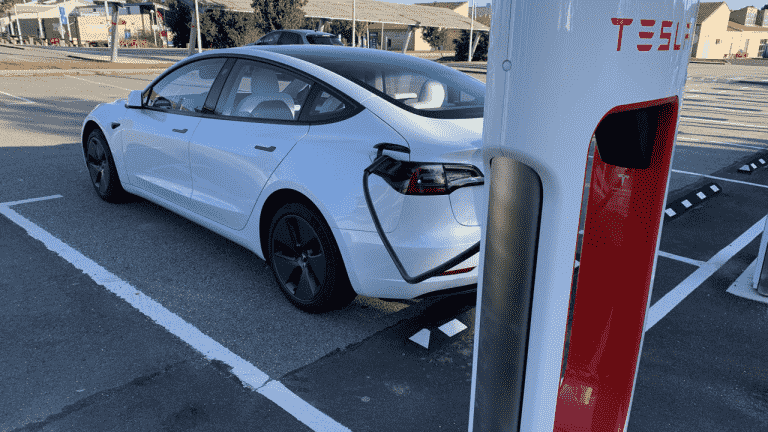 Like Tesla, this network of Superchargers evolves over time, the second-generation chargers offer a charging capacity of 250 kW, and here is the data that we were able to verify. It is worth noting that chemically speaking, a battery does not recharge at a steady rate. After 80% the speed will drastically reduce. Imagine wanting to fill a bottle of water quickly without putting a single drop out. Towards the end, you will therefore reduce the flow. It is exactly the same for a battery.
According to Tesla, on November 14, 2021 there were more than 30,000 Supercharger terminals in more than 3,200 stations worldwide and 1,000 terminals in France with soon 100 stations.
Here are the charging times on our Tesla Model 3 Propulsion, whose charging power is a maximum of 167 kW to go from 10% to 80%. Higher models can charge faster. The Tesla Model 3 is equipped with a Combo CCS type socket.
Superchargers / Ionity at 250 kW: 0h21
Superchargers / Ionity at 150 kW: 0h21
Ionity at 50kW: 0h37
"Slow" charge of 11kW: 2h45
Charge at home at 7.4 kW (32A): 4h05
Charging at home at 3.7 kW (16A): 8h11
On a journey between Sarlat in the Dordogne department and Toulon in the Var, i.e. 570 km, whose battery was preconditioned at the start, i.e. brought to the right temperature via programming the day before, we were able to cover the distance with a single recharge in a Tesla Supercharger, the duration of which was around 45 minutes for a full 100% charge, which is the ideal time for lunch. The destination being Corsica, we had opted for a second charge at the Toulon Supercharger in order to be well charged on arrival, but it turned out that this had not been necessary. For beginners to the electric car, the symptoms of the breakdown are well known to users, in fact, we always tend not to trust the predictions of the car, yet the latter has always proven to be extremely accurate, from 1% order. Always this fear of the unknown, this fear of not being able to recharge on arrival.
Switching to electric, hassle, or happiness?
In reality, this fear of autonomy is, in our opinion, a false problem mainly stemming from the thermal mentality whose habits are diametrically opposed to the use of an eclectic car. In a thermal car, you fill up relatively quickly because the network of stations is particularly dense in the world. Whatever station you are at, you will fill up in exactly the same way and if you are on diesel, the car will show a range often in excess of 1000 km.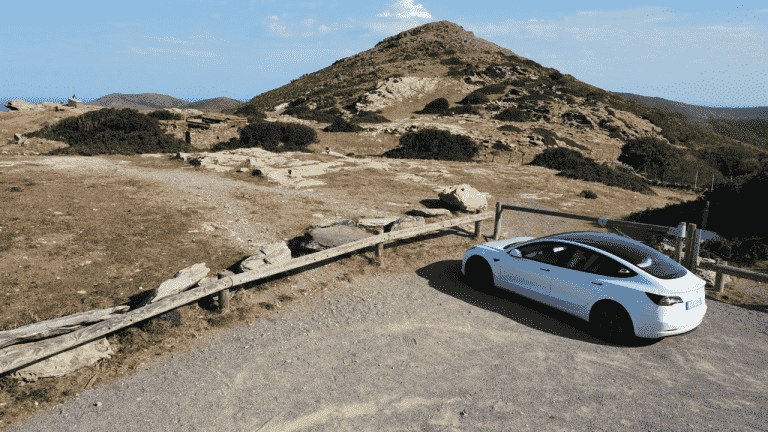 In an electric car, it is important to change your way of seeing things. This is something you already do on a daily basis with your smartphone for example. It's exactly the same in VE. Charging takes quite a long time, depending on your remaining charge level, it takes between a few minutes to several long hours and sometimes a full day if you opt for domestic charging at your home. Which is not ideal. It is, therefore, necessary to change the way of "filling up". This may of course seem restrictive for the user but in reality, it is far from being the case. Just a few habits to adopt and in the end, the user will be a big winner with significant benefits.
The electric car is ecological, you will save money and you will participate in sustainable development. Not to mention that the number of "penalties" on the thermal increases over time. Driving in an EV means anticipating a strong restriction in sight.
Note that for the moment, the end of the production of thermal cars is planned for 2035 in France and 2030 in Germany. Over time, it is good to note that the number of charges will increase exponentially, they are doubled each year and this breakdown syndrome should over time reduce to completely disappear once the new habits are more entrenched.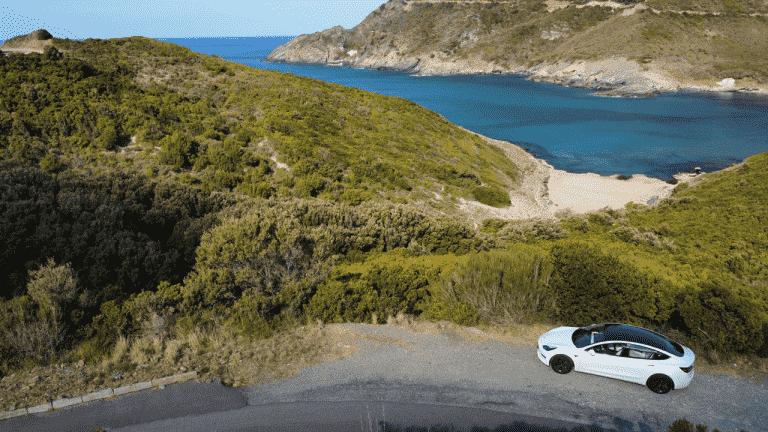 Regarding savings, these are estimated at 66% compared to a diesel city car according to our trip to Corsica. With a mix of Superchargers, paying terminals, and free terminals in different shops.
Comfort and equipment
The Tesla Model 3 is a spacious and generous car in terms of comfort and offers high-end equipment even if, for certain elements, Tesla could have gone a little further. We will come back to it.
The vegan leather seats available in two colors (black or white) are very comfortable. They can be adjusted via an electric paddle located on the side of the seats. The car has the ability to save several settings via user profiles. These can be triggered via the key used, whether it is the phone or the card. These settings can even be exported to the cloud in case you go to another Tesla.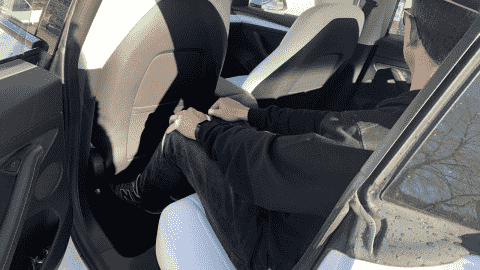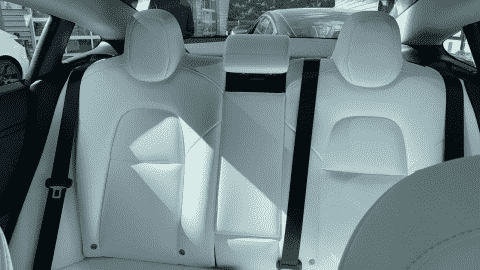 Several adjustments are possible, like any high-end car including lumbar support. However, we would have liked to have had better bucket-type support. Indeed, the power is such that in turn, the lack of stability can be surprising at first.
In terms of storage, the large sedan is clearly not compact and accommodates 3 trunks of a fairly generous capacity. You should know that Teslas do not have front motors. These are placed in the axles which allow for having several boxes. The Tesla Model 3 thus has a total volume of 542 liters, the distribution of which is as follows: 425 liters of the trunk at the rear, 70 liters of storage under the floor at the level of the rear trunk, and finally 50 liters at the front. The glove box can only be operated via the central screen. Relatively small, do not plan to put a lot of things in it. There is just enough to store some accessories and papers. It also contains the USB key containing the security footage recorded by the cameras in sentinel and dash cam mode. To prevent this key from being stolen, the glove box can be protected by a PIN code.

The entry-level Tesla Model 3, however, lacks the premium sound available in higher models. What is unfortunate is that the traces of this equipment are present in the passenger compartment, in particular, the loudspeakers in the uprights. They are there but not usable.
We would have liked Tesla to activate these speakers or remove them altogether. It is the same for the front fog lights not present and simply replaced by a cover. We hope that these can one day be unlocked via a paid option like the "premium connectivity" mode or heated rear seats for certain slightly older models.
Sentinel Mode - View your Tesla's cameras remotely
Regarding safety devices, Teslas are well known for their Sentinel mode. Sentinel mode is one of the strengths of Tesla. This mode makes it possible via the 8 cameras of the car to automatically record anyone approaching a little too close. It is triggered according to certain criteria. If a person simply approaches the car, the cameras will start recording and turn on the center display with an indication that the latter is recording. The second stage, in the event of light contact with the car, is a passive alarm. This still records but sends a notification to the owner's smartphone. The last step, in case of strong enough contact, triggers an exterior and interior alarm and the owner is also notified.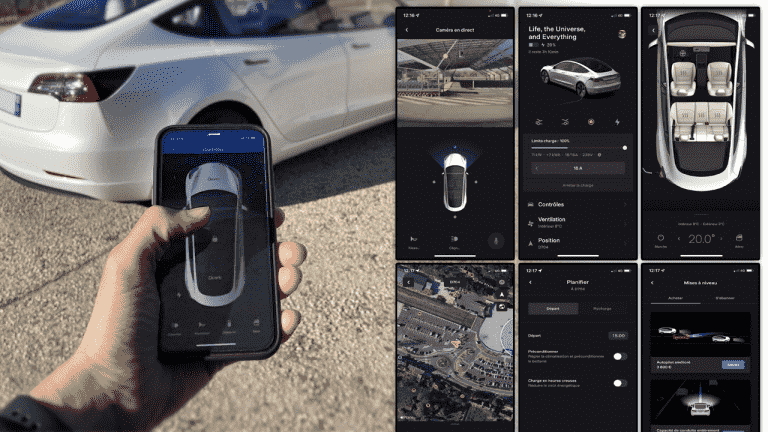 It is now possible to consult these cameras remotely without even having to move and to use the microphone of the telephone to speak to people close to the car via the external loudspeakers of the car. Note that a premium connection is required to view these cameras remotely.
A minimalist but devilishly efficient interface
The interface of the different menus is disconcerting as the ergonomics of the menus are well thought out. You don't need a master's degree in computer science to find your way around. In just a few minutes, we are ready to hit the road and we do not have this feeling of being lost in a complex interface. We are immediately at ease, we are not looking for these buttons hidden everywhere as is the case in many vehicles, here it's simple: there are no buttons (or very few).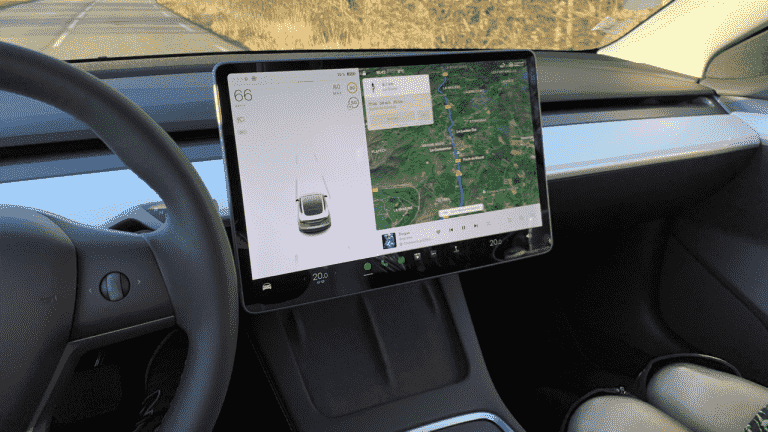 Everything happens via this single central screen. This is the strength of the recent Teslas. At first, this is not necessarily the most positive point at first glance and we were very worried about this. But you find yourself there quickly and you become addicted in a few moments, hating at the same time the more archaic approaches of other cars and you quickly become a fan.
Tesla's standard autopilot, useful or just a gadget?
One of the characteristics of Tesla, the one that we often talk about them, is undoubtedly its level 2 autopilot installed as standard. It is even possible, for the wealthiest, to unlock certain options that will make it more permissive. But these options are largely restricted in Europe because of much stricter standards than in the USA. But also for other reasons, in particular the understanding of the highway code by the on-board computer. Indeed, the different countries of the old continent have an incalculable number of rules that must be taught to the car. On the other side of the Atlantic, the code is more binary, which initially makes it easier to learn and develop this autopilot.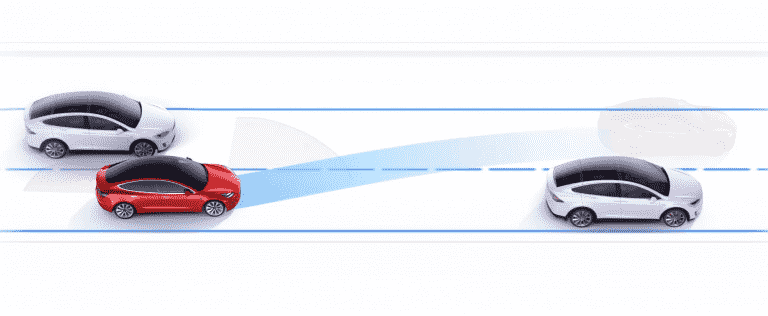 Tesla has chosen not to use LiDAR to guide the car and opts for a more global solution in pure vision or synthetic vision. In other words, via its own network of cameras and sensors, the car is able to see as a human being. This approach is much more complex to set up and requires a time-consuming investment in the Californian box, which means that the competition is starting to catch up with Tesla.
This is particularly the case of Mercedes, which beats Tesla to the post by legally offering a level 3 autopilot for the first time. 100% autonomous and driverless driving.
The 5 levels of autonomous driving
Level 1
Maintaining an adaptive speed according to traffic
Level 2
Maintaining the trajectory with adaptive speeds and distances. Hands should stay on the wheel
Level 3
The driver must be able to regain control of the vehicle at any time, but the car is perfectly autonomous in certain conditions, on the motorway for example with changes of lanes, interchanges, etc.
Level 4
Fully autonomous driving in all circumstances, even in town, but the driver must be able to regain control of the vehicle at any time
Level 5
Fully autonomous, all-weather, all-circumstances, and driverless driving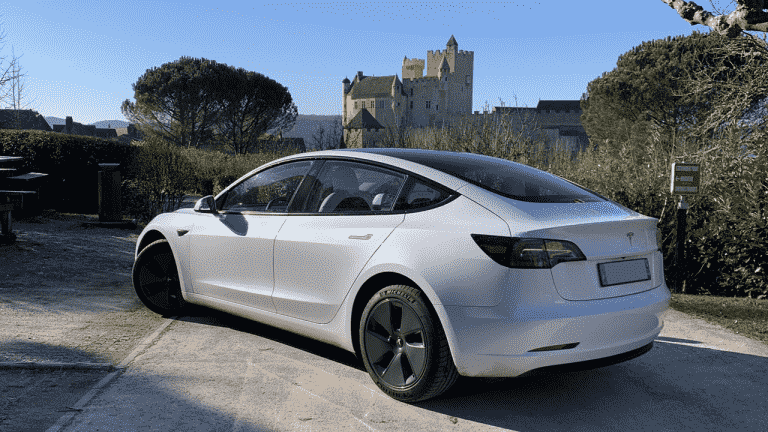 CONCLUSION
Strong points
Its technology (Autopilot, sentinel mode, smartphone application)
The vast network of Tesla Superchargers
Its power and comfort
Its simplicity of operation
Scalable over time
Weak points
No tailgate can be activated via a sensor under the car or motorized front trunk opening.
Small pettiness (fog lights only in higher versions ...)
Its large turning radius
The Tesla Model 3 is undoubtedly the star of the electric car. Compared to a sports car, it exhibits impressive performance in terms of acceleration from 0 to 100 km/h at an "affordable" price. Very comfortable, quite large due to its front and rear lockers, it can accommodate 5 people on long trips. Especially since it benefits from the vast network of Tesla Superchargers established in France, with a range of around 300km in real-world conditions according to our tests. Plus, its large 15-inch center shelf has been thoughtfully ergonomically designed. Finally, the Model 3 benefits from regular updates, always adding more features.
Related Articles
How Much Does It Cost To Charge A Tesla
How Much Is A Tesla Model 3, Tesla Model 3 test
Comment
Back to BLOG.