Almost every fourth Tesla sold in Germany "disappeared" - not all to Denmark
Aug 31,2022 | Chloe Lacour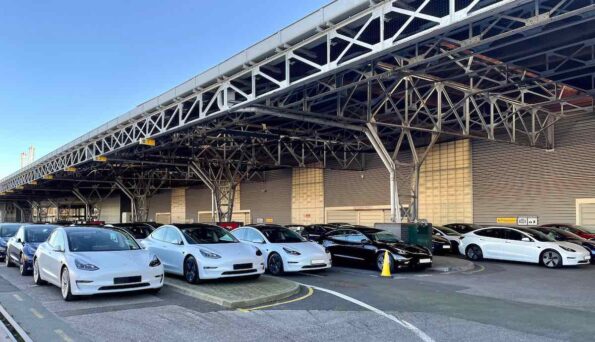 Subsidies always mean distortions, and one of the indirect consequences of the increasingly generous electric car subsidies in Germany was that they enabled lucrative business for Tesla customers. You could buy a Model 3, drive it for six months and then often give it back at the new price you paid for it – all or part of the government bonus of up to 6,000 euros then remained as a profit. For the Model Y, a dealer is still offering to buy it six months later at the new price minus the environmental bonus. Most of them are then said to migrate to other European countries, and interesting new figures have now been published.
Every fourth Tesla left Germany
At the end of this year, the German environmental bonus will end in its current form after the traffic light coalition had initially extended it for the purpose of planning security. Plugin hybrids are likely to fall out of support and the maximum height will decrease. An extension of the minimum holding period from the current 6 months to 12 months is also to be expected. According to a report, the Federal Ministry of Economics had already declared in March that the purpose of the electric car bonus was not to create a new business model for dealers and private individuals.
At that time there were figures on German sales of electric cars from January to September 2021 and the stock - and its increase was around 30,000 or 13 percent below the new registrations in the same period. At Tesla, the decline in Germany is said to have been above average at 19 percent and at BMW it was highest at 21 percent. The automotive analyst Matthias Schmidt has now provided new data on this. According to this, almost every fourth Tesla sold in Germany should no longer be registered here.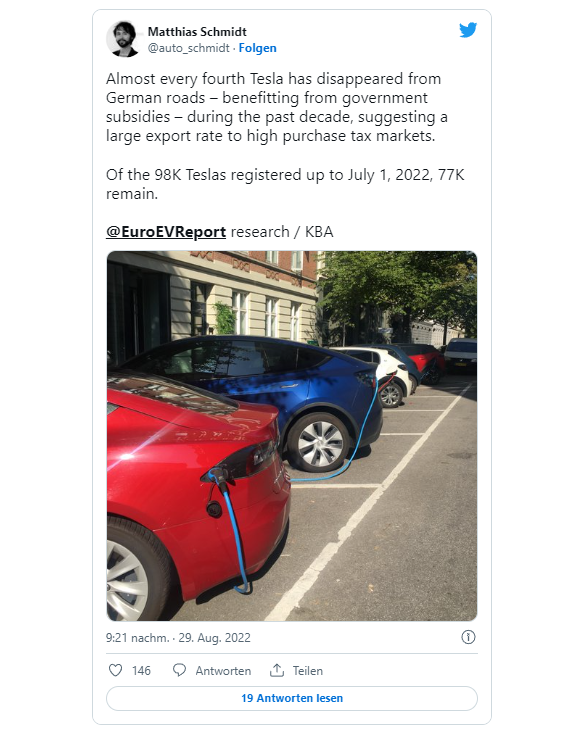 This emerges from an evaluation of data from the Federal Motor Transport Authority, as Schmidt informed on Twitter on Monday. By the beginning of July 2022, a total of around 98,000 Tesla electric cars had been registered in Germany, he wrote. However, there are only about 77,000 of them in stock, the rest, or almost a quarter have "disappeared" from German roads. That speaks for a high export rate to countries with high sales taxes.
9574 used Teslas in Denmark
Denmark is mentioned again and again as a destination for briefly used German Teslas – currently the only country in the EU where the newly introduced basic version of the Model Y is more expensive than in Germany. However, data published by another observer suggest that not only local customers are accessing young German Teslas: From the beginning of 2020 to yesterday, 9574 used electric cars of the brand were imported to Denmark, wrote the head of analysis of a local association. Even if they all came from Germany, more than half of the Teslas that were deregistered in this country would still have gone to other countries.
Related Articles
Burning Tesla, more electric car accidents: insurance confuses with fake test and data
Comment
Back to NEWS.