Distributed Tesla Battery In First Use: Power For California From 2344 Powerwall Households
Aug 20,2022 | Chloe Lacour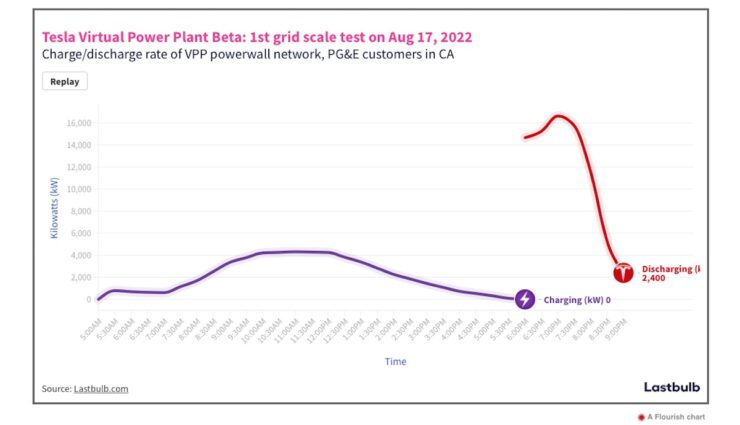 After launching a paid program to support California's power grid with Tesla Powerwalls at the end of June, it didn't take long for this virtual power plant (VPP) to have its first live deployment: On Tuesday, Tesla informed its more than 2,000 participating customers via App that a "Grid Load Reduction" event is imminent for the next day.
15 MW of power from distributed Tesla batteries
Initially, only California Powerwall owners who are customers of the utility PG&E could sign up for the program, but this week the area of ​​Southern California Edison and basically the rest of the sunny state was added. According to a tracker, around 2,200 Tesla and PG&E customers had registered to take part by then. accessed wildly, participants receive $2 per kilowatt hour.
5 a.m. that the Powerwall batteries were charged as much as possible with mains and domestic solar power, as the YouTuber Mahkus subsequently reported. The video shows a peak of 2344 participants, and Mahkus reports up to 15 megawatts of jointly supplied power.
His own household has a photovoltaic system and three power walls, but they could only be charged up to about 75 percent before the start of the call. away. As a result, the YouTuber's power walls did not last until the intended end of the feed at 9 p.m. figure above).
Successful premiere for Powerwall power plant
In this respect, the premiere of the distributed power plant from Tesla Powerwalls in California was probably a success. Tesla app: Here it is difficult to see how much electricity the company's own power walls would have provided in total. According to an export graphic, it was 24-kilowatt hours for him, which would mean a payment of 48 dollars. Twitter to have made only 10 dollars with 4 Powerwalls without first clearing the reasons for this.
Related Articles
Supercharging With 480 KW: Electric Car Startup Xpeng Wants To Surpass The Tesla Model When It Comes To Charging
Comment
Back to NEWS.