Tesla Denies Changing The Battery In Model 3 And Model Y In China
Aug 25,2022 | Chloe Lacour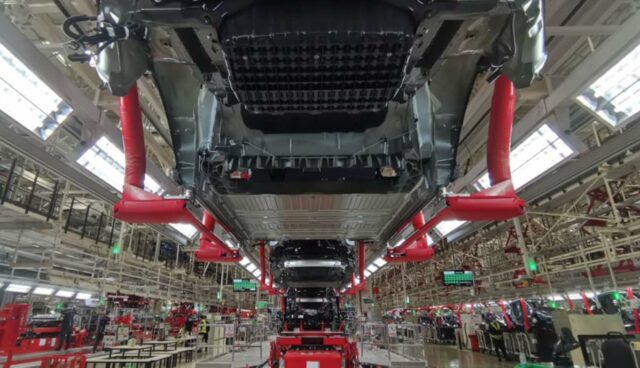 The battery chemistry LFP (for lithium iron phosphate) has developed from a niche to a widespread hope. After Tesla became the only Western company and initially in China to use them in the summer of 2020 with deliveries from local partner CATL for the smallest Model 3, Volkswagen, Mercedes and Ford have since announced similar plans. In fact, LFP technology still offers a lot of potentials, as Chinese companies keep showing. According to Tesla, it does not want to make use of the latest progress at CATL for the time being.
Tesla denies LMFP rumors in China
Larger batteries from CATL for Tesla production in China had almost been expected beforehand. Compared to previous LFP batteries, manganese is added, resulting in the abbreviation LMFP. This enables a 15 percent higher energy density at the same cost, Chinese media reported this summer. CATL called the new chemistry M3P, and it was said that Tesla would soon use it to produce both Model Y and Model 3 with 72-kilowatt hours of battery capacity in China. The CATL LFP batteries used to date have around 60-kilowatt hours in both models.
Already in some Chinese reports on LMFP batteries for Tesla in China, sources in the company were quoted as saying that this was a rumor that was not factual. But that didn't seem to be enough to silence it. Because according to CnEVPost, Tesla China has now officially commented on Weibo.
According to a Google translation of the message, it comes from "Tesla Customer Service" and states that there are currently no plans to use any new battery models in China. This also applies to 4680 batteries, i.e. the format developed by Tesla itself – however, there had previously been no recognizable speculation about use in China. Regardless of the battery used, products would always meet their own strict requirements and clearly comply with the specified data, writes Tesla.
Second, the current excitement about allegedly changed models is nothing but a rumor, Tesla China explains. It is being fueled by individuals and self-made media and is an attempt to deliberately mislead consumers. In fact, the company is calling for clues to be given as to the perpetrators of the rumors in order to hold them accountable. That contains a threat that could help reduce blog speculation about LMFP for Model Y and Model 3.
Model Y with BYD battery registered in EU
However, "currently" does not apply forever, and according to reports, CATL does not intend to produce LMFP batteries on a larger scale until 2023. If they really don't cost more and perform better than a simple LFP, Tesla is unlikely to miss out on this advantage in the long run. It is also practically certain that sooner or later there will be a Model Y with an LFP battery from BYD: Tesla has already applied for and received type approval for it in the EU, as teslamag.de was recently able to see from the relevant documents. This was partly understood to mean that it was definitely a Model Y from the German Tesla Gigafactory, but the approval also listed the factories in Fremont and China as possible production sites.
Related Articles
Fisker Instead Of Musk: According To The Successful Investor, Not Investing In Tesla Was The Biggest Mistake
Comment
Back to NEWS.